N/A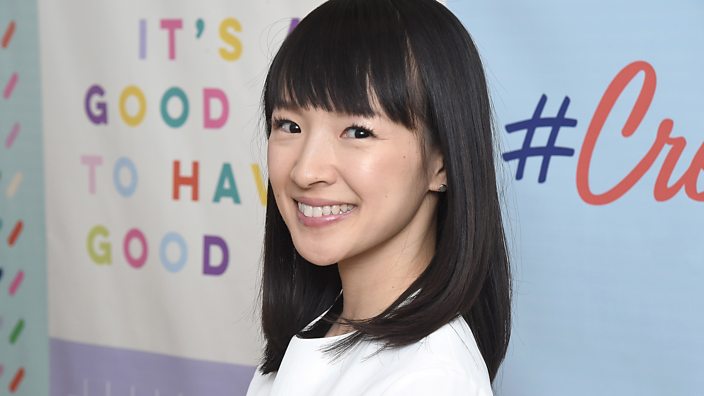 Getty Images
Marie Kondo v book hoarders: The meme battle is raging
Is the Queen of Tidying really trying to bin all your books?
Brace yourselves - there's a new self-care skill to add to your vegan and gym-heavy Dry January: it's time to de-clutter.  
According to Japanese organisational guru Marie Kondo, a clean house equals a clean mind and all tidying problems can be solved with a simple question: "Does this spark joy?" 
Unicorn slippers? They can stay. That old, faded white t-shirt at the back of your wardrobe? It's time for the bin. 
Marie's KonMari method is a five-step tidying plan which starts by gathering all your things together and ends with you keeping only the belongings that bring you happiness. Thanks to a new Netflix show, she is fast gaining fans. Her books alone have sold an impressive 11 million copies worldwide - but there is one group the Queen of Tidy has enraged. Enter: The Book Hoarders. 
Their outrage was sparked when the series debuted on 1 January and viewers saw her attitude towards books in action. In one scene, Marie Kondo asks: "Will these books be beneficial to your life moving forward?", before helping two writers get rid of a sizable pile of literature.
It is this type of chat book lovers have taken issue with and now they're fighting back - via memes and tweets, obvs.
Some people felt book lovers may have slightly overreacted. 
And that they hadn't exactly heard Marie Kondo out.
Luckily, at a talk with New York Times journalist Katie Rosman this week, Marie Kondo clarified there was no need to burn your books. 
"The point of the KonMari Method is to figure out what you value most," she explained through her translator. If the thought of getting rid of books gives you the rage, then you "must" keep them, as it showed they "spark joy", she said.
According to her, there may also be a cultural divide – she makes the claim that in her homeland of Japan, she believes the air is more moist than in the US where her show is filmed. For Marie Kondo, this makes holding on to books for a longer time harder, presumably because high humidity is bad for books.
Did you hear that book hoarders? Time to stand down.  
But the Marie Kondo meme game doesn't end there. 
Fans have expressed just how seriously they employ her methods. 
With some using her expertise in other areas of their life:
And then matters of the heart.
They may sometimes go a little too far. 
Though there are those who are resistant to her methods. 
But whether you're Team KonMari or preparing to declare war on decluttering, there are some potential perks to this tidying trend we can all enjoy: