N/A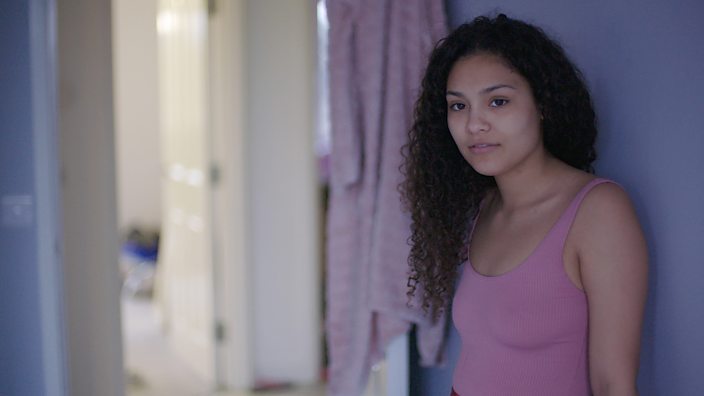 BBC Three
The hostel for homeless mums: 'I never imagined I'd end up here'
Why are so many young, single mums stuck in temporary accommodation?
The threat of becoming homeless is daunting for anyone. But, as a parent, there's the added pressure of putting a roof over not just your head, but your children's too. If, as a young single mum, that fear becomes a reality, then where do you turn for help?
That question is answered in a new BBC Three documentary that follows the lives of five young mums living together in temporary accommodation, as they wait to be placed in permanent social housing.
Despite the persistent stereotype that young single mums are always first in line for council housing, the truth is often much more complicated.
The hostel where the documentary is filmed is just outside London, in Luton. It's home for now to women like Kychia who lives there with her five-year-old daughter, Alyssa. Kychia is 24 and has grown used to confronting the stigma of being a young mum on her own.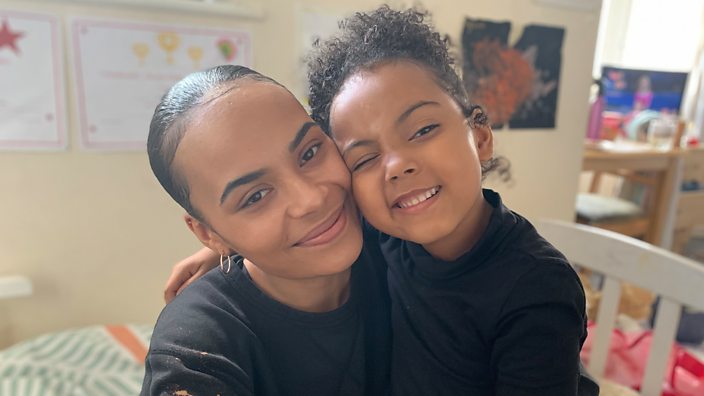 "People assume if you have a baby young that you've been promiscuous," she says. "Because I didn't abort my baby I'm seen like this."
Kychia was adopted when she was a baby, and she didn't want to have an abortion when she became pregnant unexpectedly. She and Alyssa moved to the hostel after her relationship with her family broke down during what she calls a 'rebellious period' of her life.
She says that while she would love to host a party for her daughter's upcoming fifth birthday, they won't be holding it at the hostel.
"There is a stigma attached to living in a hostel," she says. "I don't think the parents of Alyssa's friends would want their kids coming to play round here."
The accommodation is functional but nothing fancy. Each of the 10 residents has their own small flat where they sleep with their kids - and they all share a kitchen and laundry room. There are kids' drawings on the walls and colourful toys strewn round the living area. The girls often cook together and chat and laugh while peeling potatoes like any other group of flatmates. Sometimes, they'll visit staff in the hostel's office for a chat, while their little ones eye up the collection of biscuits.
"It's not nice being stuck in the system, being spoken to like you are nothing because you are on benefits," Kychia says.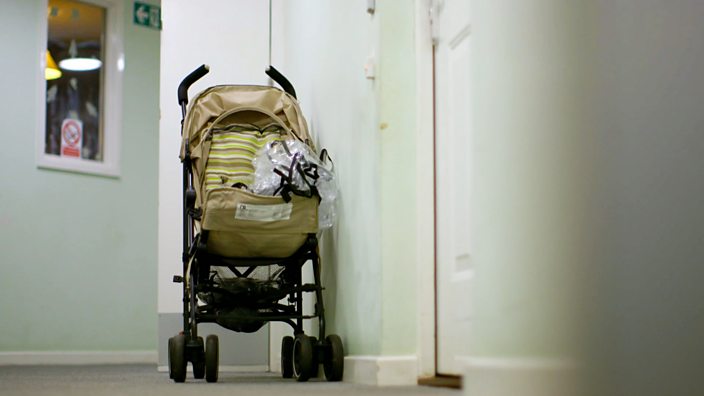 Government figures suggest the number of homeless single mums has gone up by 48% over the previous eight years. More than 37,000 female single parents now live in temporary accommodation across the country. 

"It's simply not right that so many parents are being tipped into homelessness by our housing emergency. Single mums now make up almost two-thirds of the homeless families living in temporary accommodation," says Polly Neate, chief executive of the homelessness charity Shelter. "That's why we are urging the government to get more social homes built, and until then ensure housing benefit is enough to cover the cost of private rents."
"Everyone deserves a safe and secure place to live, and reducing the number of households in temporary accommodation is a priority for the Government," says a spokesperson for the Ministry of Housing, Communities and Local Government. "We're investing over £1.2 billion in tackling homelessness and rough sleeping, providing a Flexible Homelessness Support Grant of £617 million for homelessness services, and committing £40 million of funding to establish the London Collaboration Project to improve the procurement of temporary accommodation."
When a single mum like Kychia becomes unintentionally homeless, the council normally has a legal duty to provide them with emergency accommodation while it considers whether the family will be eligible for permanent housing.
Juggling motherhood with a limited income can make paying rent and bills a struggle. While the hostel Kychia lives in has adequate facilities, this is sadly not always the case and research suggests that this type of accommodation can be inadequate for families, for various reasons.
According to findings and reports collected by social enterprise the Young Mums Support Network, temporary accommodation (usually a hostel or B&B room) can differ greatly in shape and size. It could be too small for a family, or might be in a bad state of repair, or not have suitable family facilities - for example, communal bathrooms with strangers. Not all temporary housing looks like that featured in the film. 
Temporary accommodation is supposed to be just that – temporary – but some families report being stuck in it for years. Families like Talamika's. Despite the accommodation being designed to be a stop-gap, Talamika, the hostel's longest serving resident, has been living in the facility for the past three years.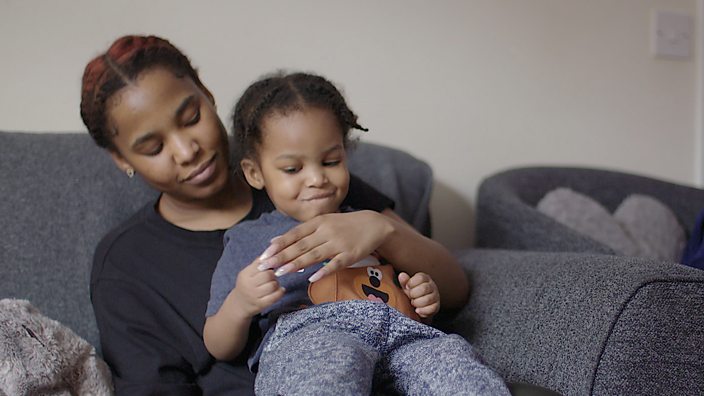 The 22-year-old is mum to a two-year-old son called Amari. She started going out with Amari's dad, Terry, when she was a teenager, and moved in with him. But, when Terry found out that Talamika was expecting a baby, the relationship ended.
"He dropped me when I needed him the most," she reflects, before saying that, after Amari was born, Terry stepped up and now has a role in his son's life, visiting regularly from London where he works as a stylist in the music industry.
During a visit to the hostel, Terry and Talamika make waffles together and chat about their relationship. "I just need to do what I have to do," says Terry. "Only God knows if we'll get back together... it'll happen when he decides."
After having Amari, Talamika was thrilled when she found full-time work. However, she claims she didn't realise she needed to tell the council about her new employment and continued claiming benefits. This mistake left her with mountains of debt that she's still trying to pay back.
"I was working as a revenue control officer for Thameslink on about a £26,000 starting wage. But I failed to realise that I shouldn't have also been claiming benefits," she says. As a result, Talamika found herself in £3,000 of debt. "Now because I owe the hostel money, I can't leave until I've paid it all off."
A support worker at the hostel is helping Talamika to apply for government help to pay off the final £600 of her debt so that she can move out faster.
"I had perceptions of this type of place but I never imagined I'd end up here," she says.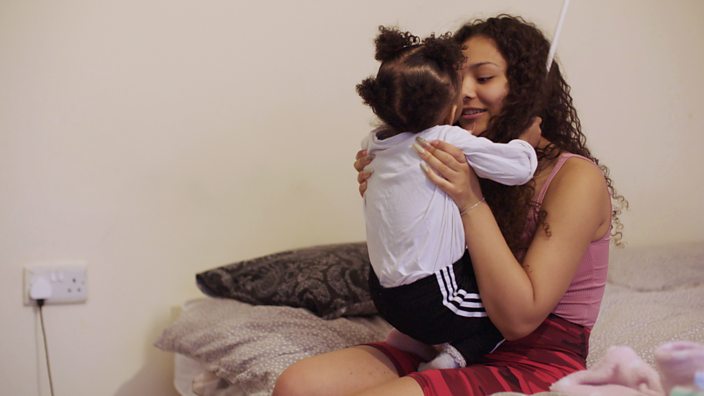 At just 18, Shanice is the hostel's youngest mum and has been living there with her 18-month-old daughter for the last eight months after finding herself homeless. Her one wish at the start of the film is to leave the hostel and, by the end of filming, shortly before her 18th birthday, she moves into a council flat with her daughter.
"We all have the same wish, to get out of this place and into our own homes. I never thought I'd have my own place and a baby at 18. I feel like I've skipped the teen part of my life but I'm happy now," she says, smiling and playing with her little girl.
"I'm excited but also nervous, it's a big step to going from being surrounded by people to on your own with bills to pay."
On the flipside, there's Katie whose dream of leaving the hostel is yet to come true. At 19, Katie is mum to two three-year-old twins, Alice and Athena. She is studying childcare at college but sometimes finds the juggle of childcare and studying overwhelming - she recently fell asleep in one of her exams.
Demoralised about her situation, Katie says, "It's is the worst feeling in the world when you can't get a house or a flat, I never thought I'd be in this situation or even have a child so young."
Despite her struggles, Katie says that "it's all worth it" and that she'd do anything for her girls.
As Shelter's Polly Neate points out, it's added pressures like these that often prevent young mums from being able to stay financially independent.
"Balancing work and childcare can be difficult for any parent. Add to that wildly unaffordable private rents and the chronic shortage of social homes, and it's no surprise so many are struggling to keep a roof over their children's heads," she told us.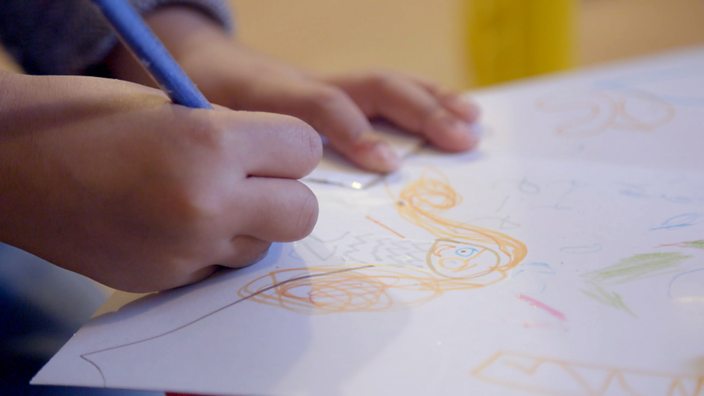 Lynda Rees, CEO of Luton Community Housing, says: "We aim to give these young women the right level of support with coaching that builds their confidence, self-esteem and independence. At the same time, our staff demonstrate that recognising when they need help and seeking it is a strength not a weakness."
When one of the girls is able to make a move, it's almost always a cause for celebration and, for Talamika, it's no different. At the end of the film, she gets the news that the council will cover the remainder of her debt - meaning she can finally move out.
"Oh my god, I'm gonna be gone. I'm gonna be out of here!" she says, beaming while little Amari plays next to her. "Words can't describe how I'm feeling right now".