N/A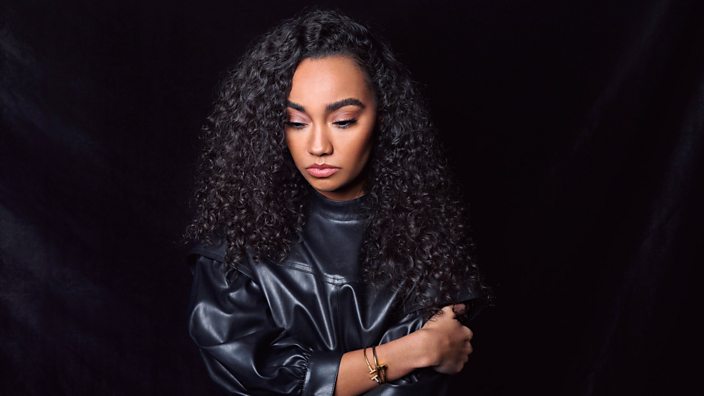 BBC
Little Mix's Leigh-Anne Pinnock: 'I felt so overlooked and it was down to my colour'
Ahead of her BBC Three documentary, Little Mix's Leigh-Anne talks about being the only black girl in her band and racism in the UK.
"The last tour, I remember coming off stage and crying most nights… and just being like, 'Why do I feel like this? Why do I feel like no one likes me? I might as well not be on the stage.'"
Little Mix's Leigh-Anne Pinnock has been making a documentary for more than a year about her experience as the only black member of her band. In the film, she speaks to other people - including fellow musicians - about racism in the music industry. I spoke to her in a quiet studio in East London.
"The lack of diversity is disgraceful," the Shout Out to My Ex singer says about the wider media industry, ahead of her BBC Three documentary Leigh-Anne: Race, Pop & Power. "So, I think however I can… be an ally, then that is what I want to do.
"We all know that racism is a massive horrible issue in this country and I really wanted to delve deeper into it.
"It was important for someone like me to do something like this as well [because] I do have such a predominantly massive white fanbase and the people that I feel like I could reach by doing this documentary is massive. Why wouldn't I put myself out there and do that?"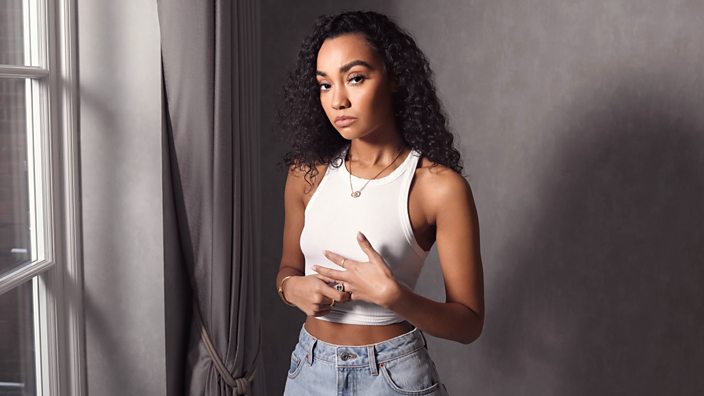 Although racism is the subject of the documentary, Leigh-Anne also touches on colourism - when a lighter-skinned person is favoured over a darker-skinned person due to the shade of their skin.
Leigh-Anne says: "I wanted to use my voice to address colourism because I am so aware of how awful it is and it is just something that needs to be spoken about.
"I know my privilege and I do address it in the documentary. What I address is that I know that if I was some shades darker that I wouldn't be in the band. I think that was so important for me to address because it is true.
"We know there aren't enough dark-skinned women that are being represented so that was something I really felt like I needed to talk about."
She adds: "I wanted to speak about my experiences and the way I felt in the band, being the black girl in the band and people identifying me as the black girl. I really wanted to explore why I felt so overlooked, so shadowed and it was down to my colour.
"But also, I wanted to be able to hear from other black women on their experiences."
In the documentary, Leigh-Anne speaks to black British pop stars, including Keisha Buchanan from Sugababes, former X Factor contestant Alexandra Burke and singer-songwriters Raye and NAO.
Alexandra remembered the time she was told she was "too dark to be in the industry."
She was told: "You need to bleach your skin because you won't sell any records."
"That's what makes me feel at times that I don't want to be in this industry," she says. "They took my confidence away so much that I couldn't be me."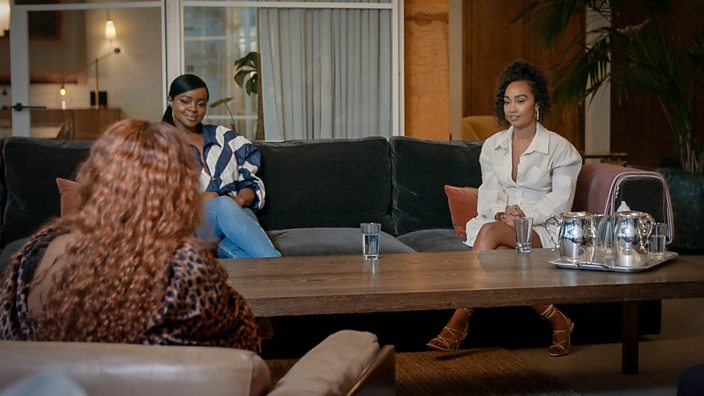 NAO spoke about people not knowing that racism happens in more ways than one. She says in the documentary: "People don't realise that they have racist thoughts. They've been conditioned to be like, 'Black isn't beautiful.'"
In the film, Leigh-Anne breaks down listening to their experiences.
"It was the most overwhelming moment of the documentary," Leigh-Anne says. "To be able to be in a room with these incredible ladies that have all experienced such devastating things to do with race.
"It was inspiring hearing them open up and it inspired me to open up more and it erased that feeling of not being alone. It was interesting as well because we all had such different experiences.
"I really thought that I was going to have similar experiences to Keisha being the only black girl in her group too but hers was completely different to mine."
As the talk went on between the pop singers, Keisha explained to Leigh-Anne that the "more mixed-race you look, the more palatable you are for the audience, the more you look white."
Another important moment in the documentary is when Leigh-Anne, for the first time, opens up about identifying as black.
"That is such a personal thing, isn't it: 'What do you identify as?'" she says.
"I do identify as black. I have two mixed-race parents," she says, adding that she was brought up in a Caribbean household just like her parents were.
"So I have always identified as black growing up.
"I feel like I was identified as black in the public eye as well. The public would call me the 'black girl' in Little Mix and that's what I was and I owned it, but it is such a personal thing to say.
"I think it is hard for me to answer that question because I get scared to offend people as a mixed-race person [saying] that I identify as black because I know how bad colourism is and how dark-skinned people are not represented enough in the media at all.
"I understand the frustration of me saying I identify as black when I am evidently lighter."
In the documentary, Leigh-Anne also speaks to her fiancé footballer Andre Gray about his previous colourist tweets.
After Leigh-Anne questions him about why he wrote the tweets, he says in the film: "This is what happens when you are kids, you do become a product of your environment. So whatever you were around everyday - and you're not educated on it or exposed to why it is wrong - then it kind of sticks.
"There is no excuse for it at all. When it all came out, I was embarrassed, ashamed, disappointed but at the same time I had to be a man about it.
"I've made that mistake and I have learnt and educated myself and grew up to understand how offensive and how wrong it was in what I did."
"Those tweets were incredibly offensive and for me to do a documentary addressing colourism, I had to speak on that and Andre had to speak on that," Leigh-Anne adds.
'I'm going to keep going till I see change'
In 2019 when the documentary was announced with the working title "Colourism and Race" Leigh-Anne faced a lot of negative reaction from people on social media, with people questioning whether, as a light-skinned woman, she was the right person to present the film.
One tweet said: "Leigh Anne is light as hell. She's racialized but why is she presenting a colourism doc unless she's on a journey to learn about the ways she benefits from it?"
Another said: "If Leigh-Anne doc does not highlight the fact colourism affects darker-skinned women more. She can keep it."
In response to these criticisms, Leigh-Anne explains: "I kind of wish we hadn't used that bloody working title now. I wanted to amplify their voices and talk about colourism.
"I wanted to talk about racism but I knew that colourism is such a massive issue that is definitely not spoken about enough. I wanted to bring it to light and talk about it in a widespread media.
"To hear the comments was really hurtful because I started to question myself like, 'Am I the right person to do this? Have I taken someone else's place?' It was definitely hard seeing those comments and it hurt me more coming from the black community questioning whether I was the right person for this.
"After I questioned myself, I then thought, 'No,' because I am also talking about my experiences and I would rather use my platform that I have to reach millions of people than do nothing."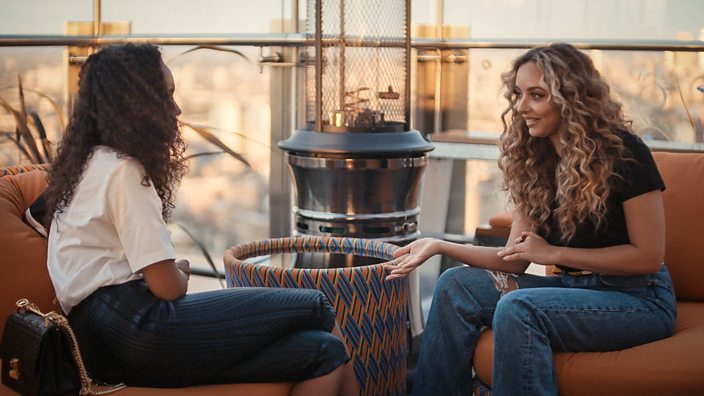 In the film, Leigh-Anne can be seen marching in some of last year's Black Lives Matter protests and she explains how she intends to continue campaigning against racism, including in the music industry.
According to trade body UK Music, there has been a significant increase in the number of black, Asian and minority ethnic staff in the music industry since 2016 - but that representation is worse in higher-paid, executive roles.
"We decided to make the Black Fund to basically create and make a pot of money to give out to black charities and to help the black community," she says.
"I'm going to keep going till I see that change!
"Black people should feel open and they should feel free to walk into your workplace and if you don't feel it is diverse enough or if there is an issue and you don't feel like you are treated fairly because of the colour of your skin, you should be able to say that and not be shunned and not be overlooked or not be taken seriously.
"You can't just take bits of the culture and not give black people the opportunities. I want to see more diversity and I want to see people actively make a change and not just talk about it."
'Now I can be confident in myself'
"In the beginning of this journey, I definitely didn't have as much confidence as I have now," Leigh-Anne says, becoming visibly more relaxed throughout the course of our conversation. "I feel like I didn't believe in myself enough and that's from all those years of feeling so overlooked and feeling like the invisible one.
"But I think now, me speaking out and telling the world of my experiences and hearing other people relate to me and hearing other people's stories, helps. Even girls in other girl bands - Normani reached out to me when I put my video out about my experiences and it made me feel like I wasn't alone.
"Now I can own my power and I can be confident in myself. I wasted so much time not feeling like that and getting anxious before performances and meet and greets and thinking I wasn't going to get the same reaction as the [other] girls."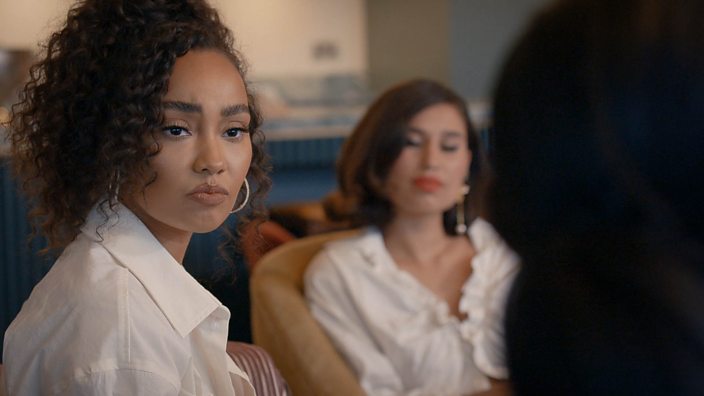 Finally, she says: "I wish I hadn't spent so long wasting my time worrying about that and I wish I could have just owned it then but you know what? We all learn and we all go on our own journeys.
"I'm still learning. We're all learning. We will trip up and we learn from it."
If you've been affected by issues raised in this story, sources of support are available via the BBC Action Line here.