N/A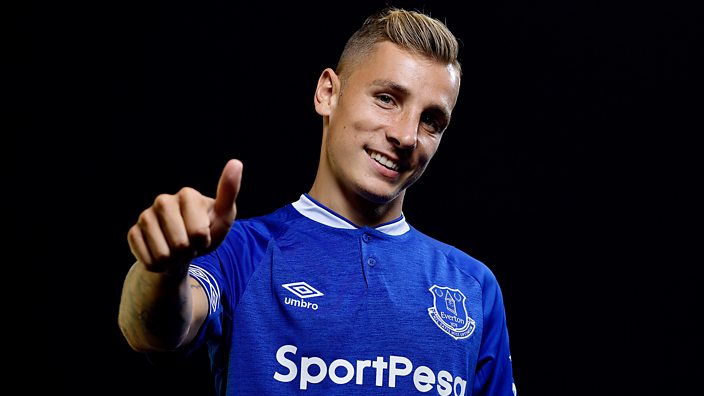 Getty
Footballers who may have regretted supporting rival teams as kids
Did you know Kevin De Bruyne used to support Liverpool?
The 25-year-old joined the Merseyside outfit from Barcelona for £18m on 1 August, however a photo taken back in 2016 - during the defender's medical for his former team - revealed a tattoo that may hint at Digne's allegiances lying with Everton's local rivals rather than the Blues.
'I never walk alone,' the tattoo across Digne's chest reads, which is glaringly similar to Liverpool's famous anthem, 'You'll Never Walk Alone.'
Probably wished he'd kept his shirt on now.
It's probably just a coincidence and a deeply personal message that has nothing to do with Gerry or the Pacemakers, but that didn't stop Liverpool fans from having a field day once they saw the tattoo.
Some even delved deeper into the transfer and claimed that Digne's bright red shoes also hinted to his alleged secret allegiance to Jurgen Klopp's side.
Digne may want to get a cover up for the inking seeing as he's signed on at Everton for the next five years, yet he's not the only footballer to have been accused of actually supporting a rival club.
There's no shortage of players who've faced the same...
Tottenham's golden boy could have found himself on the other side of the North London derby if things had gone his way when he was younger.
Kane joined Arsenal's youth academy when he was just eight years old, but was released after one season when the academy's chief Liam Brady branded him "chubby and not very athletic."
The 2018 World Cup and two-time Premier League golden boot winner was regularly spotted in an Arsenal shirt during his short stint with the Gunners but Tottenham fans have put that all in the past.
Spurs' regular chants of "Harry Kane, he's one of our own," is a lovely dig at their cross-town rivals for letting one of England's greatest players slip through their fingers.
Manchester City struck gold when they signed Belgium's De Bruyne in 2015, but who would have thought that he actually grew up supporting one of their main title challengers?
Unfortunately the video above with baby-faced De Bruyne may not be in English, but the words 'Liverpool' and 'Michael Owen' may give you a hint to which club it was.
Filmed while he was a player for Gent's academy, an 11-year-old De Bruyne says in the video "My favourite club is Liverpool and my favourite player is Michael Owen,".
"And I would love to play there one day," he added.
We'd love to get down to the bottom of this and see who the 27-year-old really supports... if only we'd let him talk. Just let him talk!
Stevie G spent 19 years at Liverpool and is a proud 'one club man' having never played for any other Premier League team, but was he a 'one club kid' too?
'We had a few Everton fans in the family who were trying to get me down the blue road," Gerrard said in an interview with FourFourTwo, acknowledging a photo of his posing an Everton shirt as a child.
The new Glasgow Rangers manager admitted to owning more than just a Toffees shirt when he was younger, including one very controversial shirt.
'When I was younger I had all kinds of different kits: Tottenham, Norwich, Real Madrid, Barcelona. I even had a Man United kit."
Tottenham signed Serge Aurier from PSG in 2017 for £23m, although it didn't take Arsenal fans long to uncover the Ivorian right-back was actually a Gunner at heart.
You'd have thought that Aurier's new commitment to Spurs would have meant that he'd disregard any support he may have had for other clubs in the past, but you'd be wrong.
In an interview with Canal+ late last year, Aurier was asked a series of quick-fire questions and one of those questions was which team he preferred between Arsenal and Marseille.
The Spurs defender instantly answered by saying "Arsenal." At least he's loyal.
If Lucas Digne is a (not-so-secret) Liverpool fan, he can always confide in Ashley Williams - another Everton defender who appears to have a connection to the club's cross-city rivals.
Williams was snapped with Liverpool legend John Barnes and wearing the club's 1993-95 shirt when he was younger.
'I grew up as a Liverpool fan, up to when I was about 13 or 14," Williams said in an interview with the Daily Mail.
"John Barnes was my idol, so it was unbelievable to meet him, but once you play in the Premier League, you don't support anyone. Liverpool are Liverpool - just another rival. But as a kid, I don't really regret it. I knew it would surface, some time."
So, after all, Lucas Digne is right. He doesn't walk alone, he has plenty of company.