N/A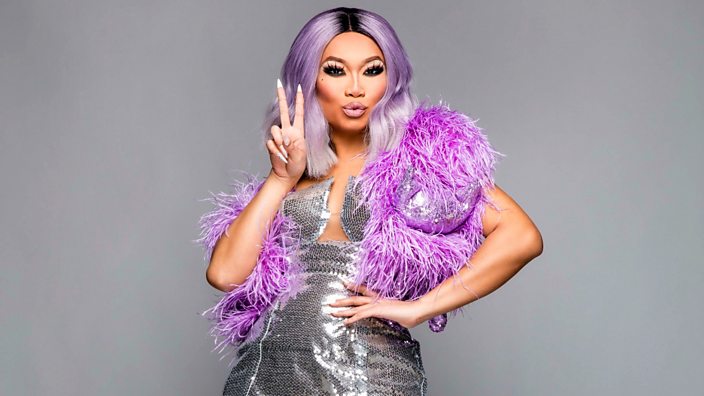 BBC / WORLD OF WONDER
Giving up alcohol in the LGBT community: 'I like this version of me better'
One study suggests lesbian, gay and bisexual people are more likely to report alcohol and drug misuse than heterosexual people.
For 10 years, drag performer Jujubee found herself singing, dancing and lip-syncing in bars and nightclubs almost every night.
She was building her career and winning over fans along the way, but she was also getting caught up in the heavy drinking culture that came along with it.
"We work mostly in bars and nightclubs," the US performer says, "and a lot of our culture has drinking as a part of it.
"It took me a really long time to understand that it wasn't for me."
Originally from Boston, Massachusetts, Jujubee first appeared on the US series of RuPaul's Drag Race in 2010 before returning to appear on All Stars - and over the years she has become a fan favourite. She has also talked openly about her personal, family struggles. 
Jujubee's Drag Race journey over the past 12 years has helped her make changes in her life, and in the latest episode of RuPaul's Drag Race UK vs The World, she discussed becoming sober during a conversation with fellow performer Baga Chipz.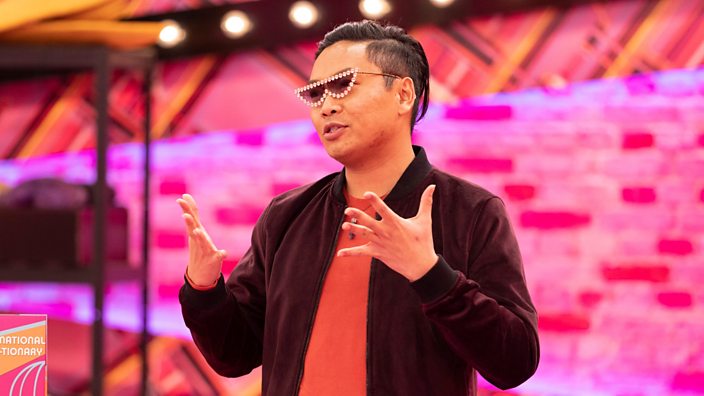 In their conversation, Baga discussed how - because of the nightlife venues where she works - she was drinking two bottles of gin every day at one point in her life.
"I didn't even realise I was an alcoholic because I was getting drunk at work… on stage," Baga says. "I couldn't go on stage if I didn't have a drink."
But now, Baga says she has a much healthier relationship with alcohol, in part because of her time on Drag Race. "Drag Race helped me realise: this is your life, this is your career, this is your health," she says.
Jujubee and Baga's struggles with alcohol are a relatable topic for some LGBTQ+ people.
'I know this is going to touch people'
Becoming sober hasn't been easy for Jujubee. She ended a 13-year relationship and, making a conscious decision to stop drinking, she changed her lifestyle and friendship groups. By doing so, she's had to deal with people calling her "boring" because she no longer drinks alcohol.
"People who are on a sober journey are always trying to find other people like them and sometimes it's hard, especially in this world.
"But I couldn't revisit the same places and hang out with the same people if I wanted to be this version of myself - and that is a hard thing to do. There's been a lot of unlearning and learning new things.
"It's been a journey for me but I'm glad I was able to come through it. I like this version of me better.
"I've given myself grace and the space to become a butterfly as opposed to somebody who's just cocooned myself."
Now sober for four years, she adds: "I'm glad that good Juju is around because she's pretty cool."
And Jujubee says she's grateful she got the opportunity to share her story with Baga and viewers at home.
"To be able to sit there and actually talk about our very personal experience was really beautiful," Jujubee says. "I'm happy we had that moment.
"And I know this is going to touch people because this is something I struggle with daily. It's not like I admit it and it's gone. It's going to be for the rest of my life."
'Hedonism isn't for everybody'
Jujubee says there could be more understanding of people who don't drink alcohol in the LGBTQ+ community - and more support, too.
"I think there could be a lot more support. I think that people equate drinking a lot to having fun. It's how I used to think, but isn't it nice to actually remember a conversation you had with somebody?
"Don't get me wrong. I love seeing people going out and I love seeing them have fun. It's their life, it's their choice.
"It's just for me it wasn't working and I know there's a lot of other people who just want to go out and have a good time without the drinking."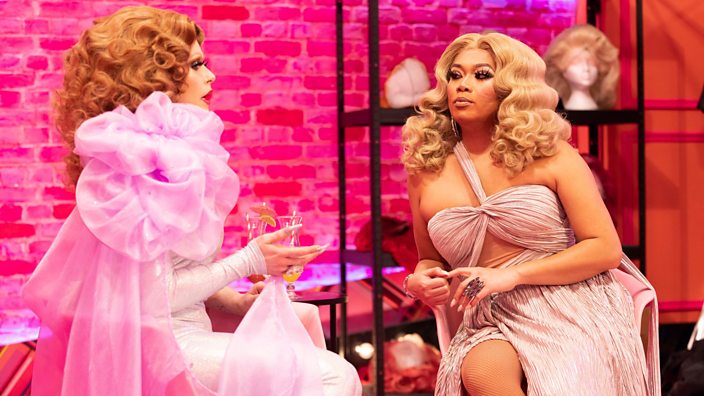 Megan Key is the director of the London LGBTQ+ Centre, a sober community centre and cafe for the LGBTQ+ community in the capital.
"We need community, support and connections more than ever post-Covid and whilst bars and clubs have always been integral to queer experiences, many of us can't access those spaces," she says. "People managing social anxieties, addictions and trauma, for example, need calmer alternatives. Hedonism isn't for everybody."
Megan, who has given up drugs, alcohol and smoking, adds: "Sober spaces provide a stable environment to connect, share experiences and make new friends where we remember it the next day.
"I've been on the 'queer scene' for 30 years and I still love dancing but… I've found that connecting with LGBTQI+ people in other ways has been healthier and contributed to my well-being and sustained recovery."
Jujubee hopes that her time on RuPaul's Drag Race UK vs The World has allowed viewers to see another side of her.
"I hope that I'm showing a deeper side of me. I've found a deeper version of love for myself and hopefully it translates in this competition."