N/A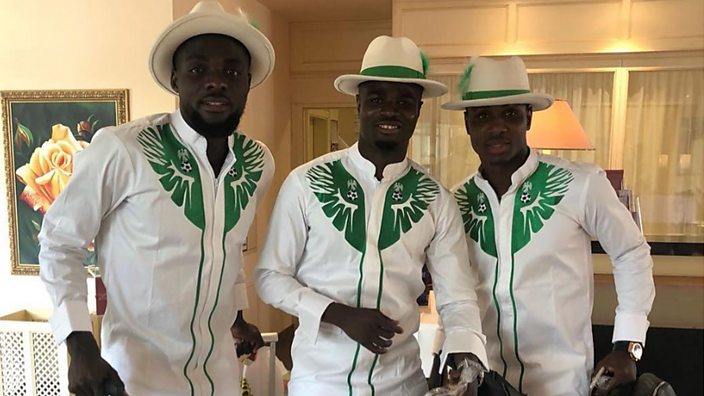 Instagram / elderson_echiejile
World Cup teams are touching down in Russia in style
Plane selfies. So many plane selfies.
These teams made quite the entrance when they travelled to Russia for the 2018 World Cup.
Just look at Germany's Marco Reus and Jerome Boateng when on the plane to the tournament.
They're hyped, and for good reason.
It's surprisingly entertaining seeing how excited players are before the tournament kicks off - and how they're making journeys from all over the globe to get to Russia.
Here's how a few of those teams have travelled and adjusted to life in their new homes for the next few weeks, bringing along with them fashion, fans, and some serious squad goals.
The Super Eagles soared into Russia with a kit that's been making headlines, but who could have guessed that their travel gear would be equally impressive?
Nigeria's team touched down wearing a knee-length white top with a green eagle embroidered on the chest, along with matching hats and white shoes.
Sunglasses were optional if the players felt they weren't already cool enough, as Leicester City's Wilfred Ndidi casually established.
Argentina's Rolling Stones
It's easy to describe some of Argentina's players as rock stars with the likes of Messi and Aguero in the squad, and they made the long haul to Russia in a way you'd expect a real rock 'n' roller to travel.
The 2014 World Cup runners-up flew in a private plane that belongs to the Rolling Stones because, why not?
Neymar danced into the Brazilian team's hotel rocking a £700 gold backpack, nibbling on Russian treats, before kicking back in one of the swankiest hotels in Sochi.
The Brazilians are staying in a luxurious five-star hotel located on the Russian Riviera, next to the sunny shores of Sochi's beaches. That will surely make their transition from Rio's coastlines to Russia's climate a little more comfortable.
This is proof that not all of Russia is cold and snowy, especially when there's Brazilians bringing along their energetic samba lifestyle to town.
The Moroccan team clearly have no regard for in-flight safety procedures or the rules of singing in sync from what we saw on their journey to Russia.
Juventus defender Medhi Benatia led the way as the team sang along to Drake's God's Plan during the flight, but it was hard to make out whether they were actually singing or just making loud noises that sounded like lyrics.
Players climbed on the seats. The flight staff looked lost. Basically it was chaos.
France and Portugal's pose off
As much as Paul Pogba would have liked to have parachuted his way into Russia, he had to hop on a plane like everyone else. But that didn't stop him from having a few laughs before the tournament kicks off.
Once the French team arrived in Russia, Pogba, Griezmann and Mendy, among others, struck a few poses for a light-hearted team pic.
However, Portugal could argue that they had the idea first. They posted a similar team snap, with Ronaldo sticking his tongue out, only a few hours before.
The competitive spirit is already up and running. Let the games begin!