N/A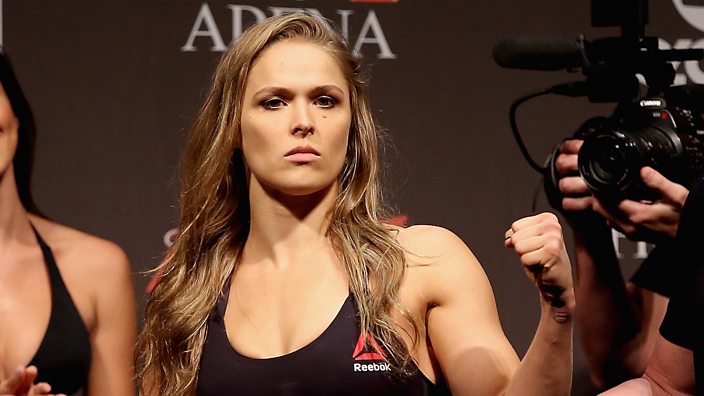 Getty
Don't ask WWE star Ronda Rousey about her return to MMA
She's a wrestler now, not an MMA fighter, and you'd be wise to remember that
Ronda Rousey made quite an entrance to the WWE in February and she now looks set to feature in the organisation's biggest event of the year at Wrestlemania 34.
As the former UFC bantamweight champion prepares to star at the wrestling event in New Orleans on 8 April, one topic seems to keep popping up and Rousey isn't impressed.
In an interview with ESPN's Golic and Wingo talk show, the focus shifted from Rousey's new wrestling career to her former days as an MMA fighter and she was asked when she knew it was time to give it up.
Rousey simply responded by saying "I never said that."
Presenter Mike Golic replied, "So there's a possibility you could go back in time," later clarifying what he meant by saying, "go back in time and fight. Go back into the octagon."
But Rousey had clearly heard enough by this point and simply responded with, "I do not have the ability to go back in time, no."
So that was awkward, but Rousey eventually answered Golic's question by leaving the door open to her MMA return, stating that she didn't know whether she'd fight in the octagon again.
Looking on the bright side though, Golic had something to be grateful for from this whole experience. At least Rousey didn't do to him what she did to Triple H during contract negotiations upon joining the WWE.
Nothing much to see there, just Ronda Rousey lifting a 6ft 4in, 18-stone, former WWE champion into a table.
Yeah… it's probably best to stay on her good side.
Unfortunately, Golic wasn't the only reporter to get on Rousey's nerves this week.
On ESPN's First Take, presenter Max Kellerman repeatedly referenced Rousey's first UFC loss to Holly Holm in 2015, suggesting that "everyone" may have thought she was overrated at the time.
"I experienced a lot of people who quote 'some people' that are really just afraid to state their own opinion," Rousey said in the interview, implying that the claims that she was overrated were actually Kellerman's own thoughts.
The ESPN reporter tried to defend his integrity but Rousey sarcastically responded to his clams that he was supporting her by saying, "Well thank you for defending me, I appreciate that."
A photographer close to the athlete spoke about his opinions on Rousey's recent interviews on Twitter, addressing the MMA media by saying, "Ronda owes you nothing."
Others felt that Rousey had perhaps reacted in a unfair way to the interviewer's questions.
While some asked the question of why she does the interviews at all, knowing that it's likely she'll be asked about MMA at some point.
Basically, the moral of the story is, don't say anything bad to Ronda Rousey - instead just enjoy watching her beat some people up, whether that's in the wrestling ring or the UFC octagon.