N/A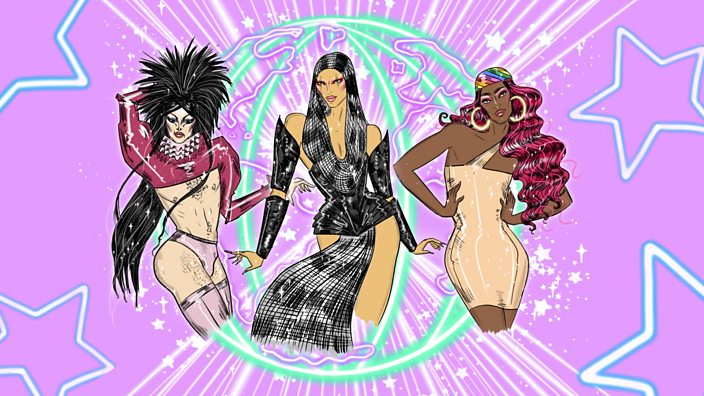 DOM&INK
'Wild, loud, glamorous': Drag cultures around the world
As the first series of RuPaul's Drag Race UK vs The World airs on the BBC, culture writer and author of QUEER LONDON Alim Kheraj looks at different drag cultures around the world.
Legendary drag performer RuPaul has opened up the famous Drag Race franchise, for the first time inviting queens from the UK, the Netherlands, America, Canada and Thailand to compete together.
Performers will showcase their country's finest drag - and fans will be exposed to drag from cultures around the world, each with a different flavour and artistry.
One performer on the show is Pangina Heals, the co-host of Drag Race Thailand.
"In Thailand, a lot of the focus is on pageantry," the drag performer says.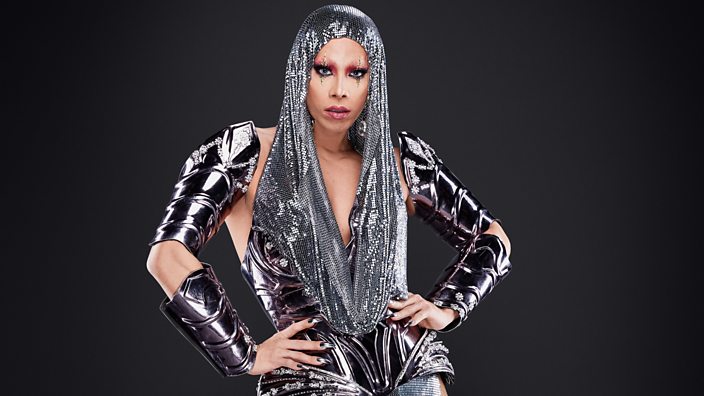 But people might be surprised by how much of a cultural melting pot the drag scene in Thailand is.
"Because Thailand is such a tourist country, we are very open to people coming through all the time," she explains. "I am Thai Taiwanese, but I studied in the UK before moving to UCLA [University of California, Los Angeles]. I'm just this amalgamation of different cultures and I learned to pick up the best things from each of those countries.
"Still, we are very much proud of who we are as Thai people and we want to show that in our fashion, performances and our drag."
Thailand, Pangina says, is an open place when it comes to sexuality, gender and gender expression.
"We have a lot of famous trans girls who become actresses from these pageants. A lot of time when people come to Thailand, they think of Miss Tiffany's Universe [a popular, long-running Thai beauty contest], where the showgirls are trans but they also have drag performances. That's what we're famous for."
'Our make-up is always very glam and loud and gorgeous'
Onyx Godwin is a drag artist in Nigeria, where being gay is illegal. Anti-gay legislation was signed into law in 2014 and sparked international concern.
Nevertheless, Onyx doesn't hide the fact that they do drag.
"We are a very small community and we know ourselves," the drag performer says. "We try to be friends with one another as much as we can. But it's also very challenging.
"The anti-gay law makes us feel scared sometimes, but we still do what we do."
In the past, Onyx and fellow drag performers in Nigeria took part in pageants, balls and dance competitions at night - like you might have seen in the documentary Paris Is Burning, about the underground ballroom and drag scene in New York City in the 1980s.
"Nigerians love our make-up and our gowns," says Onyx. "Our make-up is always very glam and loud and gorgeous. We love our ball gowns too, feeling like a princess and all that. I think that's our aesthetic."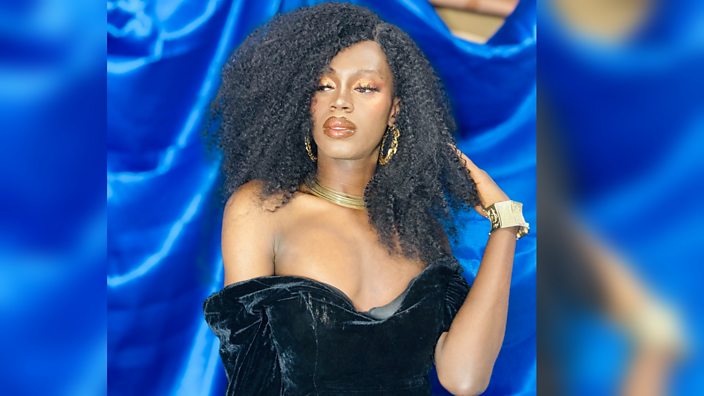 But, Onyx says, after arrests at a party "we had to go underground. We were just scared that they might come back and raid those places again."
In the face of this hostility, Onyx has used social media to get their name out there. Now with more than 14,000 followers on Instagram, Onyx has appeared in publications like i-D, Vogue and Paper Magazine.
"For a country like Nigeria, I think we are thriving," Onyx adds. "We are out there. We are on social media, we are on television, we are on Instagram doing our thing."
Such a public profile has risks, though. Onyx says they regularly get sent homophobic abuse online, and they have even been attacked in public.
"Despite all this – assault, mockery and homophobia and transphobia – we still find a way to live our truth and do what we want to do, regardless of what anybody says," Onyx says. "I think that makes us unique."
'Russian style is wild and sometimes tasteless, but it's unique'
Lorina Rey, a drag artist based in Moscow, has a similar story. In Russia, homophobia, anti-LGBTQ+ sentiment and the law prohibiting "gay propaganda" makes being a drag artist difficult, she says.
"A lot of people in Russia consider drag as some kind of perversion," she explains. "I think even a lot of drag queens are ashamed of what they do because since childhood they've been told it's a bad thing."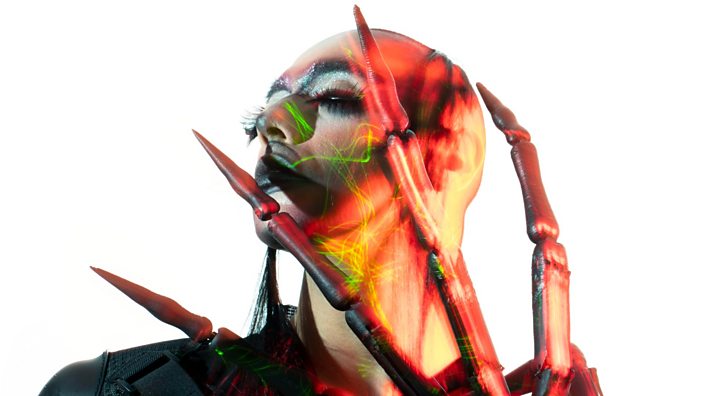 Unlike in the US or the UK, Lorina says drag is not a viable career path in Russia. Drag exists mainly in gay clubs, she says, and even people performing in those venues struggle to make money.
But Lorina says resourcefulness also makes Russian drag special. "In the '90s, there was no easy access to cosmetics, wigs, fabrics and other things," she explains. "Artists were trying their best to make their looks from nothing. And I actually really respect that. Russian style is very wild and sometimes tasteless, but it's unique."
Co Kendrah, a Brazilian drag artist now living in the UK, says that as well as honouring the various cultural traditions around the country, there's also a movement among new drag artists in Brazil who are using natural and sustainable resources.
"It's creating a new kind of drag that is more related to nature," she says. "Also, more indigenous people are starting to do it. There are marginalised groups who are using their marginalised identity to create drag and I think that's brilliant."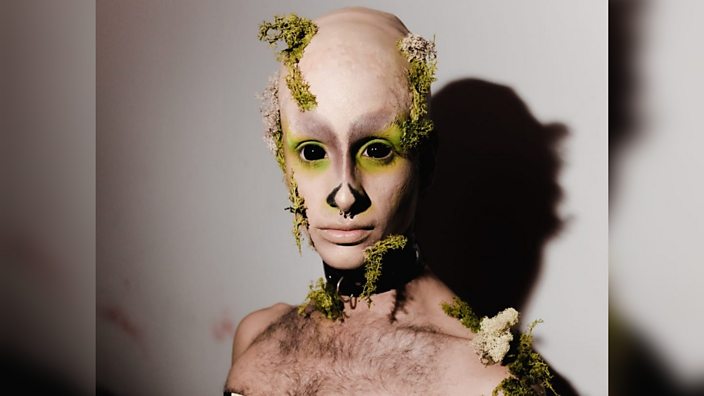 Financial barriers also mean that people get crafty when it comes to designing outfits. "A lot of people don't have the money to put into drag, so their drag is very crafty and uses recycled materials or simple materials," she adds. "You don't need to show up with an expensive or highly-elevated look to be seen, respected and for people to find your drag valid."
What most of the drag artists agree upon is that the popularity of Drag Race around the world has helped push drag from the fringes into the mainstream.
"In Nigeria, a lot of straight people – men and women – like watching RuPaul's Drag Race," Onyx says. "In a way, I think that has helped us because they've seen that there's more to drag than your sexuality. It's an art form."
"Because of Drag Race Thailand, people began to understand what drag is," Pangina agrees.
"It educated and helped the mainstream understand that this is not about sex or just lip syncing. It's about art. It's about the humanity and the person behind that art, their stories and the battles they've had to triumph against in order to stand up and be who they are."
"Drag makes me feel superhuman," she continues. "It makes me feel beautiful on days where I don't feel that I am. It makes me feel that I was put on earth to do this art.
"It makes me feel like I am at the place where I am supposed to be."
Sources of support related to LGBT issues can be found via the BBC Action Line.