N/A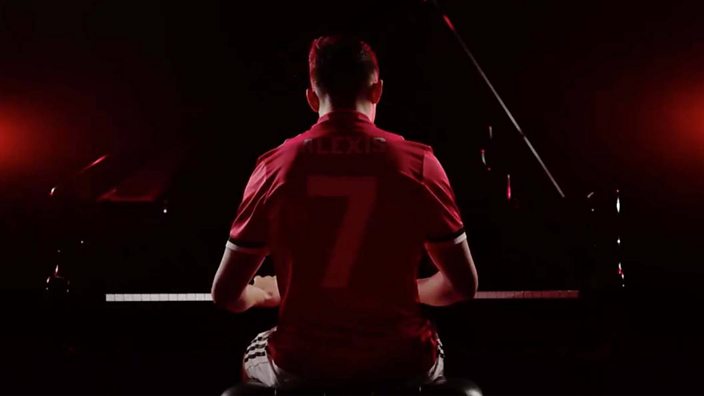 Twitter/ManUtd
Alexis Sanchez and his piano are football's latest extravagant signing announcement
Now we know why it took them so long to announce the signing. It's hard to blame Sanchez, it's clearly a tricky melody to get down.
But Alexis' slow jam is just the latest of the weird and wonderful ways clubs have been unveiling their newest recruits to fans in the social media age.
Ever since Paul Pogba's return to Old Trafford in 2016 was accompanied by its own social media strategy and #Pogback hashtag, clubs have been eyeing new ways to announce incoming players, managers and kit deals.
Gone are the days when you could just edit an epic-looking image together with #Welcome (insert player name).
Clubs have had to up their game, and have obliged with varying levels of success.
WhatsApp chats, Caribbean take-aways, video games and dating apps have all been used by football teams to make a big splash with their signing news - and everyone is at it.
Those wags in the social media team for the League Two outfit put together the above video, which imagines Yeovil swiping left on the likes of Lionel Messi, Neymar Jr and Ronaldo, before matching with Gobern.
It's not the first time the Somerset team have used an innovative digital strategy for a new announcement.
Here's how they celebrated the signing of striker Olufela Olomola in July...
After being passed over in recent years by the likes of Willian, Dele Alli and Alexis Sanchez, and failing to play it cool with Virgil van Dijk last summer, it's no surprise Liverpool fans find the transfer window period a little stressful.
So the club used a backdrop of increasingly desperate tweets to announce the arrival of Egyptian winger Mohamed Salah from Roma.
Here's West Brom hoping the appearance of Jay Rodriguez would keep the baying transfer-hungry mob from descending on The Hawthorns.
Not much fanfare here but a nice touch, and a surefire way to get 'Riece' tweeting every day until the transfer window closes.
Everton proved this summer that they love a good video tease - busting out the eyes emoji alongside some lovely steady-cam to reveal the signing of Dutch midfielder Davy Klaassen.
There's a lot to get through for a simple thumbs-up, but the training ground is shown off nicely.
This spawned a whole series.
Aston Villa announced John Terry's arrival with an imaginary WhatsApp group chat this week.
To be fair, it's actually pretty funny - although it does require a strong knowledge of iconic Villa central defenders.
Disappointingly, there's no mention of JT's wages in the conversation... Grealish, Kodjia and co probably set up a side chat for that one.
Italian club Roma perhaps deserve the most props for their use of video game Fifa 17 to reveal the identity their latest signing this summer.
Midfielder Lorenzo Pellegrini, a former academy prospect at Roma, was shipped off to Sassuolo where his performances both on the pitch, and clearly on the console, were enough to secure a move 'back home'.
Obviously feeling at liberty after the success of that campaign, Roma took it up to 11 with this super-weird announcement of young forward Patrik Schick.
The video is a mash-up of various oddities from the internet, which starts with that meme of a monkey bashing a keypad and ends with a goat playing chess to a remix of Public Enemy and The Stone Roses' Fools Gold.
Patrik Schick only features as a name on a piece of paper half-way through.
Premier League side Crystal Palace were clearly paying close attention to Pellegrini's part of the world.
The Eagles took inspiration from the Vatican's method of announcing a new Pope, using white smoke to confirm the appointment of Frank de Boer as the club's new manager.
Of course, we know now how that ended - their new boss couldn't prove himself to be on a similar level to His Holiness by blessing the Selhurst Park dugout.
Lovely South London twist too, with the Caribbean take-away.
From Serie A to League One, where Bradford City unveiled Paul Taylor in the way a Sunday league team might unveil their latest ringer five minutes before kick-off.
"You know Paul. He's Jamie's mate from work's cousin who spent four years at Tranmere's academy back in the day."
One club faltering in this brave new world… Southampton
Here are Southampton giving it the big one with a cryptic video revealing their latest big signing, before realising nobody would have a clue who it was and reverting back to the old favourite 'Welcome Bednarek' to be sure.
It's a brave new world, go steady out there.
Originally published 4 July 2017.