N/A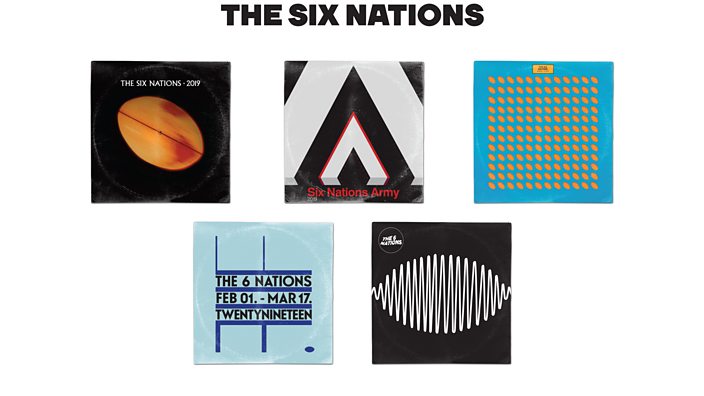 @_Bands_FC
Bands FC have reimagined Six Nations teams as iconic album covers
Wales as a Super Furry Animals album cover anyone? France as Daft Punk?
Bands FC have designed some absolutely banging images for the Six Nations.
In case you're not familiar with their work, they're designers Mark Liptrott and Nick Fraser and, last year, they started designing "bands as football teams and football teams as bands", then releasing them on social media.
The links are sometimes obvious, sometimes tenuous.
Sheffield Wednesday meets an avian Jarvis Cocker...
You get the drift, but now Mark and Nick have switched sports and put their creative minds to mocking up album covers for rugby union's Six Nations. Nick talked us through the designs.
"We obviously used the team badge as our starting point and we didn't want to deviate too far from that, so that's why we've kept the rose in. 
"In the end, though, we've created a homage to Peter Blake – one of our favourite designers, who's worked on so many great album covers, from The Beatles' Sgt. Pepper's Lonely Hearts Club Band to The Blockheads' Staring Down the Barrel. This image is a nod to the Paul Weller and the Stanley Road cover."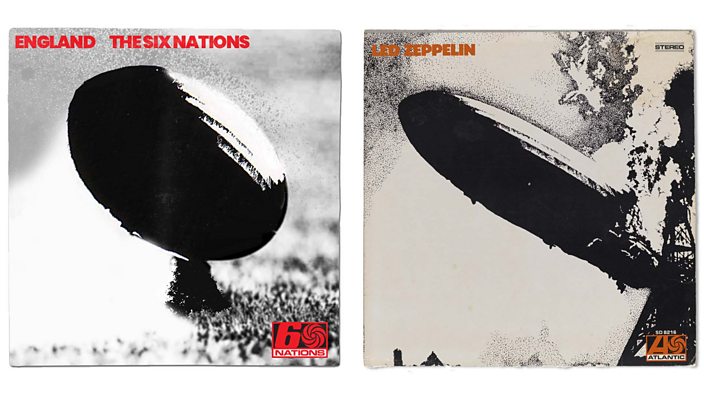 "I love the Led Zeppelin one (from their 1969 debut album) because it is an actual picture of a rugby ball. Sometimes, an image just adapts really well."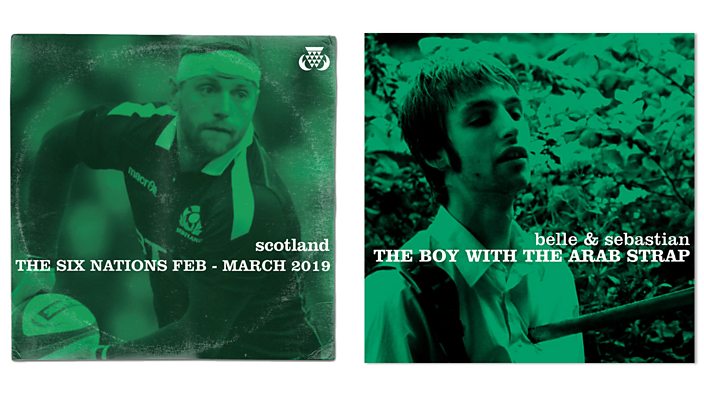 "We also used the thistle badge again, with a Belle and Sebastian feel. The artwork we pay homage to is stuff that would be in our record collections."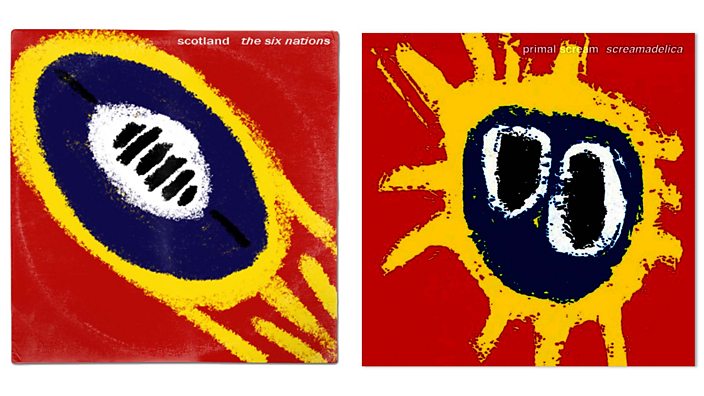 "There's a Primal Scream cover too. The artwork is king here – regardless of whether you like the album Screamadelica, the cover looks amazing redone with that ball in."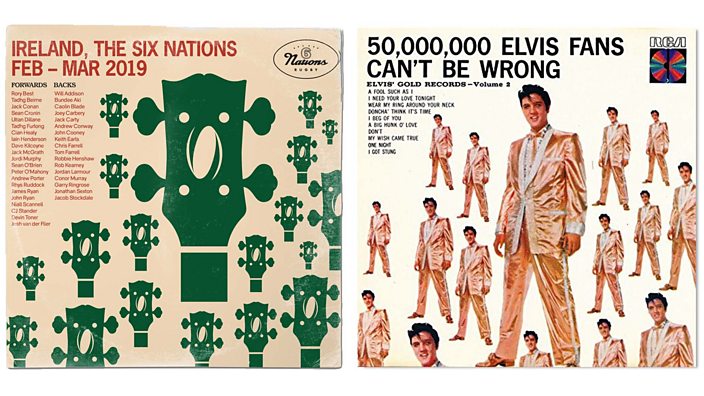 "This was an example of where the final image was more about the design than something more obvious. It's a take on the Elvis Presley album, 50,000,000 Elvis Fans Can't Be Wrong, but it's also a style that's been re-used by others like The Fall, Rod Stewart, and Elvis Costello.
"We liked the way that the shamrock fitted nicely on top of a guitar head too, so we created a subtle nod to that. It's the type of imagery that Irish bands like The Pogues and the Chieftains do use."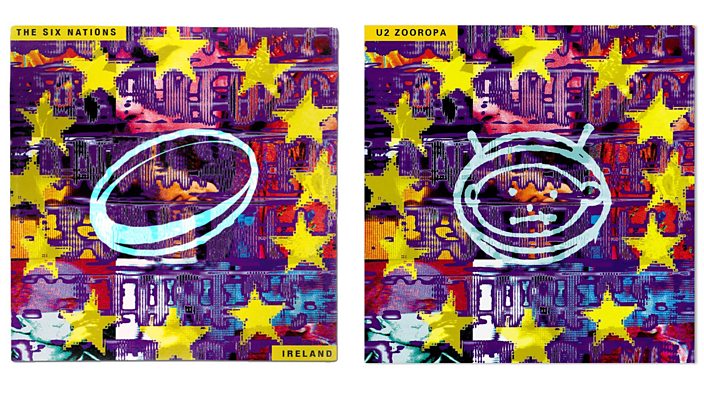 "This is a more obvious nod to the 1993 U2 album, Zooropa."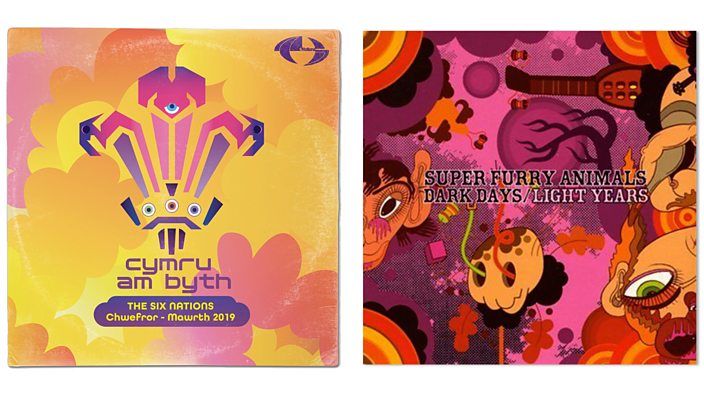 "One of our favourite bands are Super Furry Animals and one of our favourite artists is a guy called Pete Fowler, who creates their artwork, so this one was easy – we knew we wanted to pay homage to that."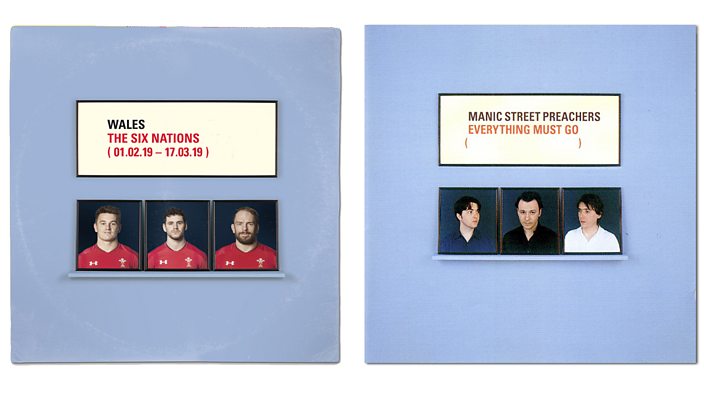 "We also created something that was a take on the Manic Street Preachers album Everything Must Go.
"They're another one of our favourite bands. When you say Wales to some people, they may think Tom Jones and Shirley Bassey, but, for us, Wales means Super Furries and Manics. That's what starts conversation – when someone will be like, 'I can't believe they didn't use Catatonia!'
"Of course, you don't want to get too obscure either when you're creating such a broad project."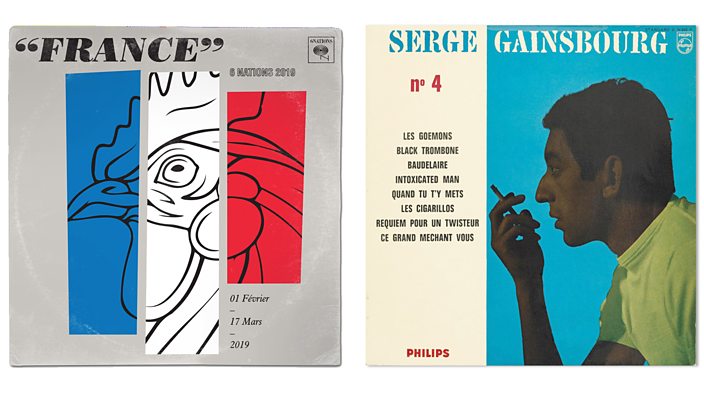 "Rather than a specific album or group, this design is a nod to the kind of French pop records from the Sixties, in a Serge Gainsbourg style."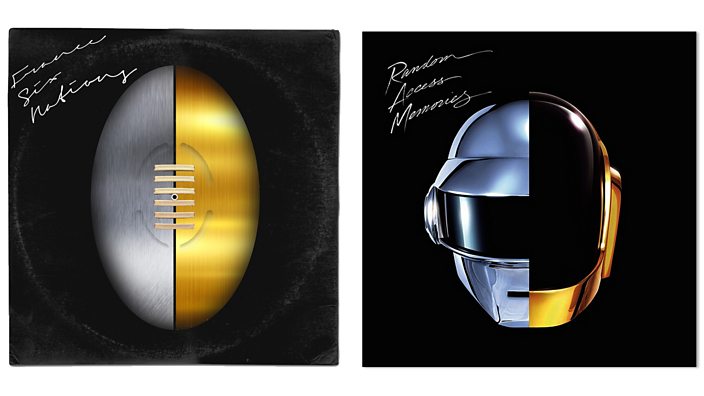 "The other one is obviously a treatment on Random Access Memories by Daft Punk – which adapted really easily."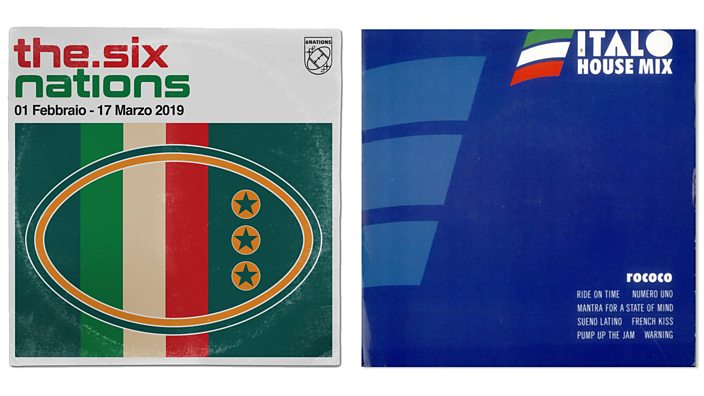 "There aren't as many obvious big Italian bands (Goblin?), so, again, rather than a specific album or artist for this, we went for an Italo house look."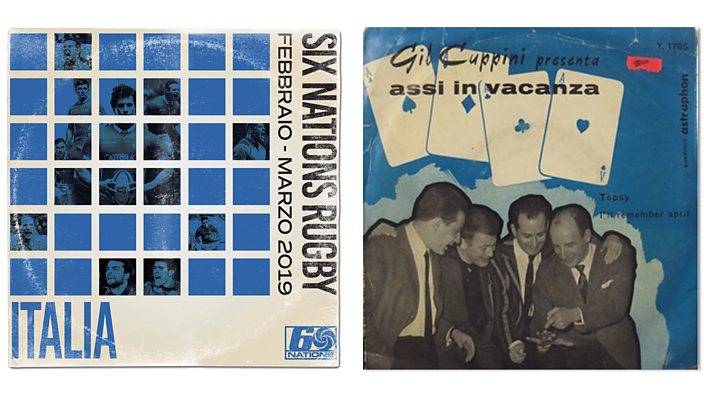 "There's another one that we did on a sort of beat-jazz riff." 
The prolific pair only started the project last year and they've since featured on loads of media outlets, and been exhibited at the National Football Museum in Manchester. Nick says he doesn't even know where the project might take himself and Mark next.
"We genuinely didn't start out with a plan – we thought we'd just show some friends," he tells us.
"When the National Football Museum said, 'Have you thought about doing an exhibition?', it was like, 'We haven't thought about doing anything, but we will'."
We're looking forward to seeing what's next anyway.