N/A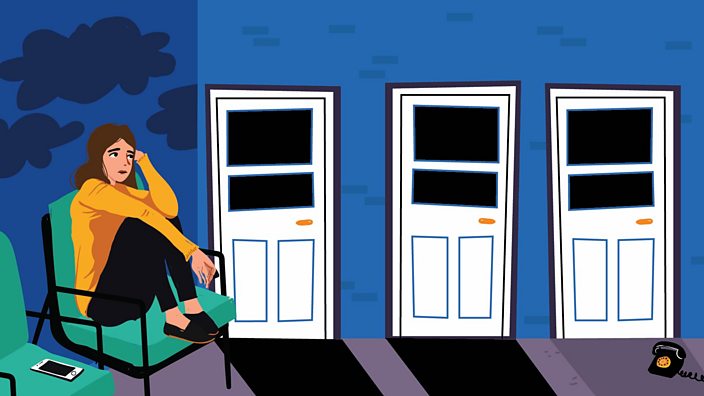 BBCThree
World Mental Health Day: I waited eight months for therapy
If I hadn't been able to pay for counselling, I don't think I'd be here today
October 10 is World Mental Health Day - a day for individuals to examine their own mental health, for organisations to dedicate time to the mental health of their employees, and for campaigners to highlight issues in mental health care. This year, the World Federation for Mental Health (WFMH) has set the theme as 'young people and mental health in a changing world'.
Across the UK, lengthy NHS waiting times remain one of the biggest black holes in our mental health services, with a new report from the Royal College of Psychiatrists showing that some people end up waiting up to 13 years for treatment - during which time patients can lose their jobs, their relationships break down, and they get into debt. This is one person's story of waiting for therapy. 
I was 21 when I had my first nervous breakdown. Somewhere in the middle and muddle of graduating, relocating to a new city and starting a new job, I sunk into a deep depression.
There wasn't anything 'wrong'. In fact, everything was going right. But that didn't stop the onslaught of emotion that hit me like a tidal wave and left me gasping for breath. It was a feeling so sudden and severe, and so alien, that I couldn't recognise myself. My then partner marched me to the doctor.
He sat quietly in the corner of the consulting room while my GP handed me a quiz, similar to the ones that I used to do in tween magazines. A series of tick-box questions, such as, "Do you have little pleasure or interest in doing things?" and, "Have you felt down recently?" led to my diagnosis just a few minutes later.
The doctor told me I was depressed, and asked me if I'd like to take time off work. But the thought of that filled me with dread - I'd recently landed my dream job and didn't want to squander such an amazing opportunity. All the while, she was tapping away on her computer filling out a prescription for antidepressants.
I asked her whether I could have counselling. She told me that there wasn't anything she could offer me on the NHS (this was six years ago). She suggested I call a local charity that might be able to offer some kind of counselling. But picking up the phone to talk to a complete stranger was more than I could handle at the time. I started taking the medication.
Today, NHS England's figures for 2016/17 show that 88% of people are now waiting less than 18 weeks for talking therapies, and nearly nine in 10 patients less than six weeks. This is supported by a pledge from NHS England to invest in excess of £1 billion annually in mental health services by 2020-21. But years of rising demand means that many people still face delays accessing mental health services.
Three weeks passed and things got worse. I felt sick constantly; my thoughts were becoming progressively darker; I couldn't get out of bed. Everyone around me was concerned, and seeing their worry made me feel (foolishly) like I was failing. Why wasn't I getting better?
I returned to my GP, who told me the medication takes a while to kick in. Antidepressants usually need to be taken for around a week before any benefits are felt, with the benchmark for returning to your GP set at four weeks. My doctor advised me to wait it out.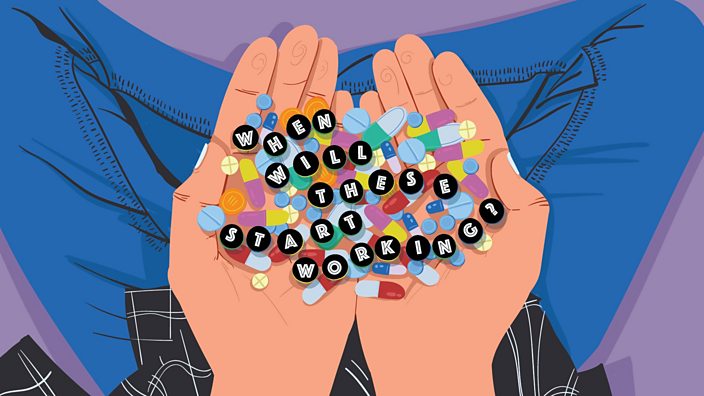 I felt awkward about asking for counselling again, especially as I hadn't called the charity she suggested. So, instead, I went home. I became obsessed with trying different things to make myself better. I changed my diet; I (briefly) took up running; I read numerous self-help books and fixated on stories of epiphanies and enlightenment. I was desperately looking for something to replace my yearning to talk.
In the seven months that followed, I returned to the doctor five times to beg for some kind of relief from the relentless sadness.
My medication was changed twice, but I still had constant nausea and vertigo that made me anxious to leave the house. The medication had put me in a fog. If I forgot to take it in the morning, I would be underwater by lunchtime – my mind filled with dizzying static.
I have a vague recollection of spending three days completely lost in my own despair in the run up to Christmas of 2012. Those days are a blur of sleeping and being forced to eat; of crying like a child – loud, primal sobs that made my whole body quake. The passion I once had for my work dwindled. I floated through the days in a timeless void.
I knew I needed to try something else. Finally, in May, I decided to seek private counselling, and for the first time I felt hopeful. I'd been on antidepressants for months by then, and nothing had made me feel better. 
I fired out emails to all the therapists in my area. Within a few hours, I'd heard back from almost all of them. I picked the one who could see me soonest.
Three days later I found the practice rooms the counsellor worked from. They were warm and painted a shade of yellow that made me squint. I felt so out of place. But, for the first time in months, I cried in front of someone else, rather than shutting myself away so no one could see how bad I really felt. I found comfort in being around someone who was removed from everything. When the hour-long session came to an end, I handed over £30, and agreed to a weekly six-session block.
My graduate job had a £17,000 salary, and that £30 a week cost me my independence. I was fortunate to have supportive parents who picked up the slack when I fell behind on my bills or couldn't quite pull together my share of the rent. Many people don't have that privilege.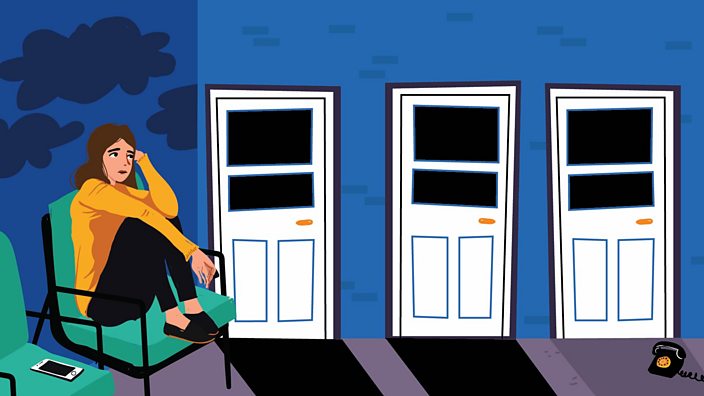 Claire Murdoch, national director for mental health at NHS England, says: "More patients are getting help more quickly, but we are not complacent. Mental health services have for too long been neglected, so raising standards of care to a consistently high level will take further years of hard work and continued investment."
I have no doubt in my mind that if I hadn't been in a position to access help outside of the NHS, I wouldn't be here today. That therapist in the blinding yellow room not only saved my life, but somehow – just by listening – made it better.
I was looking for a magic cure in counselling, and was disappointed when it didn't offer an instant 'eureka' moment. I didn't realise its power until a few months after the six-week course finished. I was going through a break-up, moving home for the sixth time in four years and starting a new job. Those six hours I'd spent talking to a total stranger had taught me how to cope with the things that were out of my control. 
Soon after all the chaos was over, I met my now-fiancée – and as clichéd as it sounds, it happened when I least expected it. 
It has been six years now. We've got two dogs, and having those two innocent souls relying on me gives me all the motivation I need to get out of bed every morning, no matter how low or stressed or worried I might feel that day.
First published on 8 February 2018