N/A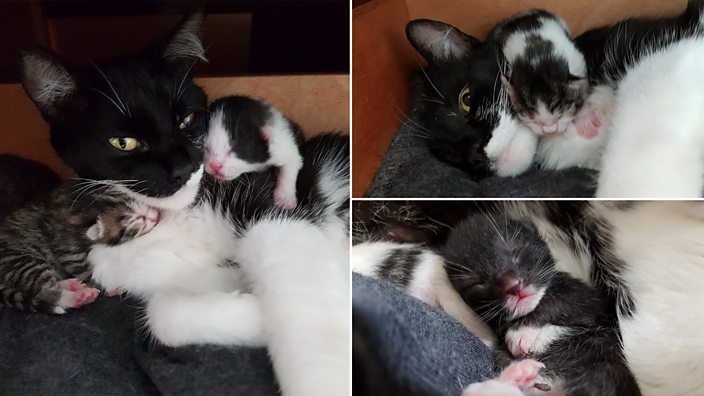 Paris Zarcilla
Man becomes loving 'cat dad' after finding random kittens under his bed
He's vowed to be the best cat dad he can be
Nothing can really describe the overwhelming feeling of becoming a parent for the first time.
Right now, no-one knows this euphoria better than Paris Zarcilla.
Earlier this week, Paris, a filmmaker from East London, found an unfamiliar cat under his bed – along with four newborn kittens.
Faced with this pretty unusual situation, he did what any of us would do. He tweeted about it.
"So…" he began. "I JUST FOUND A CAT THAT IS NOT MINE AND IT HAS HAD BABIES UNDER MY BED."
Paris then took us with him on his journey into cat parenthood, with all of its ups and downs.
His priorities changed instantly.
He also provided periodic updates on the kittens' cuteness.
Spoiler alert: they are very cute.
Someone naturally asked where the cat came from, and whether she belongs to anyone.
Paris explained that he has no idea – he had fallen asleep downstairs, and only noticed the new family after going upstairs to get a jumper. He adds that he's going to get the new mum scanned as soon as he can to see if she has a microchip.
That jumper, by the way, is a bit ruined.
Although he might wear it anyway, to help the little ones adjust to their adopted dad.
But as well as cute cat pics and funny updates, Paris also had this poignant message about how the new arrivals have helped his mental health.
This makes sense. Studies have found that caring for pets helps people living with mental illness. According to major research carried out earlier this year by Manchester, Southampton, and Liverpool universities, pets can help people to manage their mental health problems, "particularly in times of crisis". This probably helps explain the phenomenon of 'emotional support' pets, too.
Although, as the cats likely belong to someone living nearby, Paris is already preparing himself for potential heartbreak. :(
There's no specific law on how long you can keep a cat that's not yours - but you do have to make all reasonable attempts to find their owners.
This whole scenario isn't too bizarre. Apparently, before they give birth cats will look for a soft place to have their litter. A pile of cashmere under a kind person's bed would be the perfect place.
Paris tells BBC Three that, since the kitties arrived, it has been "all smiles and meows in this house", and that they've been "settling in so well, almost as if they had lived here the whole time".
"My life is changing in real time," he adds. "This stony heart of mine is being chipped at with every mew. I think I love them. Like, actually love them with my heart. Ugh. I can't help it. I'm going to give them everything they need until they need me no more."
If this isn't a tale of true love, we don't know what is.