N/A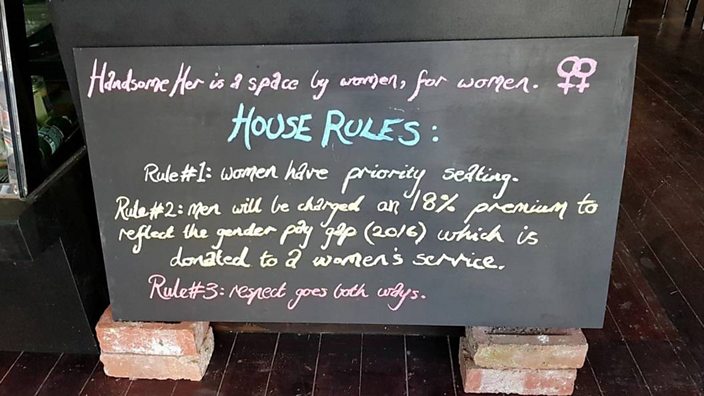 @paigecardona
Here's the café that's introduced an actual man tax
Fed up with the gender pay gap, one café owner has taken the novel move of introducing a bona fide man tax.
Handsome Her café in Melbourne, Australia, opened last week with a rule that sees men charged 18% more for their bills for one week per month.
The vegan venue also offers priority seating for women.
"All we really wanted was to raise awareness and start conversations about the gender gap," Belle Ngien, the café manager, told CNN.
The 18% figure was chosen to reflect the pay gap in Australia - currently 17.7% according to a 2016 government report. Proceeds from the tax are to be donated to a rotating set of women's charities.
However, the surcharge is not compulsory.
"If people aren't comfortable with paying it, or men don't want to pay it, we're not going to kick them out the door," says Alex O'Brien, co-owner of the café. "It's just a good opportunity to do some good."
The café has reported a strong reception so far from customers, with no one yet refusing to pay the tax. Posting on facebook, O'Brien wrote, "We've had men travel across town to visit us and pay 'the man tax' and throw some extra in the donation jar - guys, you're pretty neat."
However, that hasn't stopped the internet from erupting over the issue.
Men and women have weighed in on either side of the divide, both cheering the move...
... And wincing it at it.