N/A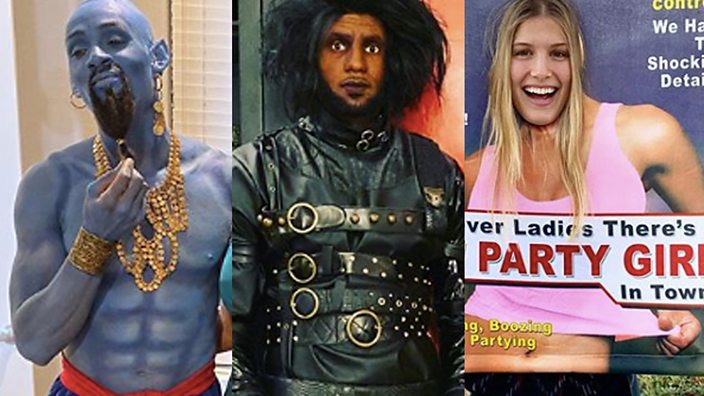 @deandrehopkins/@kingjames/@geniebouchard
Halloween costumes from LeBron James, Jamie Vardy and other sports stars
Including LeBron as LeDward Scissorhands, Lindsey Vonn as an in-joke with Gritty, and Genie Bouchard as herself
Athletes are nothing if not performers. Especially American ones. Just a big bunch of goofy extroverts. They love it. And Halloween is the perfect platform for these eternal show-offs. 
Across football, NFL, NBA, hockey, athletics and tennis, the sporting world went all out on Halloween this year. There were various iterations of the Joker, characters from films like Norbit, some cacti, one Larry David and even one athlete dressed up as an inside joke.
Here are a few of our faves…
LeBron James as LeDward Scissorhands
Now, throw a three-pointer in those and we'll be impressed LeBron.
The Vardys as the Addams Family
Steph Curry as Buzz Lightyear
We feel sorry for the bemused dog.
Paul George as the Night King
This looks like it required a big-budget costume/make-up team.
Genie Bouchard as herself
The 25 year old Canadian tennis player has had a lot of tabloid attention since she reached the Wimbledon final in 2014 (a level of success she hasn't repeated). With her massive Instagram presence and modelling, there have been suggestions that she lacks dedication. She's taken pains recently to remind people that she doesn't just do what she posts on social media and this mocked-up front page definitely seems to be another way of owning the joke.
Christian Bale's dark Batman meets 1960s camp Robin. When worlds collide.
The Boy Wonder doesn't look pleased.
Nastia Liukin and Sam Martin as one another
The former gymnast and Detroit Lions punter doing Couples Halloween very well.
Tom Daley as a diving coach
And he doesn't seem best pleased to be inhabiting this new role.
John Wall as Heath Ledger's Joker
Props for the production values and the patient team behind this. 
The abs aren't shop-bought either. 
Sydney Leroux as Fred Flintstone
Well done to the Orlando Pride footballer and her family for eschewing prehistoric gender roles in their Flintstones get-up.
This is just lovely stuff. The outfit, the action shot, the nod to season 7, episode 10 of Curb Your Enthusiasm - where Larry protests that he "respects wood" after being accused of not using a coaster on a side table. A comprehensive effort.
Dwight Howard as Rasputia
2007 rom-com Norbit may have been a bit of a flop, but we're fans of Howard's incarnation as Rasputia, the film's voluptuous female lead.
Tom Brady as a Stormtrooper
He's been a force in the NFL for some time now.
Robert Lewandowski as The Joker
Football goals. Couple goals. Lewandowski is just a goal machine. 
The Australian tennis star aced this Hey Arnold character for us.
Dwyane Wade and family as plant-life
Possibly the cutest thing we've seen all year.
Lindsey Vonn as an inside joke
One for the heads this. Philadelphia Flyers mascot Gritty taunted New Jersey Devils player PK Subban earlier this month by suggesting that he was punching in his relationship with US alpine ski racer Vonn. She clapped back, and roped in the Devils' mascot NJ too. Nice.
A mascot dressed up as another character is a level of meta that we appreciate.