N/A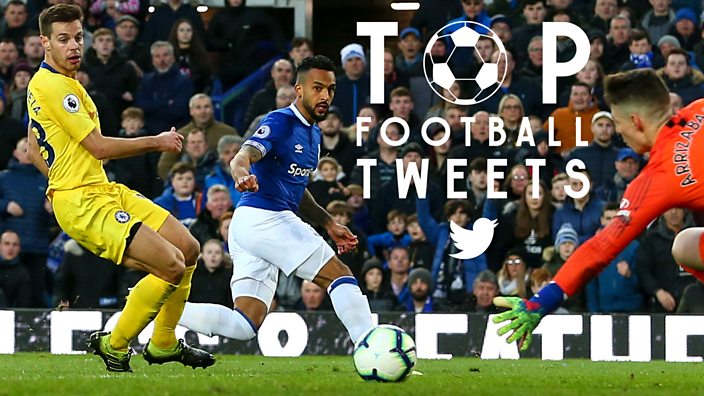 Getty Images
A footballing moment from Peep Show has finally come true
It's been six and a half years since Jeremy predicted this would happen so now we must celebrate
It's been a strange old football weekend. There were just five Premier League games but they and the FA Cup games did not fail to deliver on talking points. Nor did the action from the other games that took place. Want to know just how strange the weekend's games were? Well a modern-day rivalry took place involving a hornet, pitchfork and balloons. So yeah, that kind of weird. But let's kick things off with Theo Walcott TV-moment news.
It has finally happened. The day we've all been waiting for. Yes, hang the bunting, Three-O Walcott Day arrived on Saturday.
Peep Show fans will remember Jeremy's confidence in his plan to make "millions" by selling the headline "Three-o Walcott" to a tabloid newspaper on the day Walcott turned 30.
Well, on Saturday, the Everton winger finally hit that milestone and actor Robert Webb, who played Jeremy, rang in the occasion in style, by referencing his character's famous headline idea.
In fact, one fan of the show was so excited the day had finally arrived that he rented a billboard to celebrate.
But the plan was to get it in the papers and fans will be happy to know that not only did the words "Three-o Walcott" make it to print, but they also remembered to credit the source.
Walcott even had the opportunity to make it a birthday weekend to remember as he was handed the perfect chance to give Everton a 3-0 lead over Chelsea but he fluffed his lines and denied every sub-editor their dream back page. Never mind, can't have everything. 
2) Harry the Hornet strikes again
In the world of footballing rivalries, one of the most peculiar ones to emerge over the last few seasons has been Harry the Hornet vs Crystal Palace.
For whatever reason, the Watford mascot has figured out he perfect way to push Palace's buttons. Earlier this season, he got under the skin of Roy Hodgson after mocking Wilfried Zaha for diving back in 2016. So it's fair to say Palace supporters are not Harry's biggest fans. So how did he handle their latest encounter when Watford faced Crystal Palace in the sixth round of the FA Cup? By walking around the pitch with a pitchfork, popping Palace's balloons. He's not quite the shy and retiring type is he?
Although you do have to question why a hornet would need to use a pitchfork when he already has an ideal balloon-popping tool at his disposal.
Virgil van Dijk has undoubtedly been one of the best - if not the best - defenders in world football over the last 12 months.
But just like Superman can be felled by seemingly innocuous kryptonite, Van Dijk has a surprising weakness of his own: Ryan Babel.
The Fulham winger exploited an error by his fellow Dutchman to level the scores in their game on Sunday. But what's even more interesting is the fact Babel had told us all he was going to do it.
Liverpool still managed to recover from Babel's goal and win the game to go back to the top of the Premier League table but if it's any consolation to Reds' supporters, the former Liverpool forward looked genuinely conflicted about potentially dashing his old club's title hopes.
There's last-gasp defending, and then there's Paul Dummett's incredible clearance off the line to deny Callum Wilson during Newcastle's 2-2 draw with Bournemouth.
The 27 year old somehow managed to prevent Wilson's looping header from crossing the line in the 71st minute and the moment was captured perfectly by a pitchside photographer. 
Dummett's effort may have made for a nice picture but it still pales in comparison to this Gordon Banks-esque save from Anke Preuss to deny Erin Cuthbert as Liverpool Women took on Chelsea.
Unfortunately for Preuss, there was little she could do to keep the Blues out all night as Chelsea ran away 4-0 winners but she can still stack that save away in her highlight reel for the rest of her days... 
Speaking of goalkeepers, there are few things as oddly compelling as watching an outfield player forced to take over between the sticks. Having already used all three substitutes in their battle for Championship promotion against Sheffield United, Leeds' keeper Kiko Casilla was sent off in injury time. That forced defender Pontus Jansson to take over as an emergency goalkeeper, much to the delight of every neutral watching.
It's like finding out you teacher is in a band - the second you hear about it, you know you need to see it. 
Man City continued their march towards the quadruple as they came from behind to beat Swansea City and book their place in the FA Cup semi-finals. With Man United losing out to Wolves earlier in the day, the tournament now seems like City's to lose and their crosstown rivals might even been cheering them on to win the whole thing if they end up finishing sixth in the Premier League.
After all, if you drop down from the Champions League to the Europa League, that means you have to start your campaign while all your rivals are still on their holidays. 
8) Familiarity breeds contempt
Man City were drawn against Tottenham Hotspur in the quarter-finals of the Champions League last Friday. With the two sides already set to meet in the Premier League next month, that means Spurs and City will face off three times over 11 days in April.
But that's nothing compared to the Bury-Stoke rivalry that played out in the 1950s, which saw the two sides play each other seven times in one month.
If you've ever wondered why Wolves' winger Diogo Jota leaves out the last three letters of his last name on the back of his shirt, he might just be having a little Portuguese-language joke.
Maybe Jota is just doing his best to teach Wolves' fans Portuguese. After all the club have been sending out some rather interesting educational instructions to their supporters lately.
Spare a thought for all the fans who trekked out to Easter Road on Saturday to see Hibs take on Motherwell, only to be met by the news that they couldn't get any matchday chips because of "technical issues".
There's a joke in there about microchips that we're too big to make.
Karlan Grant has made a bit of a name for himself since signing for Huddersfield in January and though his double at the weekend couldn't help the Terriers avoid defeat against West Ham, it did shoot him to the top of Town's goalscorers list in the league this season.
In fact, with 14 goals for Charlton in League One before making the move to the John Smith's Stadium, Grant is currently the top scorer for two different teams in two different divisions.