N/A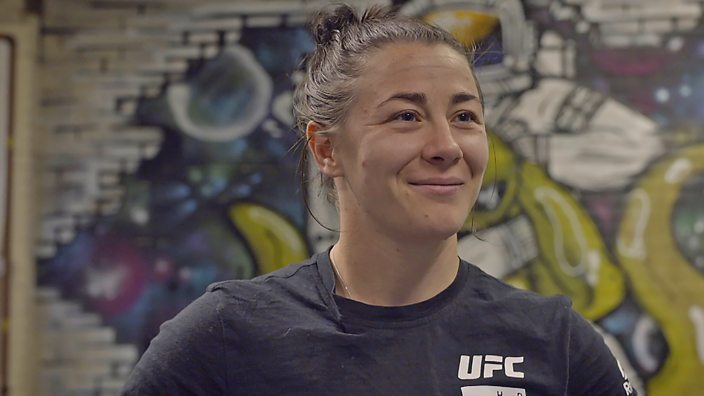 BBC Three
"It's cool to be different": Molly McCann on how she trains and why she fights
Ahead of her next bout, the first English woman to win in the UFC tells us how her mum inspires her, what it's like to be a role model and how scousers are salt of the earth
"You'll have to pardon me," UFC flyweight Molly 'Meatball' McCann apologises over the phone from her gym in Liverpool. "I'm absolutely done in from training." 
A new film on BBC Three, Inside The Cage: The Rise Of Female Fighters, follows Molly on her journey towards her US debut fight, which took place in Greenville, South Carolina in June this year - and was her third fight in MMA's elite division. In the film, alongside two other young women hoping to break into the UFC, Annie Price gets unique access to Molly's camp ahead of UFC Greenville. We see Molly go through training and torturous weight-cuts to get prepared.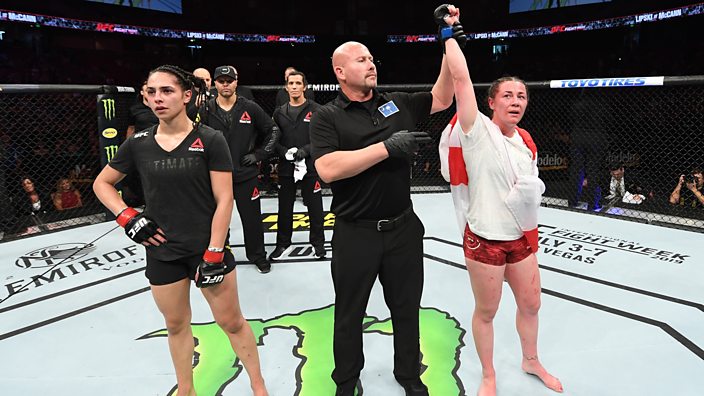 Soon after the fight, she got news that she'd be on the card for another US bout - this time in Boston, on 18 October - against octagon debutant Diana Belbita.
We caught up with the 29-year-old flyweight a couple of weeks ahead of that fight.
"I'm training five hours a day, six days a week, only with men, on a calorie deficit," she says. "This is not easy.
Her training team may be made up mainly of men, but Molly's carving the way for English women in MMA.
We wondered how she felt about being a history-maker.
"It's an accolade and it's nice to know that that can never been taken away from me, but it's not something that I'll boast about," she tells us.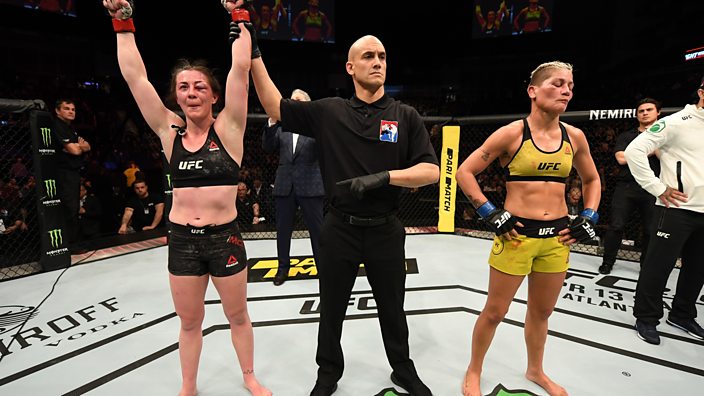 While she's not boastful, she does admit it's been nice to have her community rooting for her. Molly grew up in the Norris Green area of Liverpool, which has had some bad press over the years, especially around violent crime.
"When I won in London in March," Molly tells us, "Norris Green really got behind me. It was nice to know that they had a positive role model to come out of that area."
Molly knows too that since stepping onto the main stage, there's more of a spotlight on her.
"I'm just trying to be the best version of myself and hopefully inspire the next generation," she tells us, adding, "not even to fight, but just to live good. To know that it doesn't have to be 'monkey see, monkey do,' that you don't have to follow the crowd. To know that it's cool to be different."
It's amazing to think how hard it must have been for my mum to get clean, whilst trying to be a single parent, volunteering and putting me into after-school clubs, so that I didn't turn out like everyone around me.
When asked, for probably the millionth time, whether she thinks Liverpool shaped her as a fighter, Molly says that she thinks the area she grew up in gave her, "thick skin," but also that she doesn't believe she would have been afforded the same opportunities elsewhere.
"I don't give in on the city and they don't give in on me. We're salt of the earth and we're the hardest about. When you mix that together, you get a very special kind of person."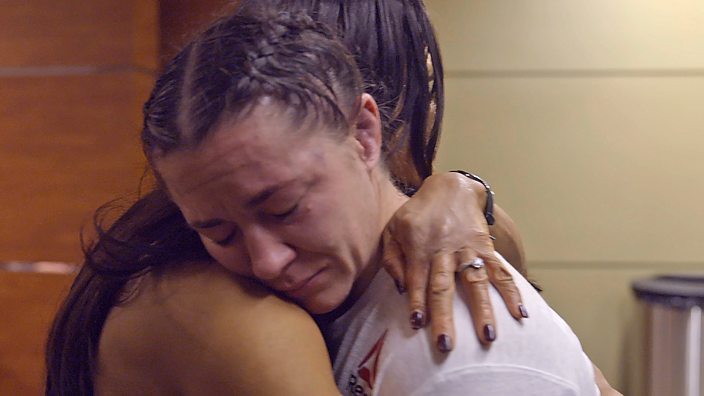 She cites her mum as her inspiration. Molly tells us that her mum previously suffered from substance addiction, but became sober over twenty years ago and now works to help others with addiction issues. She raised Molly as a single parent and encouraged her ambitions.
"It's amazing to think how hard it must have been for her to get clean, whilst trying to be a single parent, volunteering and putting me into after-school clubs, so that I didn't turn out like everyone around me," she tells us.
Molly started training in MMA in 2013, inspired by watching Ronda Rousey. She tells us she has always had to juggle training with working 18-22 hours a week in jobs including personal training, call centres and also work for a popular sandwich chain - the source of her 'Meatball' nickname.
Since she moved into MMA's top division, she says, she's had the financial security to focus solely on her training - something that's been reflected in her performances.
In Inside The Cage, Molly explains her pay in the UFC.
"You get money to turn up, make weight and fight and you get money to win," she explains. "At the beginning, you start on $10,000. When you win, it increases each time."
For her last fight in the US, Molly didn't bring friends and family along. "I needed to go away and know that I can do it on my own," she explains.
"In my head, I had to come back and win that on my own and right all my wrongs."
She has two losses on her record – one against Canadian Gillian Robertson on Molly's UFC debut in Liverpool back in May 2018 and one against Brazilian Vanessa Melo in Xtreme Fighting Championships (XFC) in 2015.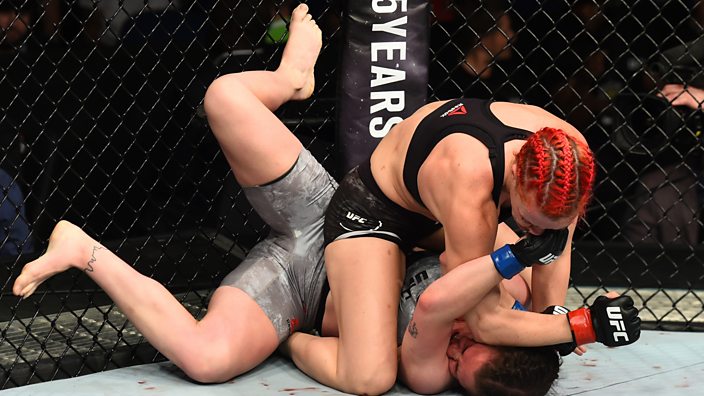 In Boston this month, she tells us she will be bringing around 30 friends with her.
There are lots of rituals and props involved in the preparation too, including her St George's flag and her Everton football club flag - which travel everywhere with her.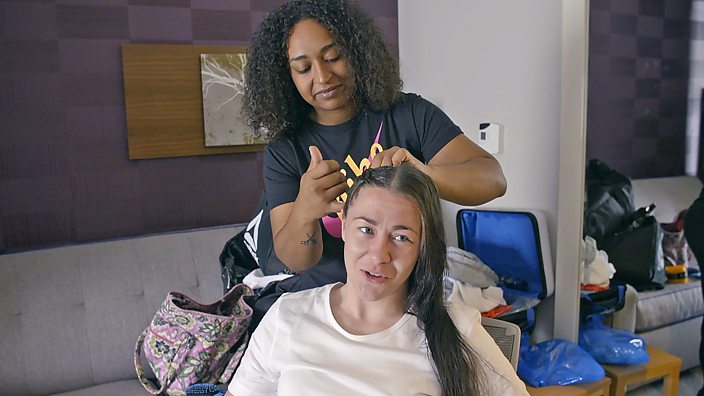 "When I lost in Brazil, I was wearing black, came out with an England flag and fought a Brazilian," Molly tells us. "When I won in London, I came out in black, had an England flag and beat a Brazilian."
She says that she had to keep things the same to break the superstition.
In training camp for the next bout, Molly's sticking to what she knows. 
I won't stop until I've bought my mum a house
"I've had people over from the UFC training, people over from Bellator [another MMA promotion], all the boys over training," she tells us. "We're not doing anything too different now because I've got a blueprint that works. The only thing that changes is a sparring partner that reflects my opponent." 
The blueprint involves lots of grit and hard work – because that's what's served her so far - and, for now, she's just focused on the next bout.
It's a dangerous sport and Molly knows that well. After her last fight she suffered a broken hand. At UFC London, in March, she fought on through a fractured orbital bone in her eye socket.
"I could die in the ring tomorrow," she says in Inside The Cage. But, as she explains in the film, she's determined to push through.
"I won't stop until I've bought my mum a house."