N/A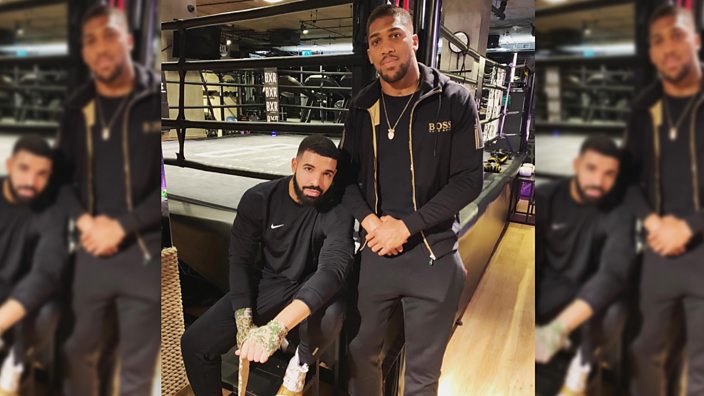 champagnepapi
Is Anthony Joshua about to fall victim to the 'Drake curse'?
Many an athlete or sports star has fallen to Champagne Papi's kiss of death
Drake has been hanging out with Anthony Joshua this week, ahead of AJ's fight against Jarrell 'Big Baby' Miller in the summer.
Drake posted a picture of the two together on his Instagram, quoting London rappers Dave and AJ Tracey from their track Thiago Silva. "Walk in the rave, smile on my face. Drink in my cup, hand in my jeans. Man talk tough, man look up, down, left, right. Straight to a bang in the teeth." 
Drizzy had been training with AJ's strength and conditioning coach in London. The rapper is no stranger when it comes to lacing up his gloves. He was training with his coach in Los Angeles last month and showed off some sharp boxing skills on that occasion too.
Anyway, every sports team or athlete wants a celebrity fan, right? Well, maybe not if that fan happens to be Drake.
For some time now, people have been noticing that once Drizzy publicly declares his support for a team, they can pretty much kiss goodbye to their chances of sporting success.
The University of Kentucky and Toronto Raptors basketball teams, Conor McGregor and University of Alabama American football team have all come a cropper since Mr 'In My Feelings' started showing them some love.
While his beloved Raptors and Kentucky have been without success on the court for a sustained period, more recent occurrences have had people wondering if the 'Drake curse' was really a thing.
The 6God's appearance as Conor McGregor's hype man at the UFC 229 weigh-ins backfired when McGregor was submitted by Khabib Nurmagomedov in the fourth round, and his donning of a University of Alabama hoodie prefaced Alabama's 44-16 defeat to the Clemson Tigers in America's College Football National Championship.
The bad juju has been causing sports fans across the world to worry that Drake would one day emerge in their team's gear and put a hex on their hopes of success.
However, back in January, ahead of a weekend with two NFL Championship games, it looked like the OVO rapper may finally have found a work-around to keep EVERYONE happy - wearing a jumper with all four teams on it.
Conspiracy theories still abounded...
Either way, if Anthony Joshua is a superstitious man at all, he may not want to invite Drake into his corner just yet...
Article originally published 21 January 2019