N/A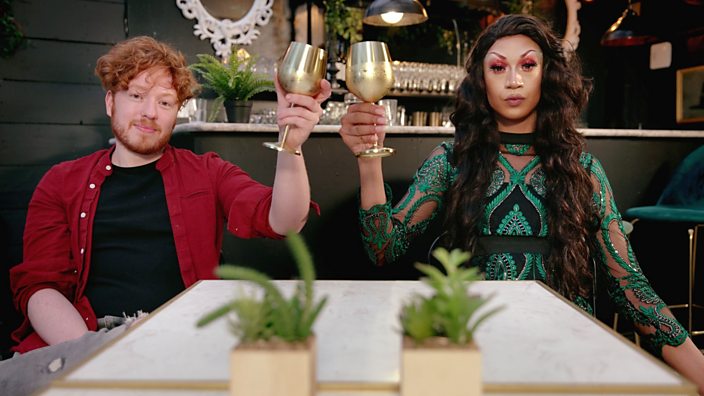 BBC
Tia Kofi on Eating With My Ex: 'LGBTQ+ dating can be a minefield'
Drag Race star Tia Kofi dives into a tricky former relationship.
"Hugh and I met at university in Nottingham and the romance was fraught with many, many issues. Did we date? Didn't we date? Were we together? Weren't we together?"
The pair - who've remained good friends since the end of their relationship - met up again at a bar in south London. On the show, couples are served up plates of food that have tricky questions about their former relationships written on them, like "Did you always fancy me?" and "Did my behaviour make you hate me?"
Because she and Hugh are still so close, Tia wasn't expecting the process to be as emotional as it turned out to be. "I kind of thought we had dealt with all the issues and addressed everything - and then it turned out we hadn't.
"That's the gag. That's what the plates do to you.
"You get these questions that prompt thoughts, feelings, emotions and, yeah, it really turns out I hadn't resolved everything."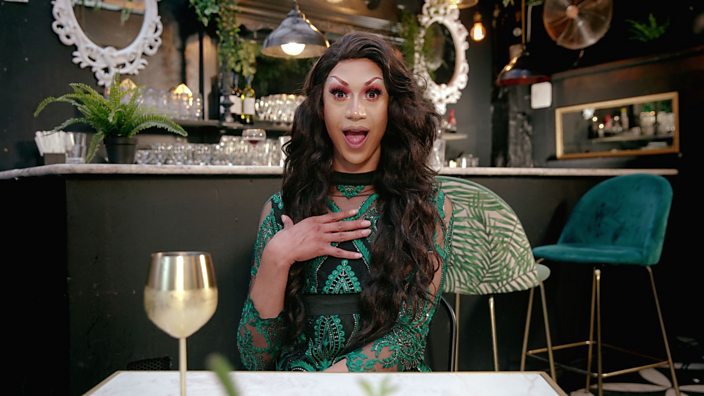 On the show, the pair discuss some of the issues they face while they were together at university - something they elaborate much more on the programme. 
"There were a lot of things that I wasn't expecting to deal with or to come out of the show," Tia says. 
Appearing on the show taught Tia "to appreciate myself a little bit more," she adds.
"That was one thing that Hugh really tried to hammer home to me on the show: stand on your own two feet and be a bit stronger."
'You never know what it's going to bring up'
When it comes to modern LGBTQ+ dating and relationships, Tia says there can still be some thorny issues for young people to deal with.
"It's quite a difficult path to tread even though I hope people are more able to come out and be their authentic selves these days. Any dating is tough and difficult but particularly in the LGBTQ+ world, it can be an absolute minefield."
For example, Tia says many of her friends who have gender-fluid identities and use they/them pronouns face prejudice from within the LGBTQ+ community.
"Prejudice still exists and I think maybe we as a community could apply a little bit more thought and a little bit more care to how we treat our own."
And she encourages young people to be kind to each other on dating apps, too. "If there's one thing to preach it's just kindness and consideration. Don't act like you're being some sassy thing on Drag Race."
So would Tia recommend the process of meeting up with former lovers to go over old relationships?
"If you feel like you need that closure, then these conversations are great and necessary and you can resolve things that you haven't addressed properly.
"But you have to be in the right headspace for it, so it doesn't descend into a chaotic argument.
"And you never know what it's going to bring up. For me it brought up issues that I didn't even know were there."