N/A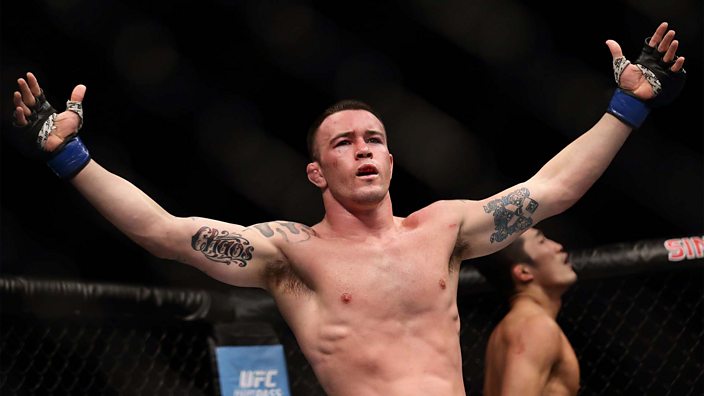 Getty
Colby Covington's controversial comments have divided the UFC fan-base
Whether it's Donald Trump, Conor McGregor or Michael Jordan, you can bet Colby Covington has an opinion on it
Colby Covington's known for offending both fighters and fans with his views, and has even been accused of racism and homophobia, so you might have thought that in the build-up to his UFC 225 bout, he'd want to let his record do the talking. 
Yet, ahead of his fight for the interim welterweight title this Sunday - against Brazilian jiu-jitsu specialist Rafael dos Anjos - the US fighter hasn't stopped at pre-fight trash-talk. 
The 30-year-old has continued to use his Instagram account to boast about his ability to attract the opposite sex, and has forayed into politics by referencing Donald Trump.
And despite UFC 225 taking place in the Windy City this weekend, Covington didn't mince his words when criticising the host city after he was booed at a pre-fight media day.
"This how Chicago treats greatness?" Covington said, then going on to reference Michael Jordan's departure from the Chicago Bulls: "No wonder Jordan left this dump."
Chicago isn't the only place Covington has riled up, however, as he's seemingly become a hated figure in his next opponent's home country, Brazil.
The BBC MMA Show caught up with Covington ahead of his interim title shot this weekend and in true Colby Covington fashion, he started the conversation by saying, "Thank you for having the king of Brazil on the show."
Why has he given himself that nickname? Well...
"All the women are fantasising about me and all the people in Brazil are naming their firstborns about me," Covington said.
"I've received a lot of letters and phone calls and I've decided that I'm going to run for Brazilian presidency. They're going to overthrow the president and King Colby will be looking to make Brazil great again," he added.
"I'm the great American winning machine. I'm addicted to winning, just like Trump. Before I win the belt on Saturday I'm going to the White House," he claimed.
Covington's opponent, former UFC lightweight champion Rafael dos Anjos, is currently on a three-fight win streak and has been tipped as the favourite to win the fight this weekend.
What does Covington think? "All the media say he's unbeatable. Lets establish that he's 3-2 in his last five and I'm 5-0 at welterweight. All these pundits that say 'Ralphy' is a god but they don't get to step into the octagon with him.
"On Saturday night, I'm going to break dos Anjos in half."
Tyron Woodley is currently the UFC welterweight champion, despite not having fought since last July, but Covington considers his fight with dos Anjos as the real deal.
"I think I'll fight Woodley next unless he vacated the title and runs to Hollywood."
"This is 100% the real title fight. Tyron Woodley's been faking injuries. He's gossiping about Justin Bieber and Kim Kardashian. He tried to bluff and say let me fight Nate Diaz or Georges St-Pierre, but as soon as they said to fight me, he said he needed shoulder surgery all of a sudden."
"If GSP [Georges St-Pierre] wants to come out and fight a real man, he'll know I'll bury him where he stands so maybe [I'll fight] Khabib [Nurmagomedov]. If he keeps eating tiramisu and he gets a little fat, he can come up to welterweight," Covington says, before shifting his focus to Liverpool's Darren Till.
"I'd say Darren Till, but he cant even make weight so he's not ready for me - raw American steel."
Given his comments, Covington doesn't appear to be in the business of making friends, and criticises the comparisons made between him and Conor McGregor, stating that money is his main motivation in MMA.
"I don't like anybody - that's why I'm different to everybody. Conor likes the fans. He likes commentators. I don't care because I'm not here to make friends. I'm here to make money. If you're here to watch me lose, even better because I'm undefeated and I'm never going to lose."
"I'm making the UFC decision great again. I'm the most well-rounded fighter on the planet."
"I'm just playing myself. Nothing bothers me. I don't have feelings or emotions. This is just who I am and I'm just being myself," Covington claims.
The interim welterweight title fight between dos Anjos and Covington will take place before Robert Whittaker and Yoel Romero go head to head for the UFC middleweight title on Saturday night.