N/A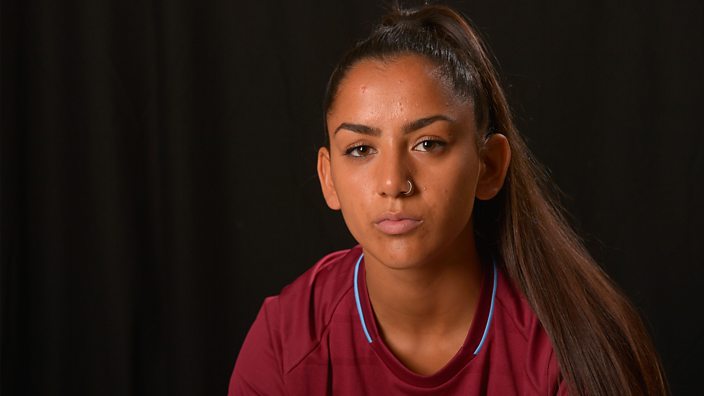 Arfa Griffiths/West Ham United via Getty Images
'David Beckham was my hero growing up – now I hope young girls can look up to me'
Meet the young female footballer breaking down barriers
Although it's still early morning, Rosie Kmita almost bounces into the room when I meet her. Dressed in her training gear, she wears her long hair in an Ariana Grande-style ponytail. She's instantly likeable, with an infectious smile and a habit of cracking jokes to play down her success.
Rosie, 24, still seems in a happy state of surprise at the course her life is taking. It all started when an unexpected email landed in her inbox while she was on holiday in Thailand. She'd spent the past year playing at semi-professional level for West Ham United, while also working at a football academy in North London. So she was enjoying some time out before the football season kicked off again.
The restructured league launched earlier this year and involves 11 teams competing against each other in 20 fixtures a year. For the first time ever the players are all on full-time salaries, although there's still a long way to go for the women's game.
Rosie - who appears in the new BBC Three series Britain's Youngest Football Boss - had been certain that her club's move up to this top tier would mean that her career there would be over. "I was getting messages from other girls on the team saying that their contracts had been terminated," she says.
So when she finally read that email, she stared in disbelief - West Ham had offered her a one-year deal. At 24, Rosie thought she had missed her chance to be signed as a pro, and now her dream of becoming a professional footballer was actually coming true. She was one of only two players from West Ham's former women's team who got offered a contract.
Unlike other players at the top of the women's game, Rosie hadn't started her career by coming up through one of the big clubs' training academies. Arsenal player and England international Leah Williamson, for example, joined the club's youth scheme aged just nine, before being picked for their senior squad when she was 17.
So when Rosie first heard the news that she was staying at West Ham, she couldn't believe it. "I was in shock," she says. She shared the news with her twin sister who, like her, burst into tears when she heard. But there was one person who had helped shape her success that she couldn't celebrate with - her dad.
When Rosie was 16, her dad was taken ill with pneumonia and died. He was a huge inspiration to her. "He is the driving force behind why I play football," she says.
Her football-fan dad was "gutted" when Rosie's two older brothers showed little interest in the sport. So when his daughters started playing, he was a big support. On a typical weekend, he would take them to the park to practise, before heading to the pub to watch that afternoon's matches.
Rosie, who grew up in North London, and her twin sister Mollie both still live and breathe the sport. For most of their careers, the twins were signed to the same club, and they were briefly reunited at West Ham last season. Mollie now plays for Gillingham Ladies.
Growing up, she describes them both as tomboys – "like Action Men instead of Barbies – that type of tomboy". Sometimes other girls would say it was "weird" that they were playing football with the boys, but the two of them just shrugged it off. They had each other.  
Rosie smiles as she recalls how she and Mollie were better than their male classmates at football. The girls had their first taste of success when they would regularly be named captain during playground kickabouts.
She's come a long way since those days. The FA believes Rosie to be the only professional women's player in England from a British-Asian background - her Asian heritage comes from her mother, who is Indian and English, while her dad was Irish and Lithuanian. 
"The fact that I can break down a wall so that young British Asian girls can see this career as a possibility feels really good," she says.
Although Rosie always dreamed of becoming a full-time footballer, she didn't think it would ever become a reality. When she was growing up, there just weren't the same opportunities for female players.
"I never had female role models to look up to when I was younger," she says. Instead, Rosie's heroes were players "like David Beckham".
Having spent most of her youth career at Tottenham Hotspur - save for a season when she played in the US aged 18 - she went to uni to study event management, a subject she now says wasn't for her.
But she didn't give up on football, still playing semi-professionally for the likes of Spurs and London Bees. 
Now, as a professional player at West Ham, she is excited to have the chance to train daily alongside some of the best players in the women's game.
Although her success has meant she is facing new pressures. 
At the beginning of the season, she worried that she wasn't good enough, but she's learned to rationalise those fears.
"I just have to take a breath and realise that I'm here for a reason," she says. "I've just got to believe in myself."