N/A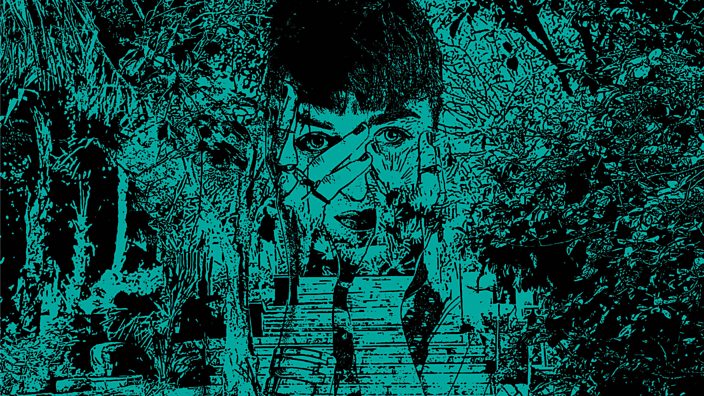 Getty Images
Why mental health needs more than an awareness week
Mental illness doesn't just last for seven days
Every year Mental Health Awareness Week comes around, and people with mental health issues open up about their experiences to remove taboos.
It can be really powerful, with stigmas lessened and organisations making sure that more people each year learn about the support they offer.
But this year people are asking - is this actually enough?
On Twitter, the #MentalHealthAwarenessWeek hashtag isn't just full of awareness-raising tweets - it's also filling up with tweets questioning just how helpful this week really is. 
MHAW was set up almost 17 years ago by the Mental Health Foundation in order to raise awareness of people who were suffering in silence.
But now that it has been going on for so long, people are suggesting that it should do more. To them, swapping tales and offering support on social media might make people feel warm and fuzzy, but it doesn't actually do much beyond that. 
One thing people say we should be focusing on more is the need for swift and affordable access to mental health services, and for mental health organisations to start offering more practical and financial support, rather than just moral.
Some people expressed fears that when people do approach the NHS for help, they might not have the necessary resources to help them.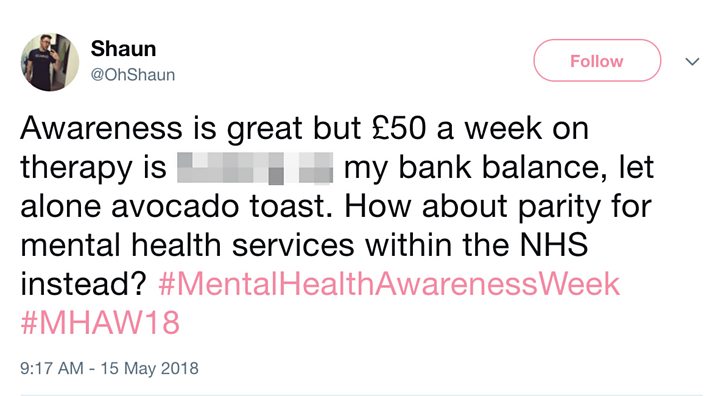 Another big concern with current NHS services is waiting times. Earlier this year, a report from the British Medical Association (BMA) found that patients with serious mental health issues faced waits of up to two years for specialist support in some areas of the country.
And last October, the Care Quality Commission (CQC) found that too many children with mental health problems weren't receiving the care they needed when they needed it, with one child interviewed having waited 18 months for treatment.
Read more about mental health:
The charity Young Minds added at the time that they had heard from kids who had "started to self-harm or become suicidal while waiting for appropriate help".
The Department of Health tells BBC Three that they "know there are challenges in accessing some mental health services," but that they are "exceeding their targets for access to talking therapies".
"We know there is more to do, and we are investing more in mental health than ever before – spending a record £11.86 billion last year – with another £1bn on top of that by 2020," a spokesperson adds. "We are also investing an additional £1.4 billion specifically for young people up to 2020."
Others just stressed the importance of remembering that mental illness doesn't just last for seven days - while TV doctor Dr Ranj Singh agreed we must make sure people are getting the real-life support they need.
But at the same time, there was also support for Mental Health Awareness Week. Some tweeters said there was still a stigma around even just talking about mental health issues, and that the hashtag is important because it helps people share their own experiences, so that others can know they're not alone.
Indeed, a new study from Mind has found that people with mental health problems are so reluctant to talk about it that only half will mention it to their bosses. At the same time, more than 80% of people with poor mental health will continue to go to work as normal.
Richard Grange, from the Mental Health Foundation, tells BBC Three why he thinks that MHAW is really important. 
"This year we've had extraordinary support from politicians, members of the public, and members of the Royal Family," he says. "But now is the time to turn that support into concrete action that creates a more mentally healthy society."
But he does agree that "mental health is such a huge and complex issue that we can't do everything in a single week", and adds that they are working with other charities to "focus on different areas".
There has been huge progress in the last 17 years of raising awareness for mental health. But in 2018, the challenge is working out what we do next.