N/A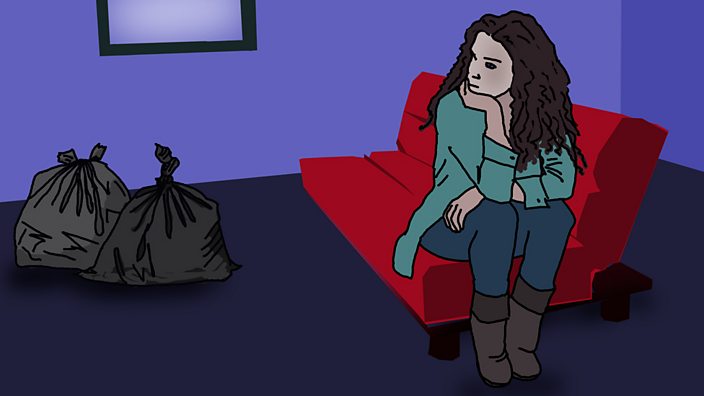 BBC Three
Coronavirus: Youth homelessness on the rise
Centrepoint, a homeless charity supporting under-25s in England, has seen a 36% increase in people seeking support since lockdown began. The charity, and young people who spoke to the BBC, say that some councils are failing them during the Covid-19 crisis. 
"Stay at home, protect the NHS, save lives," goes the slogan.
But what if you don't have a home?
"Your grandparents were called to war, you were called to sit on the sofa," goes another saying.
But what happens if other people's sofas were the only thing keeping you off the streets?
For many homeless young people, sofa surfing is the only way of keeping a roof over their heads, staying with different friends for days or weeks at a time, while they seek support and work out their next move.
While the government has stopped landlords evicting tenants until the end of June, there's no protection from being thrown out by your parents or friends.
Quin, 24, was sofa surfing at her friend's parents' house when Boris Johnson announced on 23 March that the UK was going into lockdown.
She couldn't move to another house because it wasn't allowed - not that anyone else was offering to take her in. But she was already beginning to feel that she had overstayed her welcome.
Quin keeps all her possessions next to the sofa bed. They are lined up, still in the bin bags that she brought them in six months ago. When she's looking for something to wear to her job as a carer she carefully rifles through the black sacks – ensuring that the room stays exactly how it was before she started to crash there.
She says the difficulty of sofa surfing is "just not knowing where my home is, not having anywhere to call home".
"I don't feel comfortable, because I'm sleeping in my friend's old bedroom. I work from 6am onwards some days, so we can't always share the room because he keeps me awake. Then I feel guilty that I'm kicking my friend out of his own bedroom."
It then takes Quin an hour and a half, and three buses, to get to work. Then it takes another five minutes to put on the PPE that she hopes will protect the people she's caring for, and herself.
As well as looking after people with mental disabilities, her new tasks now include deep cleaning the home twice a day and cutting hair. 
When she finishes her longest shift at 21:30 she starts another virtual flat viewing. For the last six months she has just about managed to save enough, from the £8.50 she earns an hour, to put down a deposit somewhere.
So far 20 private landlords in Sutton have turned her down.
One message from an agent read: "I've just spoken to the landlord and unfortunately she has said that her and her husband want to pull out. Due to the virus she does not feel comfortable having tenants in the property who are in a line of work affected. I've tried to reason with her but she isn't open to discuss."
On 14 May, Quin was asked to leave the house where she's been staying and given two weeks' notice. In a week's time, against the backdrop of a global pandemic, she has no idea where she'll be sleeping.
Family breakdown and job losses are two causes of youth homelessness that have increased during the current crisis.
Homeless charity Centrepoint told the BBC that from the start of lockdown to the end of April,1,314 young people contacted to ask for help, compared with 838 in the same period last year - an increase of 36%.
Some weeks the helpline for England has seen an increase of over 50% in under-25s seeking homelessness support. 
Centrepoint told the BBC it is "absolutely stretched" and requires access to the Covid-19 charity funding to help cope with the increased demand. However, the Ministry of Housing and Local Government has still not published the criteria outlining who is eligible to apply, Centrepoint says.
Two leading youth charities, Llamau in Wales and Housing Rights in Northern Ireland, told the BBC that over the last two months they have seen a 50% increase in the volume of calls.
'I slept in a tent for two weeks'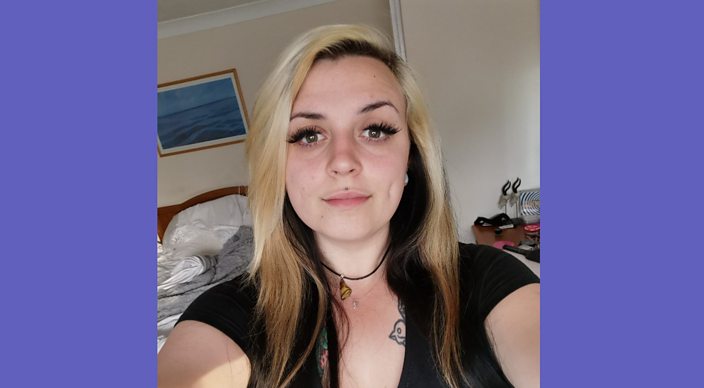 Nicole, 24, was sitting in her hotel room when she spoke to the BBC. Every few minutes the music from outside her door would be too loud for Zoom to pick up her voice - giving an insight into what life has been like in her council-provided hotel for the homeless.
On 22 February, Nicole visited West Suffolk Council to tell them she was going to be evicted from her home and was at risk of becoming homeless, but she was warned that there was a "severe shortage of homes".
On 6 March she began sofa-surfing with a friend, but like Quin, Nicole works at a care home - and her friend, who has diabetes, asked Nicole to move out.
Overnight, despite now being designated a key worker, Nicole was facing the possibility of sleeping rough. 
With no other alternative, she set up a tent in her grandmother's back garden, making sure not to go into the house in order to keep her grandmother safe.
"It was cold but at the end of the day at least I was somewhere safe and not actually out on the streets.
"I had to go into work early and shower... I do a lot of hours, so one day I'll be doing earlies and the next one I'm doing late shifts, so the variation of shifts was quite hard with not being able to sleep at night because of the cold."
Nicole says the council knew she would become homeless from 6 March but did not reach out to her when the pandemic was declared. Instead, when news broke of the government's pledge to house all homeless people, Nicole contacted the council.
Five days later, on 30 March, she was put up in a local hotel thanks to the government-funded Everyone In scheme - though she was warned the contract for her room was for 12 weeks only. The offer read: "As you do not meet priority need, we would only be able to accommodate you due to the Covid-19 crisis, so this would be on a temporary basis."
After weeks of camping, Nicole was "over the moon" when she first moved into the hotel. "The place is really nice. It's got a nice garden. I actually had a bed to sleep in," she says.
But when more people started to arrive things quickly changed. She says she informed the council that other residents are not always socially distancing. "Drugs are a constant thing every day", and the loud music has been keeping her from sleeping before her long shifts as a carer.
Since February, Nicole has bid for about 30 different council properties in areas near her work. Which bid is accepted depends on the bidders' housing needs, and as Nicole is not seen as a priority case by the council, it is unlikely she will be able to secure one. 
You're usually seen as a priority case if you have children under 16, are considered vulnerable or have a serious health condition.
She says the council wants her to consider a room in shared accommodation, but she is resisting this. 
"The first time I lived in it, in the middle of the night the man who owned the house came into my room and tried to sleep with me. I was the one that got kicked out."
The next time she found out the landlord had been secretly filming her.
"Even when I moved into the hotel room, I was checking all the light bulbs, checking in the fire alarms, and all the lampshades [for a camera].
"They're still trying to push me to go to a shared accommodation. It's a bit messed up," she says.
Nicole, who was diagnosed with bipolar in 2015, says her depression has been worsening during her stay at the hotel. Her biggest worry is ending up on the streets when her 12-week contract on the council-provided hotel room is up. The council could not confirm whether or not it would extend her stay.
"I'm so unsettled here - the fact that I have no idea what's going to happen to me after all this, it's constantly on my mind. Everyone's wishing for lockdown to finish and as much as I do in regards to people dying, I don't want it to end because I have somewhere to live."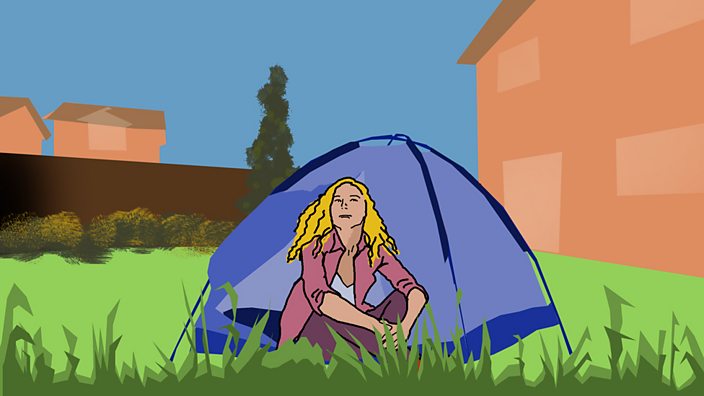 A West Suffolk Council spokesperson said: "We don't comment on individual cases but we continue to support people who are homeless during Covid-19 and at other times. Nationally there is a shortage of housing and we know that it is difficult, particularly for young people."
'Problems facing youth more severe' 
When the government outlined the Everyone In policy, providing £3.2bn of funding to local authorities, it pledged to house rough sleepers throughout the coronavirus crisis. 
Since then it says more than 5,000 rough sleepers have been moved into hotels by councils.
But Paul Brocklehurst, Senior Helpline Manager at Centrepoint, says there is still a "continuous stream" of young people becoming homeless - some who are being turned away by their councils.
Paul acknowledges the great steps that have been taken with the ban on evictions and the housing of entrenched rough sleepers, but says that it does not cover everyone, for example the newly homeless.
"Young people that are newly homeless aren't always getting that treatment. Councils are saying, 'The hotels that we booked are all completely full, we simply don't have the space and resources any more.'
"We're seeing an increase in young people being kicked out and lots of young people very close to being rough sleeping."
Paul says that councils often fail to provide adequate help when there's a family breakdown, and regularly require proof that a young person who has been thrown out by their parents is no longer welcome there. 
"Sometimes we see that the parents say to the council, 'Yes, we'll take them back,' but say to the kid, 'No, you're not coming back.' That doesn't always result in the council supporting the young person." 
One 20-year-old told the BBC that despite the pandemic, Bristol City Council asked him to contact his abusive and transphobic family for proof he was homeless. Later officials said he couldn't be housed because he did not have a "local connection" to the area.
Another category that Paul Brocklehurst says have received little help are the "hidden homeless" who find temporary solutions such as sofa surfing in insecure accommodation. Research by the charity Crisis indicates that about 62% of single homeless people are hidden and may not show up in official government figures. 
'I might have to resort to Only Fans'
Before her friend's parents asked her to leave their house, Quin had been homeless twice.
After leaving her abusive family home, with a scar etched across her forehead, she started to stay with friends. For three years she sofa surfed every few weeks while she did her qualifications. "I'd finish college and go sit in a local Costa for hours on end, using their free Wi-Fi, just to finish my college work because I didn't know where I'd sleep that night.
"It was just horrific, but I'm glad I got through it."
After being turned away twice by two different councils, one of which offered her a train ticket back to her abusive mum, Quin says she has given up on going to the council for help.
"I thought I was finally getting better, getting over everything that's ever happened to me. My abusive ex and my suicide attempt. And then coronavirus happened. I just feel so hopeless."
Quin is on the waiting list for mental health treatment, but she will have to start the process again when she moves.
Quin says that while clapping for carers is a good thing, without a pay rise many people like her will continue to struggle. She still doesn't know where she'll be in two weeks.
Now Quin is considering setting up an Only Fans account to sell nude photos, to make enough money to have somewhere safe to stay before she becomes homeless.
"It's something I really don't want to do but I think if it's getting to the point where I'm going to need more money, it's something that I can't not do.
"Does anyone want to see the Only Fans of someone that's just trying not to be homeless and failing?"
A Ministry of Housing, Communities & Local Government spokesperson said: "This government is committed to ending rough sleeping. Councils should be proud of their efforts to get rough sleepers off the street – support from central government has ensured 90% of rough sleepers known to councils at the start of the pandemic have been offered accommodation. We've been clear councils must continue to provide safe accommodation - backed by an unprecedented £3.2bn package of government support.
"We know that young people leaving the care system can be particularly at risk of homelessness. That is why the government has provided £3.2m per annum to 47 local authorities with the highest numbers of care leavers. Our youth advisers are working closely with local authorities on the particular challenges that young people and care leavers are facing during COVID-19."
Illustrations by Emma Lynch