N/A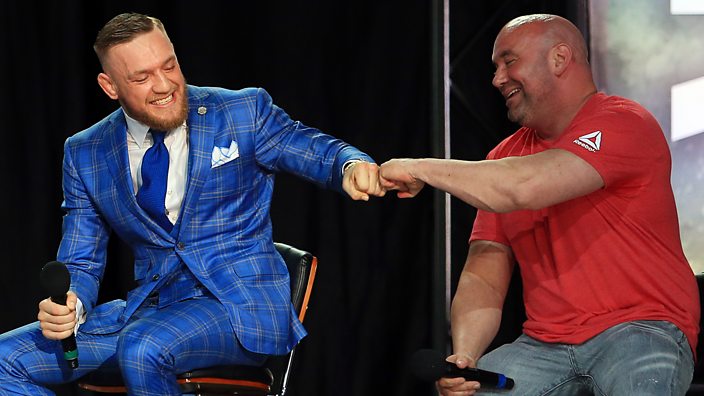 Getty
Dana White says McGregor was open to fighting Nurmagomedov in Russia
Dana White spoke to the BBC MMA Show about Conor McGregor's impending return against Khabib Nurmagomedov and whether GSP will face the winner
Conor McGregor makes his long-awaited return to the octagon in October, and UFC president Dana White has played a pivotal role in making his comeback a reality.
McGregor will face his long-time rival Khabib Nurmagomedov at UFC 229 in Las Vegas for the lightweight world title.
His last UFC fight came almost two years ago, when he faced Eddie Alvarez in November 2016, and his only professional fight since then was a boxing bout with Floyd Mayweather last year.
The BBC MMA Show caught up with UFC president Dana White to chat about his involvement in making McGregor's comeback fight a reality, and how it's being hyped as the biggest event in the sport's history.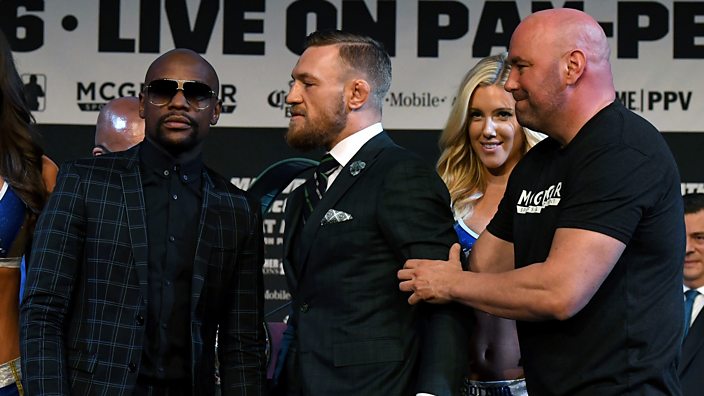 "I think this will be the biggest fight we've ever done," White said.
However, there was a time when he didn't think McGregor would ever return after his big money fight with Mayweather. "I said many times when the Mayweather v McGregor fight was on, that this kid might not ever fight again. When you make that kind of money, it's life-changing," he said.
"In this business you have to be hungry and to want to fight and want to come back. Fans love fighters who are real fighters and who want to fight everybody and fight the best. That's been Conor McGregor since the day he set foot in this company."
White had been tight-lipped about the return of MMA's biggest star, but has apparently known about it since the beginning of the year. There was even a mention of a fight in Nurmagomedov's backyard.
"It was just a matter of when," White said. "He actually told me at one point that he'd fight Khabib in Russia. That's just the way he is. He fears no one. He'll fight anyone, anywhere, any place. He talks a lot, but he backs it up."
McGregor's altercation with Nurmagomedov earlier this year, which resulted in several injured UFC fighters and an assault charge for McGregor, was branded "disgusting" by White in April. But many have claimed the incident is now being used as a promotional tool in build up to the fight in October.
"It was definitely something bad that I didn't expect," White said. "He had to go to court and hire lawyers and go through lawsuits and all the things that go along with that. Going into the fight, it's definitely part of the storyline around the fight."
UFC legend, Georges St-Pierre, has also thrown his name into the mix by saying he'd be up for fighting the winner of the Nurmagomedov v McGregor bout in October, but the UFC president is having none of it.
"I'm not interested in that fight," White said. "He knows that and I've told him that many times. He was the 170-pound champion and moved up to 185-pounds to fight Michael Bisping, and put in his agreement that he'd 100% defend the title - and then he dumped it.
"He's looking for one-off fights where he can make a lot of money. He's not too excited about fighting or defending his title, so I don't know if he'll ever fight again."
St-Pierre hasn't fought since claiming the middleweight title in November 2017, and despite his comeback being nothing more than a rumour at this point, a fight against McGregor or Nurmagomedov would be one for the history books.