N/A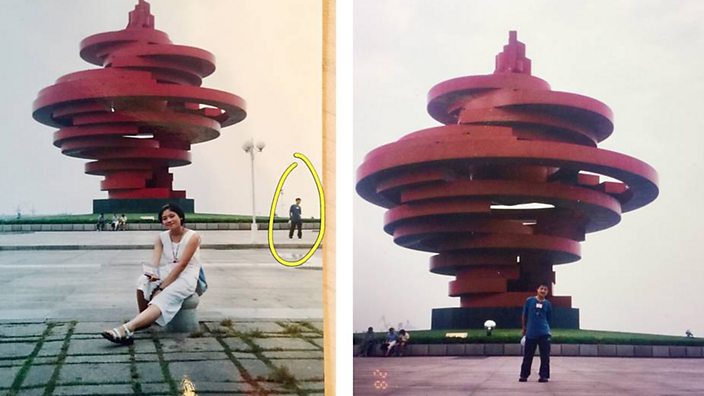 Weibo / Channel News Asia
This man photobombed his wife 11 years before he met her
Prepare to get that warm fuzzy feeling
BUT WAIT. There is hope for those of you sitting at home crying into your secret chocolate stash. 
For it turns out that, by pure chance, a man in China photo-bombed his wife over a decade before they met. They are now married, with twins. Is this a sign that the couple were always meant to be? 
Mr Ye and his wife, Ms Xue met and fell in love in 2011 in Chengdu, the capital of China's Sichuan province.
But little did they know that their paths had fatefully crossed 11 years earlier.
On the same day in 2000, the pair separately visited the May Fourth Square in the seaside city of Qingdao, which is 1,200 miles (1,925km) from where the two live today. 
Ms Xue's mother captured this romantic twist of fate in her simple tourist snap.
In the picture taken, we can see Ms Xue sitting on the May Fourth Square, named after the early 20th-century political movement. In the background, to her right, is a man in a blue t-shirt holding a plastic bag. That man is Mr Ye, her future husband.
Mr Ye made the discovery on 4 March while going through old photos at his mother-in-law's house. When he saw the picture, he instantly recognised himself.
"When I saw the photo, I got goosebumps all over my body ... that was my pose for taking photos," he told Sina News.
Mr Ye then managed to dig out his own snap, taken in the same moment, which lines up perfectly with his wife's.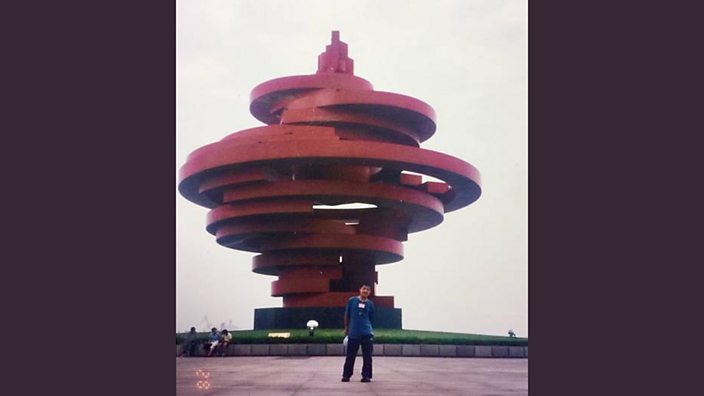 After making the discovery, Mr Ye shared the photo on Chinese social networking site Weibo. The image went viral and was picked up by global news outlets, providing the sentimental amongst us with a dose of gooeyness. 
The couple now plan to return to Qingdao together and retrace their footsteps to the famous square. 
This isn't the first time this has happened.
In December, Verona Koliqi uploaded an Instagram picture that showed her now fiancé, Mirand Buzaku photobombing her family picture ten years previously when she was a little girl.
"My cousin found this photo on her computer, and she sent it over to me on my phone to laugh about how we looked when we were younger," Verona told Yahoo Lifestyle.
The image shows Verona, who's from Kosovo but now lives in London, amongst a group of children on a beach in Montenegro. She showed the image to Mirand to have a laugh, but after peering closer, her fiancé noticed that the boy in the background had the exact same clothes and the same float as he used to have. 
The couple consulted Mirand's family who confirmed that they had been on a trip to that very beach at the same time.
Aimee Maiden, then 25 and Nick Wheeler, then 26, made the discovery after leafing through Nick's grandparent's family photos.
In the image, Nick can be seen sitting in a sand-boat while Aimee can be spotted building a castle in the background.
At the time, Aimee lived near to the beach in Mousehole, but Nick was on holiday from his home on the other side of England, in Kent. The couple would go on to meet 11 years after the picture was taken at sixth form college in Truro, Cornwall. 
The cynics among you might enjoy this more sinister photo-bomb.
In October, Buzzfeed writer Jesse McLaren decided to play a freaky prank on his sister.
"My sister asked me to shoot her engagement pics so I hid Pennywise the Clown in every photo," tweeted McLaren.
"Countdown until she notices."
The stunt went viral, gaining over 50,000 re-tweets and 170,000 likes, with social media users applauding the effort.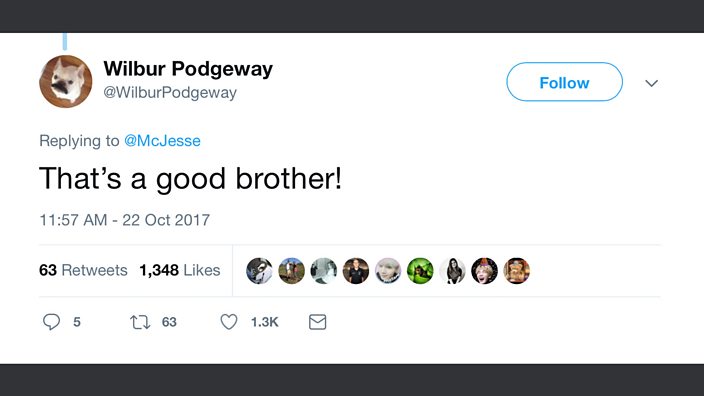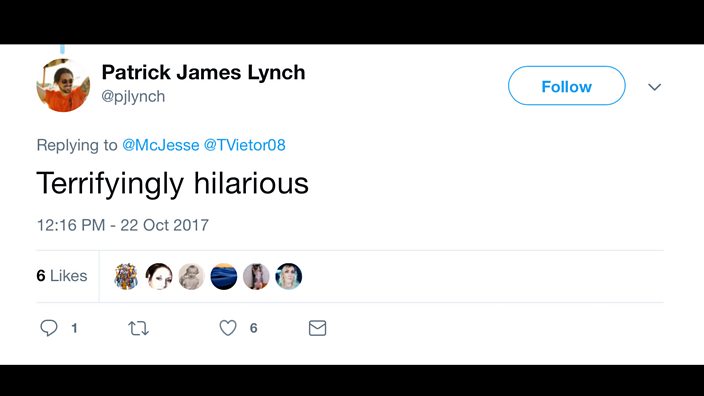 It also reminded us of some other romance-busting photobombs. Like this guy, who managed to ruin a couple's Disneyland proposal picture.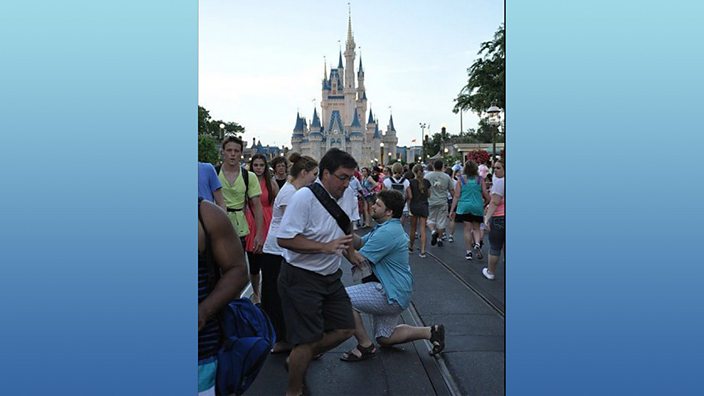 The 'proposal' photo was uploaded to Reddit in 2013, and has since amassed 1,700 comments.
Then there was the time when two streakers dashed through the car park on one couple's big day.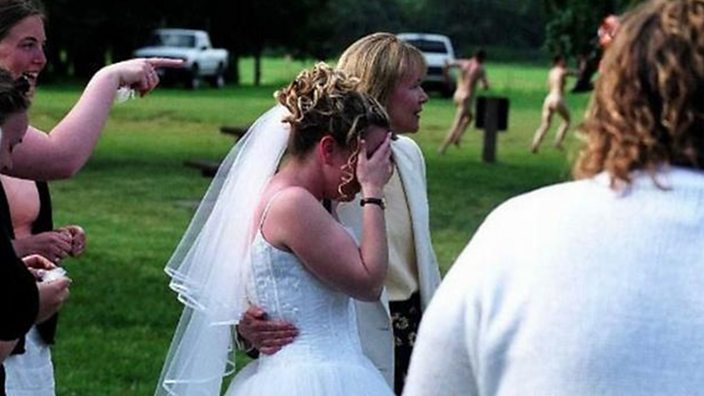 And finally, here's when a photographer managed to capture the moment when all the wedding excitement got a bit too much for one young guest.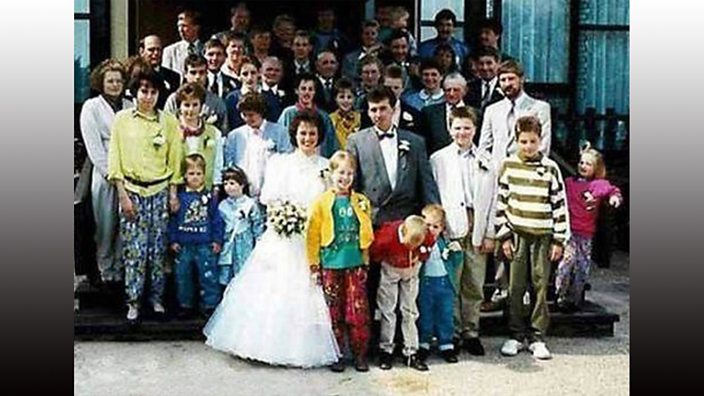 Many of us have probably felt a similar impulse during romantic moments, whether it's the nerves of proposing, the intensity of saying your vows, or opening your engagement photos to see a terrifying clown peering back at you…
This article was originally published on 16 March 2018