N/A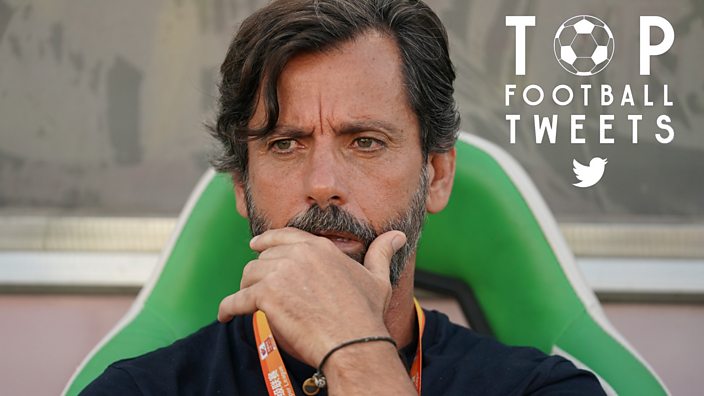 Gettyimages
Ex-Watford manager replaces Watford manager as Watford manager
Meanwhile, the Women's Super League returned with a bang
It may be an international break in the Premier League, but that doesn't mean the weekend wasn't full of action up and down the country. 
The Women's Super League kicked off with a series of highly anticipated derbies, while men's teams were in action outside the top division.
And if that wasn't enough, there was still plenty at stake in the international scene, with teams hoping to boost their chances of qualification for Euro 2020.
Let's take a look at what people were saying over the last few days. 
The Women's Super League returned with a bang at the weekend, with the opening round of fixtures featuring two London derbies and a showdown between Manchester's two biggest clubs.
Caroline Weir claimed the winner in the WSL's first ever Manchester derby with this effort made even more beautiful by some fancy camerawork.
Cheer up Man United fans - at least your debut in the top division didn't go as poorly as Real Madrid's.
In fact, all three of the WSL derbies this weekend featured a cracker of a goal, with a pair of Beths stealing the show in the capital.
3) Gracia for the memories
On a weekend in which there were no Premier League matches, England's top division still managed to make headlines with the confirmation that Javi Gracia had been replaced as Watford manager by Quique Sanchez Flores. 
The move left the Hornets eating a good slice of humble pie as they went back to the man who they sacked three years ago. 
Another side to appoint a new manager were Sheffield Wednesday, who apparently have no interest in living up to their name, despite the fact it seems to work out pretty well for them when they do.
Former MK Dons star Dele Alli was in attendance to see the game, which almost gave us the best opening paragraph of any match report so far this season.
It's a Monday, so you're probably not having a great day at work. But at least your day isn't going as badly as the people in charge of the Stade de France's PA system on Saturday night.
It is a rite of passage every aspiring young footballer must go through at some point: being the one to knock on your angry neighbour's door to ask them if you can collect the ball you kicked over their wall.
The world champions had tried to waste as much time as they could but in the end, they just lacked the necessary time-wasting experience.
But it's not just in the United Kingdom where there has been a football resurgence of late, with things really starting to kick off in Antarctica.