N/A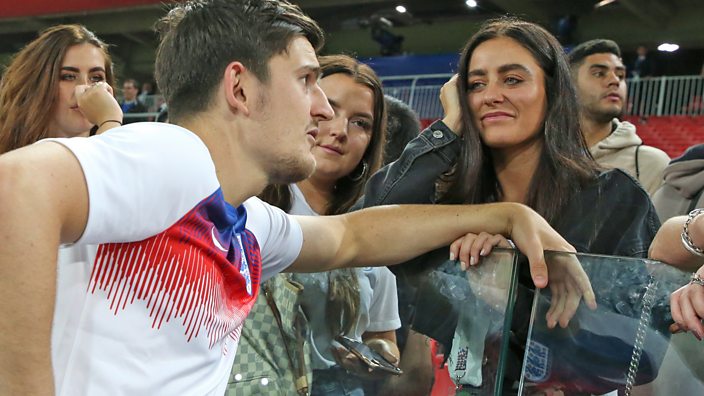 Gettyimages
There's something about Harry: How 'slab head' became a cult hero
He's the man who's mocked by team-mates for the large size of his head and, inversely, his small ego. He's Harry 'slab-head' Maguire, and he's a cult hero now.
England host Switzerland on Tuesday night for a friendly in Leicester. That's maybe quite fitting as a bit of a homecoming for one of the cult heroes of this year's World Cup - Leicester City and England man-mountain Harry Maguire.
In Russia this summer, the big Foxes defender went from someone most people had never heard of, to the player many fans would chose to hang out with. There's something about Harry - but what is it about this massive, careering Yorkshireman that has really captured people's imagination?
Football fans might love him because he's a tough-tackling, header-winning ball magnet who can pass and make marauding runs from the back. He's seemingly the perfect Premier League combination of provincial and international.
But why might those less au fait with the beautiful game have fallen a little bit in love with the big man this summer?
Maybe it's because he has a name that sounds as if it could have appeared in the Domesday book - straight outta medieval. Young naive Harry Maguire sounds like he could have defended his farmstead in the feudal system, like he can defend his goal in a 3-5-2.
Maybe they love him because he became an unlikely poster boy for the most extraordinary England campaign at a major tournament for nearly three decades.
Mostly though, we think people love him because he's absolutely, undeniably ordinary. Because he has a massive head in the literal, but not the figurative sense.
It was fellow Sheffield man and Leicester City team-mate/one-man-banter-factory Jamie Vardy that came up with the rather unflattering nickname 'slab-head', after Maguire's arrival at Leicester City from Hull in 2017.
In June, ahead of England's game with Panama in the group stages, Vardy posed as a journalist (from the Vardy Express) at a press conference Maguire was giving.
"How big is the diameter of your head?" he asked.
You could say that that's not very kind. But rather than crumble under the weight of that extra large cranium, Maguire has acted with grace and good humour. 
Or like he did in this Ibiza nightclub.
Harry's appeal perhaps first started to go stratospheric when that picture emerged from the England training camp of him on a unicorn. 
It was an image that felt like the total antidote to the miserable, internecine fractiousness of previous England campaigns – full of mega-stars who couldn't get along. The class of 2018 actually enjoyed playing for England.
Two years previous, at Euro 2016, he had been a travelling fan - one of us.
Now his mates were there again, but he was out there playing.
Including his girlfriend, who unwittingly became the subject of one of this summer's biggest memes.
A meme that Maguire owned. 
A week after his return from Russia, what was our Harry up to? He was out watching his brothers Laurence and Joe play in a pre-season friendly between Gainsborough and Chesterfield, that's what.
And somehow, this softly spoken lad seems to know how to sum up the mood of a nation.
Last year, Maguire was bought by Leicester City from relegated side Hull for £17m. This summer, following the World Cup, sums of more than £50m were being thrown about, amidst rumours of a move to Manchester United.
In the end, Maguire's committed his future to Leicester, supporting a narrative of a lad who's not too big for his boots.
On his club, he says, "I thank them a lot, I owe them a lot," for keeping him in the Premier League after he was relegated with Hull in 2017.
His trajectory since then has echoes of a certain former team-mate who went from Premier League relegation to the Champions League final in a single year.
Essentially, the reason people have taken to both these characters is the same really…they're both absolutely bossing it right now and, yet, they both still essentially look like they got called in as a ringer at the last minute. They're us, living our best life.
Maguire was clapped by Manchester United fans on opening day of the season. When does that kind of thing happen in the Premier League? It's rare in the English game, so often characterised by tribal rivalries.
That's just the unifying power of Harry Maguire though. In a world torn by factions, he (and his unicorn) can unite people – a massive, marauding totem to humility, good, clean fun and, well, to making the best use of having quite a large head.