N/A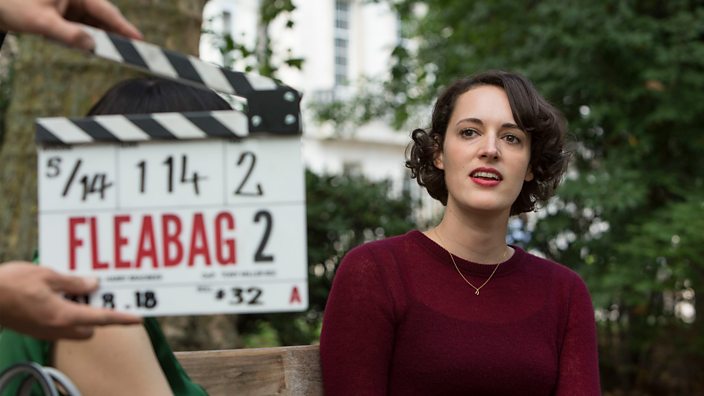 BBC/Two Brothers/Luke Varley
All the reasons why we love Fleabag
We're in love with this show (and not just because of the sexy priest)
*Spoiler alert for Fleabag seasons one and two*
With Fleabag coming to an end here in the UK, American viewers have finally got their hands on season two, as it's now available to stream in the US.
In just two short seasons, we saw Fleabag battle it out with her deliciously evil godmother, wrestle with the torment of losing her best friend and even get busy with a particularly hot member of the clergy.
However, fans across the pond have had an agonising wait to see season two of the show, in all its glory.
Critical reception in the US for the second season has been positively glowing, with entertainment website Vulture calling it 'perfect'. 
And the show's creator Phoebe Waller-Bridge - fresh from her success at the BAFTAs for Killing Eve - has even been lending her writing talents to the upcoming James Bond film, something we can all rejoice about. 
As the second female writer in Bond history - after Johanna Harwood - we are all hoping that Phoebe Waller-Bridge's renowned humour and wit will be making an appearance in the, as yet, untitled Bond film.
But until then, we'll have to make do with sharing some of the things we loved most about the first and second seasons of possibly our favourite comedy drama, ever.
One of the biggest changes for the second season of Fleabag was the arrival of Irish actor Andrew Scott who - for better or worse - will be known for years to come as 'the sexy priest'. The 42 year old, previously best known for his role in another BBC drama Sherlock, had fans swooning, with columns and memes (see below) devoted to him. 
Though there has been some debate about whether the character is a little more problematic.
And Andrew, speaking to The Guardian, revealed the role was one he'd always wanted to play. "This is uncharted territory for me, and that's what I'm always looking for," he said. "It's a character I've never got to play, and it's such a big part of my life. Sex…"
2. The turbulent love affair (between sisters)
Fleabag, while it dealt with a whole host of relatable problems, was most interested in the struggles that come with relationships, sex, lust and love. And, in many ways, the turbulent love affair Fleabag shared with her sister Claire, played by Sian Clifford, was one of the most important relationships in the show.
And fans picked up on this difficult but ultimately unbreakable bond between the two sisters.
3. Martin being the worst person in the world (again)
Fleabag was never exactly a comfortable show to watch. The programme displayed the very worst of humanity, perfectly encapsulated in the character of Martin. Played by US actor Brett Gelman, Martin always found a way to be the worst person in the world, whether he was trying to get off with Fleabag behind his wife's back or getting a well-deserved punch to the face.
Martin, we might not like you but, I suppose, we'll miss you too.
4. Olivia Colman's one-liners
It's no surprise that Oscar-winner Olivia Colman always found a way to steal the show with her incredibly cutting one-liners. From the very first episode, fans fell in love with her role as the passive-aggressive godmother from hell. I mean what type of 'friend', at the memorial dinner for someone's mother, says: "It's such a sad, sad day… I'll get the champagne!"
5. Feeling like we're in on the joke
Even though she's pretty, witty and from a clearly posh family, we somehow feel like Fleabag's concerns are our concerns. Fleabag is troubled, makes mistakes and is relatably flawed. And she built this connection with the audience with her carefully judged asides to camera, something fans always enjoyed.
6. That statue (so horrible but...)
One of the lasting images of Fleabag has got to be the ugly headless statue she pinched from her godmother back in season one. The gold sculpture has come in handy - standing in for a businesswoman of the year award - until Fleabag finally decides to return the artwork as a wedding gift to her dad and soon-to-be stepmother.
But, of course, being a rule-breaker to the end, Fleabag stole it back once she found it was based on her dead mother.
We expected nothing less, Fleabag, you truly are one of a kind.