N/A
BBC Three
The woman who will critique your dick pic for £7.50
This article contains some sexual content
'Doing God's work': Meet the woman who professionally reviews Dick Pics
New Zealander Madeleine Holden was a corporate lawyer, briefly working in London before becoming a features editor in Berlin. Amidst all of those regular life events, something happened that changed everything.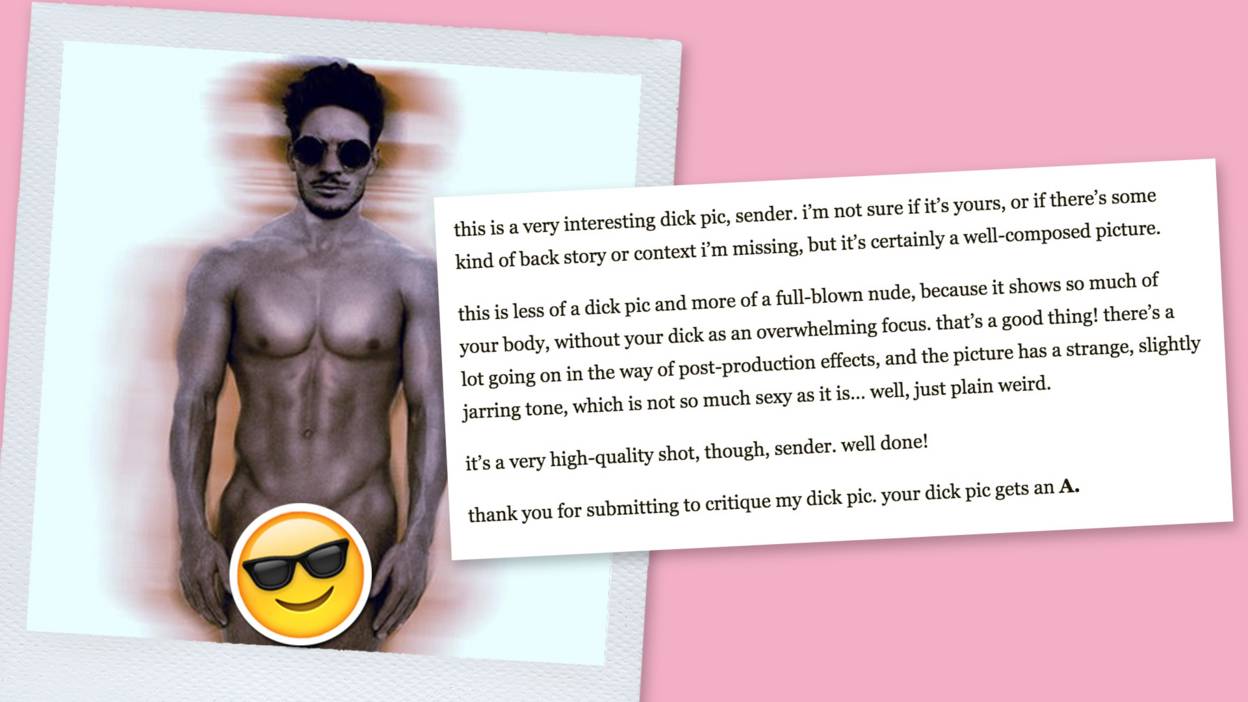 BBC Three
Not just any old dick pick – a really, really good dick pic. A rare breed of phallic snap that was not only creatively positioned but also artistically lit – the kind of dick pic that someone might actually want to see.
At the moment, Madeleine realised that we should be accepting nothing less, and that something must to done to combat the endless stream of off-putting dick pics strewn across our Snapchat screens. So that very same day Madeleine created her own website, and the world became a better place.
Her mission was simple: 'Send me your dick pics and I'll critique them with love. I'm never going to shame you about the size of your dick or what it looks like... I will, however, be ruthlessly honest when it comes to things like angles, lighting & general tone. I'm trying to help you improve, because in all likelihood your dick pics are artless and dull."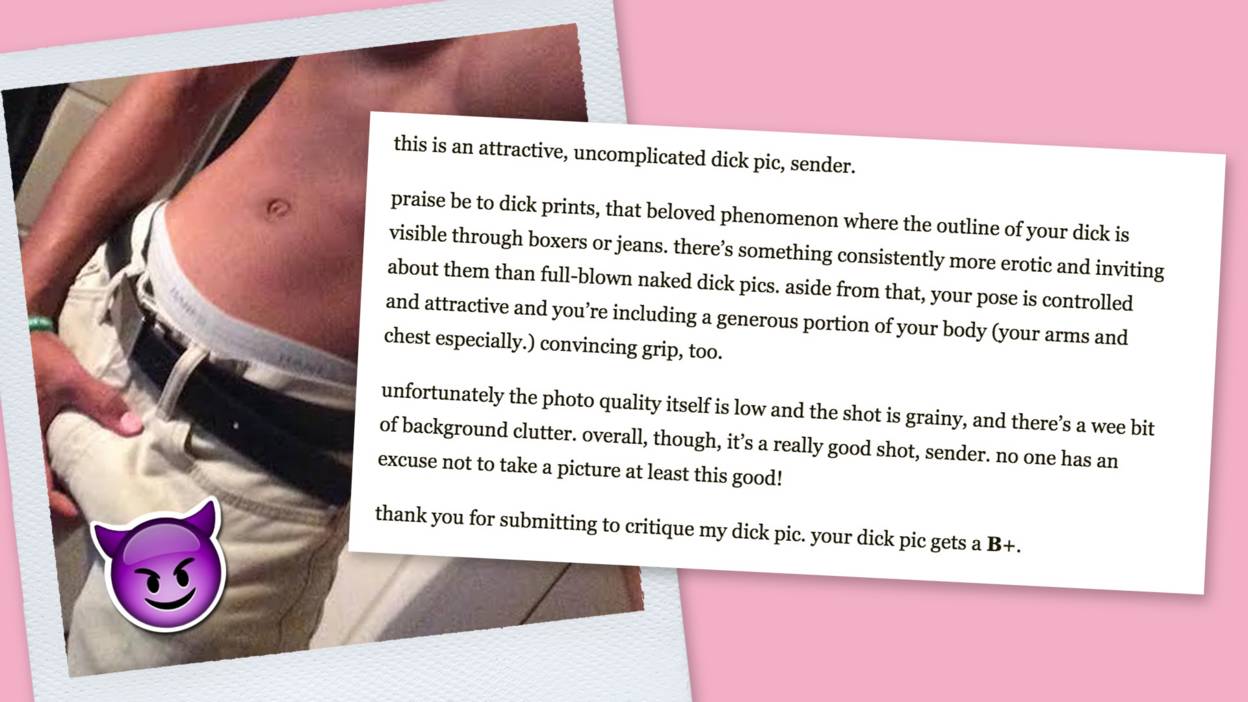 BBC Three
We caught up with her to find out more…
What inspired you to set up the site?
It really stemmed from receiving that one great picture, and talking to my friends about how unusual it was. We were joking about how some kind of public service was needed to tell guys what to do and that afternoon I started the Tumblr blog for a joke. And three years later, here we are!
How does the site work exactly?
Well I get sent between around 100 – 200 pictures a week for review, but I only upload five a week of the best. So you can send me a submission completely for free and it will go into the pool, but I'll only review a handful. For $10 (£7.50) you can get a private review (without being uploaded to the site) and for $25 (£19) you can get a guaranteed review and place on the site.
It must be making you a fairly steady income – would you consider doing it full time?
This is just a sideline thing, not a full time occupation. I assure you my normal day job as a features editor is completely different!
So the all-important question – what makes a good dick pic?
Well the most common mistake is that people zoom in too much on the dick itself. So my constant feedback is to show some of the rest of your body, show more than just 'the log' (the close up penis shot).
My advice is to approach it as you would any other photo. You want the lighting to be good, to strike a pose, to make sure you look comfortable and inviting – give it some context and artistic flourish.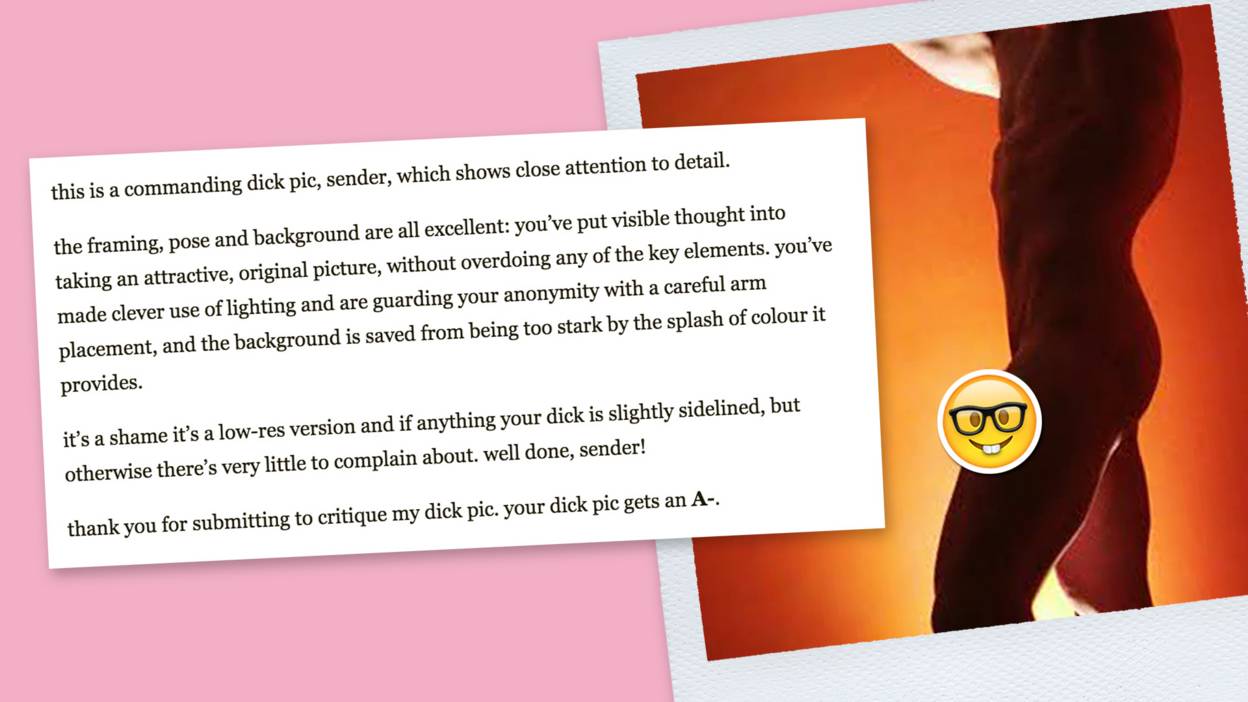 BBC Three
What do you think is behind your site's clear popularity?
It probably comes down to the ethos. I'm very vocal about positivity, inclusivity and the importance of consent. It's a light hearted project with some more serious elements to it, so it has a lot more integrity than other 'rate-my-dick' sites.
What do you think inspires your clients to send pictures in, and to pay money for reviews?
I think lot of men are just generally quite clueless about what women want to see, and any guidance is genuinely useful. Many are quite uncomfortable about the idea and very insecure, so value the opportunity to get objective help.
Do you feel a responsibility towards those clients to encourage their self confidence?
The byline of the site has always been 'critiquing your dick pics with love'. I never critique the person or the dick or the body – it's about photographic qualities.
Well I encourage photos from everyone. So trans people, people of all ethnicities – I even encourage women to submit pictures, you can have a plastic dick and you'll still get featured!
Unsurprisingly however, it's straight men in their 20s that make up the bulk.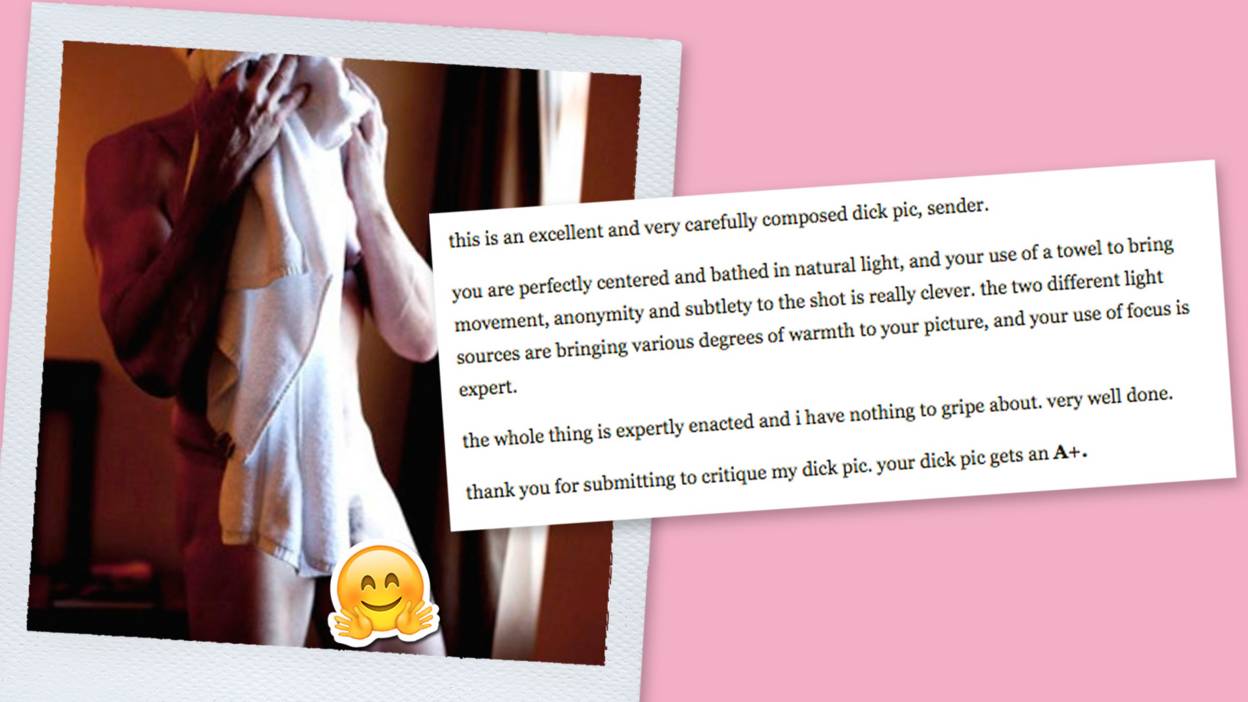 BBC Three
Do girlfriends and partners ever get involved?
Yes, all the time! Around 25% of images I get are from girlfriends who want to show off their man. Women really like the site – they want to be involved and be included. My readership is actually around 50/50.
A lot of women tell me I'm doing God's work or that I've created a public service.
Do you see some pretty strange sights?
One that stands out is from a trans woman who was covered in bone fragments, with bones all over her body, mouth and anus. I would never have thought to bring bones into the bedroom, but I applaud her creativity.
I see a lot of the mainstream fetishes you'd expect and plenty I hadn't considered before. Things like 'furries' (people who dress up like animals) and clowns - all sorts.
On a personal level, how do you deal with the constant stream of images?
It can be both entertaining and dull at the same time. I've definitely become desensitised – there's no real sense of shock or attraction any more. I don't think I'd want to receive a dick pic in my personal life – it would feel like work!
I don't ever take my work home into my own relationships.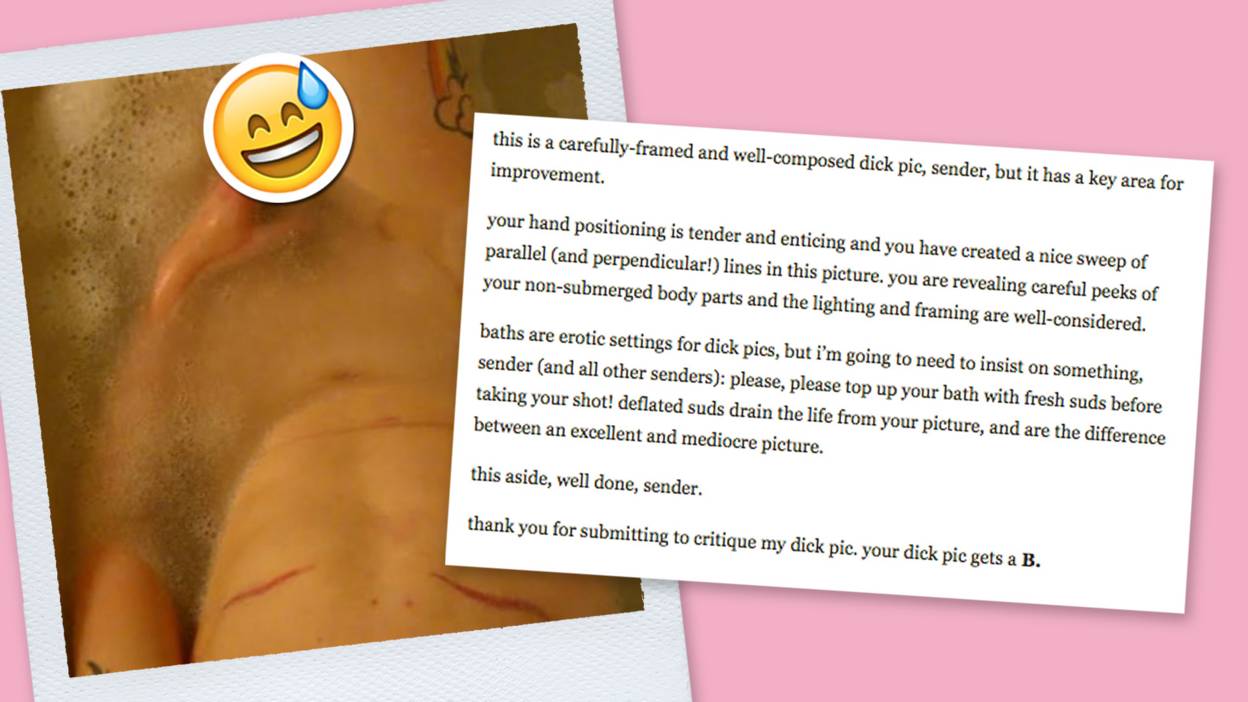 BBC Three
Have you ever received any negative backlash?
Actually, there's been barely any negativity. I think a lot of that stems from people not really knowing who runs the site, most assume it's a gay man. I think that guards me from unwanted attention. It's important to put up a professional barrier, so I never enter into a dialogue beyond initial emails with contributors.
In a world of revenge porn and misuse of imagery, do you think your platform plays an important role?
I would hope my website is a positive voice because of how often I stress the importance of consent, both in having the permission to take and send photos, as well as knowing a person would want to receive that image. If I ever get the sense a picture is anything but then I won't post it.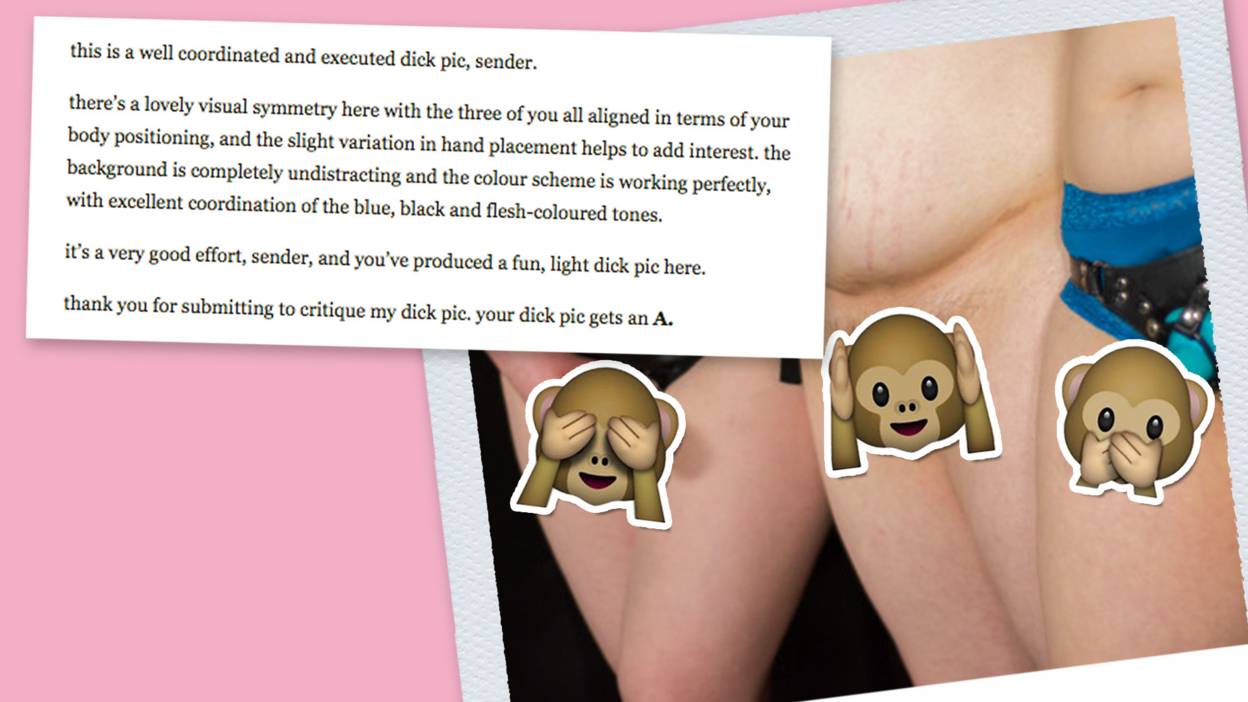 BBC Three
Madeleine is happy to laugh at herself and at the site, eager to take a pinch of salt alongside every individual dick pic.
Yet with a book on the way, Critique My Dick has not only sparked a clear fascination amongst a varied audience, but also appears to answer a real need.
So any potential students out there looking for an A+, no excuses now.