N/A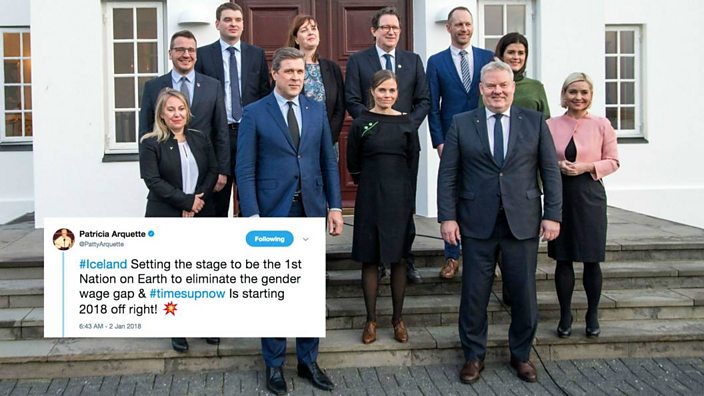 Getty Images/Twitter/@PattyArquette
Iceland now the first country to enforce equal pay for women and men
Iceland has become the first country in the world to force companies to prove they pay all employees the same.
The new law, which came into force on New Year's Day, means every firm with 25 or more staff must have a certificate showing they pay everyone in the same roles equally - no matter what their gender, sexuality, or ethnicity is.
"I think that now people are starting to realise that this is a systematic problem that we have to tackle with new methods," said Dagny Osk Aradottir Pind, of the Icelandic Women's Rights Association.
"Women have been talking about this for decades, and I really feel that we have managed to raise awareness, and we have managed to get to the point that people realise that the legislation we have had in place is not working, and we need to do something more."
The new law drew praise from around the world on social media.
Bjarni Benediktsson, the former prime minister of Iceland, made the announcement on International Women's Day last year, adding that the country wants to eradicate the gender pay gap by 2022. Iceland has since elected a female prime minister, Katrin Jakobsdottir, pictured at the top of the page with her cabinet, who took office last November.
At the time, Iceland's Equality and Social Affairs Minister, Thorsteinn Viglundsson, said: "Equal rights are human rights. We need to make sure that men and women enjoy equal opportunity in the workplace. It is our responsibility to take every measure to achieve that."
Iceland previously introduced a quota which means companies with more than 50 employees have to have a minimum of 40% of women on their boards.
On top of that, when it comes to gender equality, Iceland is ranked the best in the world. It's held the top spot for nine years running, according to the World Economic Forum. However women still earned around 14% less than men.
In 1975, Iceland's women went on strike over inequality, leaving their partners to look after children, cook and clean.
Five years later, the country voted in the world's first democratically elected woman leader. Now every year to mark the strike, women leave their workplaces and homes and gather in Reykjavik's central square demanding change.
Now it seems they could have it.
This article was originally published on March 29, 2017