N/A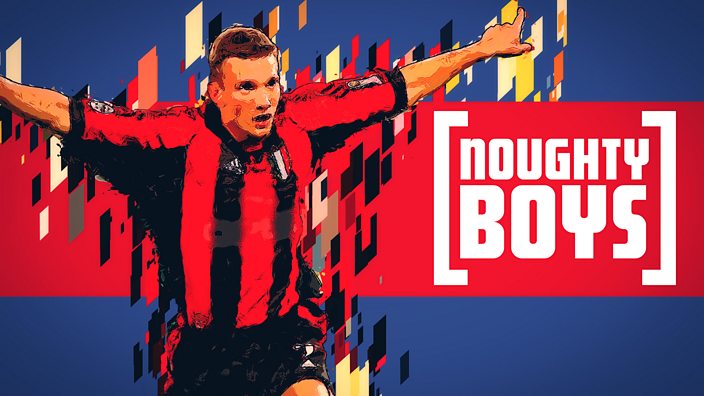 Getty Images
Noughty Boys: Andriy Shevchenko, an elite striker whose powers slipped away in a single moment
The Ukrainian treated top-tier European football like a TV talent show
The tourist-trap street market is the easiest way for a visiting fan to delve beyond the tribalism of a country's domestic football scene and identify the real stars of the game.
Taking a trip to Italy in the early Noughties, you would have found Fiorentina's iconic violet kit adorned with 'Batistuta' or 'Rui Costa' in Florence, while a trip to Rome would offer you a 'Totti' or 'Crespo' shirt, depending on where your allegiances lay.
You might find the shirts of clubs from rival cities, but more often than not they would only take pride of place if the name on the back was that of an Italian player – a Del Piero or Vieri, perhaps.
One man that bucked that trend was Andriy Shevchenko - and it says a lot about his ability and influence that he was able to do so as a Ukrainian playing his football in Milan.
In the last decade or so, the latter stages of the Champions League have become a little predictable.
Since FC Porto defeated AS Monaco in the 2004 final, England, Germany, Italy and Spain have been responsible for 16 of the 19 different teams to reach the semi-final stage. Those four countries have provided every single one of the finalists in those 14 seasons.
In today's game, the best talents from smaller leagues tend to find themselves moving to the big leagues earlier than ever, but 20 years ago, teams from further afield could ride the talents of their top players an awfully long way.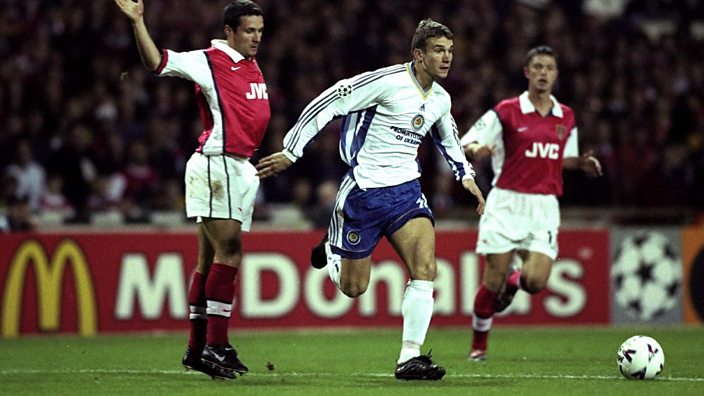 A player of Andriy Shevchenko's quality, were he to have emerged in 2018, might well have made the move to Serie A at 19, off the back of his 19-goal breakthrough season with Dynamo Kiev. The 'Welcome to AC Milan' YouTube compilations and the viral Instagram clips of a particularly devastating finish alone would probably generate enough hype to secure the young Sheva a big move from Ukraine to the Premier League, Serie A or La Liga.
At the very least, he'd surely not have stayed with Dynamo Kiev long enough to record back-to-back 30-goal seasons between 1997 and 1999.
In the first of those, he scored a first-half hat-trick at the Nou Camp as Dynamo beat Barcelona 4-0 in the Champions League. In the second, Kiev eliminated holders Real Madrid in the quarter-finals of Europe's top competition. Shevchenko scored all of Dynamo's goals in that 3-1 aggregate win, demonstrating a purpose and single-mindedness to mark him out as a player who saw the game as his audition for the big-time.
The 1998-99 Champions League might have predated talent shows like The X Factor or American Idol, but the striker - with his youthful good looks and eagerness to play up for the cameras - performed like a man who knew exactly how much more important it was to do it against Real Madrid, the grandest club in Europe, than anyone else.
The night of the second leg, the young forward treated Los Blancos like intruders onto his territory – they might have had the profile from past victories, but no one came to Kiev and got in his way. The 1-1 draw at the Bernabeu in the first leg had given him his chance, and it wasn't getting away.
The 23-year-old played hi-def football on a VHS pitch, tearing past Madrid goalkeeper Bodo Illgner to win a penalty and converting the rebound after the German saved his first effort. He then raced onto an inch-perfect scooped ball from strike partner Sergei Rebrov to score his second of the night.
We had to wait more than a decade to witness anything nearly as comprehensive, when Robert Lewandowski scored four times for Borussia Dortmund against Real Madrid - but let us never forget Sheva was the original.
Shevchenko joined AC Milan in 1999 and bagged Italy's golden boot, capocannoniere, in his debut season.
Italian football has always provided a healthy balance of homegrown players and the best foreign talent, but Shevchenko's breakthrough came at a time when there was plenty to love about the national team.
His first season in Milan had barely drawn to a close when the Azzurri – led by a young Roman named Francesco Totti – came within seconds of winning Euro 2000.
Excitement over the new arrival from the east might have been tempered by the success of Italy's own up-and-comers, were it not for a genuinely breathtaking first season in Milan. It was another example of Shevchenko knowing it wasn't just enough to let his talent come to the fore over the course of his contract in northern Italy; he had to grasp the moment.
In the same way Andres Iniesta's run to World Cup glory in 2010 came off the back of an unremarkable and injury-hit season on a personal level, Shevchenko's worst goalscoring season in red and black ended with him scoring the winning penalty in the final of the 2002-03 Champions League final against Juventus.
It didn't matter that he had scored in just five league games and a further four in Europe - a fit and healthy Sheva was always going to play the full 120 minutes in the final because he had done enough in the previous three seasons to more than justify it.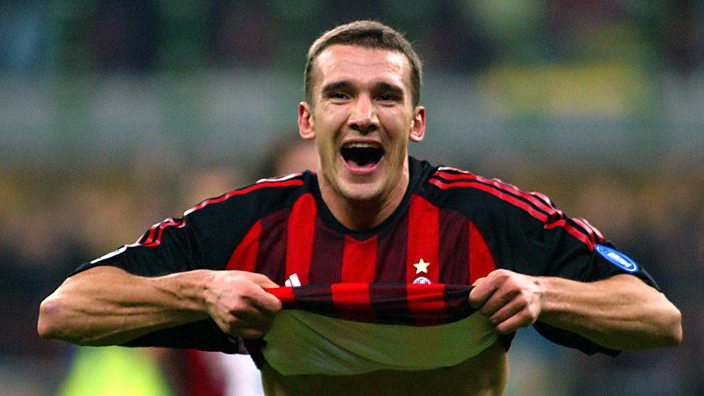 Of course, one of that season's four Champions League goals was a group-stage winner against Real Madrid, once more reigning champions and once more unable to contain their Ukrainian nemesis.
No number of Galacticos could contend with a defence-splitting pass from Rui Costa, especially when the man on the end of it held absolutely no fear.
If the brace he bagged in 1999 was the first audition on the reality show that is European football, the 2002-03 campaign saw Shevchenko rock up to the judges' houses and treat them like his own.
The winner against Madrid was his way of putting his feet up on the sofa without removing his shoes, while the winning penalty in the final was Sheva opening the fridge, taking a bite out of a block of cheese, and putting it back as though that was completely normal.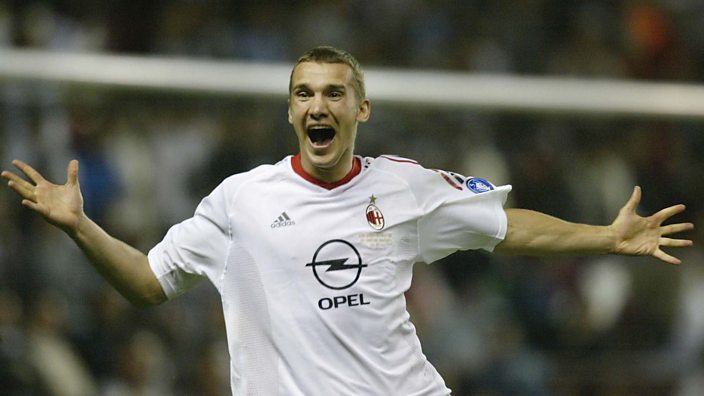 In 2003–04, Shevchenko was capocannoniere again, scoring 24 times in 32 Serie A matches as Milan won the title for the first time in five years. He scored in the Uefa Super Cup victory over Porto, he scored three times in Milan's Italian Super Cup win over Lazio, and he won the 2004 Ballon d'Or to be crowned Europe's best player. 
Of course, the problem with achieving everything is you then need to improve on perfection - and the 2004-05 season proved a crushing low to accompany the previous highs.
While AC Milan had stumbled their way to Champions League glory in 2003, their run to the final in 2005 was imperious.
The class of 2003 had reached the final via a stoppage-time win against Ajax and an away-goals triumph over Inter at the stadium they shared. The last five games of their run were all level when they slipped into added time.
Milan's 2005 run was far more comprehensive. Manchester United and Inter were beaten home and away, and despite a scare against PSV Eindhoven, the Rossoneri entered the final against Liverpool as overwhelming favourites.
AC Milan's starting line-up for that game - a 4-4-2 of Dida, Cafu, Jaap Stam, Alessandro Nesta, Paolo Maldini, Andrea Pirlo, Gennaro Gattuso, Clarence Seedorf, Kaka, Hernan Crespo and Shevchenko - reads like the PES Master League team of your dreams.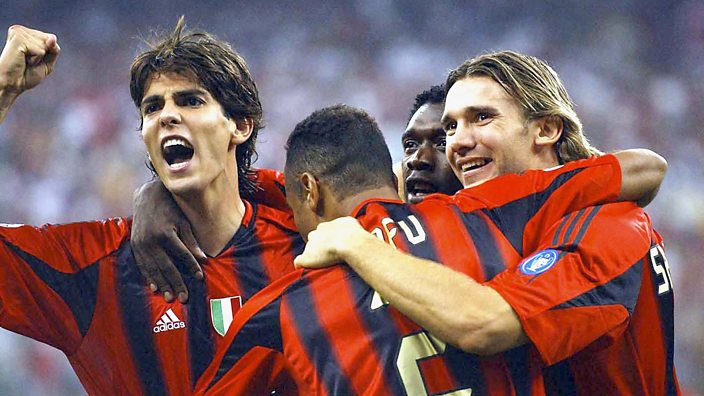 UK football fans old enough to remember Istanbul have been conditioned to view the game through the prism of the Liverpool's stirring comeback from 3-0 down. However, when we look at the match through Shevchenko's eyes, we're given a balancing act between hubris and self-doubt.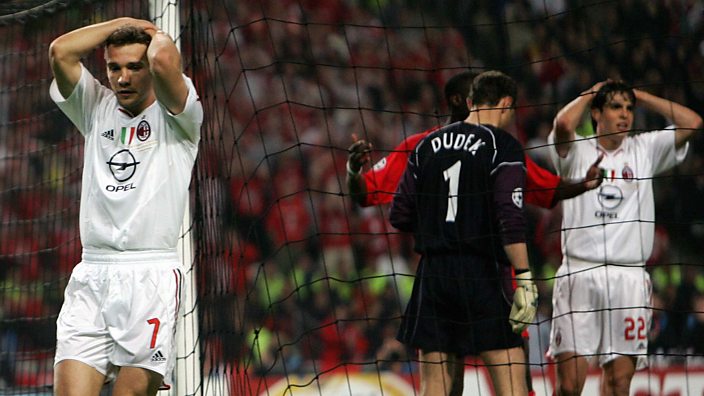 In that moment, Shevchenko's face was that of a man who knew he was beaten. It's tough to square that image with the man who some believed couldn't fail in this competition.
As Shevchenko stepped up to take what would prove to be the final penalty in the shootout, he looked scared. Not quite trusting himself to wait for Dudek to move, yet still half-attempting a game-saving Panenka which, if successful, would surely have restored his mojo.
On the biggest stage, where he had so often grabbed the spotlight, it seemed as though his powers had ebbed away.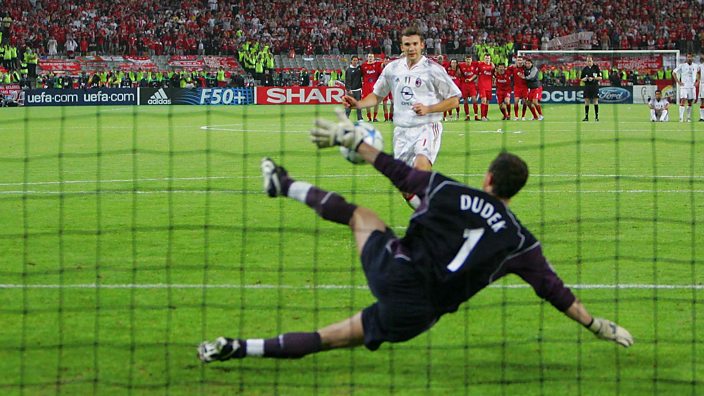 Shevchenko didn't have long left at the very top after that and the next season would be his last at Milan.
The £30m move to Chelsea which followed saw him underwhelm on the pitch, and prevented him from playing a part in Milan's 2007 revenge mission over Liverpool. In 2006, he was, however, able to lead Ukraine to the quarter-finals in their first World Cup since declaring independence some 15 years earlier.
Shevchenko returned to Dynamo Kiev in 2009 for three more seasons of club football, and captained his country as they co-hosted Euro 2012, his last games as a professional.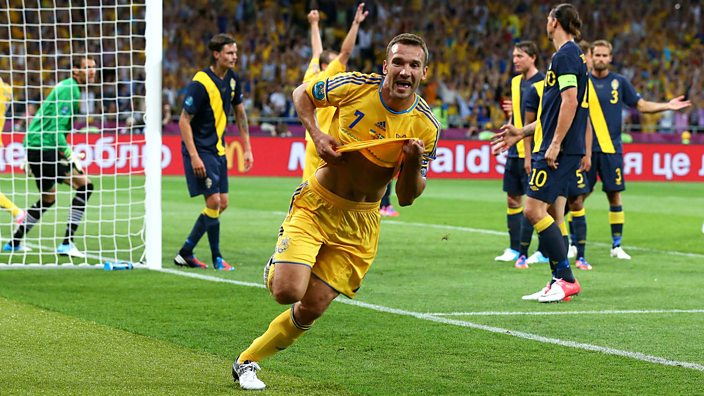 An icon in the Ukraine, Shevchenko was, for a time at least, one of the most feared strikers in Europe. Yet a footballer's time at the very top is limited, and that means taking your chances when they roll around.
Looking back at Andriy Shevchenko's career, it's hard to argue he didn't achieve everything he could.
This article was first published on 26 November 2018.