N/A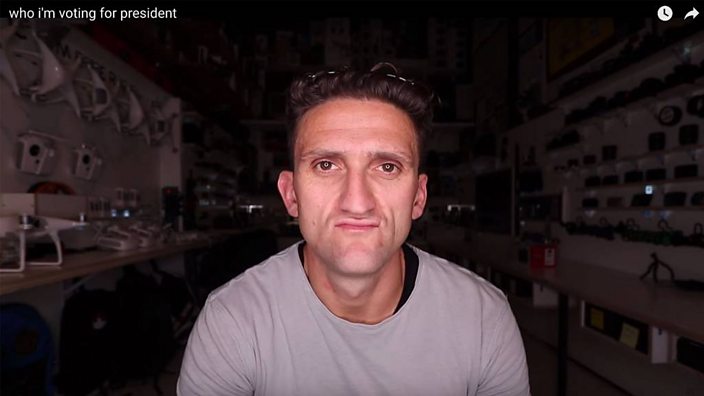 Casey Neistat, YouTube
Did Casey Neistat just commit the ultimate YouTube sin?
Casey Neistat is YouTube royalty. On an average day, he racks up 1,000-2,000 new subscribers per hour.
Yet in the four hours that followed a recent post, new subscriber rates weren't leaping as high as they normally do. Why? It may well be because he talked politics, which has been previously referred to as committing 'YouTube suicide'.
In his upload, Casey came right out: He's voting for Hillary Clinton in the US Presidential election and he wants his followers to as well. This is not YouTuber etiquette and he knows it.
Of course Casey being, well... Casey, the subscription rates quickly picked up again and it was business as usual. But it did pose an interesting question - if you were a big name on YouTube would you risk your 'numbers' to do the same?
"Making videos like this – they're not popular," he says in the post. "They're not gonna get you subscribers, they're not gonna boost your view-count. But there is something much more valuable than subscribers or dollars, and that's backbone."
It has not gone down well. Some commenters on his page are even speculating that he was paid to make the video.
Casey can usually be found reviewing the latest Nike Mags and documenting his workouts. But Neistat has used his platform before to make social change – like when he spent $25,000 given to him by a movie studio on helping typhoon victims in the Philippines. Still, he knows that bringing politics front and centre like this is problematic, but he believes that opposing Donald Trump transcends those concerns.
"I'm speaking up now because this election has very little to do with politics, policy or legislation. This has to do with morals and principles."
Perhaps the most controversial thing about Neistat's actions is the way he's calling out other prominent YouTubers to do the same.
"Sitting on the side-lines this time around is not okay," he tells them.
Some, like Mrs Wranglerstar, have made a fairly diplomatic response.
But her male counterpart has come back to tell Neistat and everyone else that he is firmly in the Trump camp.
Meanwhile, Bobby Mares is on board with the message and the way it's been implemented.
"I want to encourage people to vote. Do your research."
Gaming YouTuber Boogie2988 set out his reasons for not discussing politics on his channel.
"A lot of people can be very, very negative when you share your opinion on YouTube," he said. "I cannot handle that kind of negative criticism."
Either way, Casey Neistat has opened an interesting debate about the role of YouTubers in informing or influencing their followers. Could this pave the way for more stars to take a firm stance? Or will the backlash force Neistat and others into a retreat? We'll have to wait and see…