N/A
gettyimages
Manchester City have lost more games than United
Plus, the footballing world goes into meltdown as Jack Rodwell plays in a Premier League match again
Lockdown football continues to prove that 2020 can still find ways to surprise us - Manchester City coming off a thrashing of Liverpool to lose to Southampton, for example. 
1. Manchester City don't do draws
The gear changes in Manchester City's season are drastic. After humiliating title-holders Liverpool with a 4-0 defeat on Thursday night, they subsequently lost 1-0 against Southampton on Sunday.
Anyone who thinks this is a shock clearly doesn't know their history. This trend reportedly runs deep.
Were they a bit unlucky though?
Meanwhile, this niche pun riffing on a fielding position has us… erm… creased?
Liverpool, on the other hand, despite that humiliation by their rivals on Thursday, are still buzzing from their first ever Premier League title. Their detractors have claimed this season will have an asterisk next to it because of the lockdown hiatus. One ex-Everton player has suggested another. 
Not nice to be made to feel like your past achievements aren't relevant in the modern day, is it Gary?
We look forward to more of this from Micah.
In a reunion as long-awaited as English pubs and their punters, this weekend Jack Rodwell featured in a Premier League match for the first time in three years. 
The defensive midfielder came off the bench for Sheffield United in a draw against Burnley at Turf Moor. 
Rodwell, who has represented England at all levels, came through Everton and Manchester City, before signing a contract with Sunderland, believed to be around £10m in 2014. Those who've seen Sunderland 'Til I Die may remember him controversially refusing to leave the club to help ease their wage bills after they were relegated.
5. 2020 surprises us again
2020 still has a few tricks up its sleeve – Arsenal putting in a proper shift away from home, for example. They beat Wolves 2-0 on Saturday, making an important step in the race for European spots.
Manchester United continued their fine form with a 5-2 win against Bournemouth on Saturday. Youngsters Mason Greenwood, Marcus Rashford and Anthony Martial all got goals and impressed. There is another man, though, who it seems may be pivotal to Manchester United's upturn in form at the moment.
7. Vardy reaches another milestone
An incredible achievement as Jamie Vardy reaches his 100th Premier League goal. Not bad considering his Premier League debut was in 2014.
Fleetwood Town had a bad day at the office on Friday – shipping four against Wycombe Wanderers in a League One play-off semi-final. They also had two men sent off. That didn't dampen the spirits of these lads, who stuck it out for the Town. 
9. Someone please explain…
Chelsea boosted their top-four hopes on Saturday with a 3-0 win at home against Watford. Speaking of elite circles – can anyone please explain why conspiracy theorist David Icke's name appeared on the advertising hoardings at Stamford Bridge?
10. Post Tinder-match analysis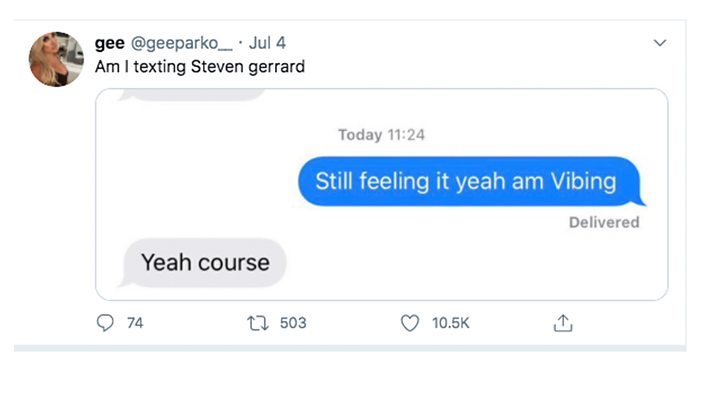 It sounds like this young woman's date has had some serious media training, from the Steven Gerrard school of post-match interview. 
11. Credit where it's due 
Honestly, why shouldn't these important figures in the game get more of the limelight?
Bayern Munich beat Leverkusen 4-2 on Saturday to add a German DFB Cup to the Bundesliga title they claimed in June.
Still, we know who takes the trophy for best German club social admin account in English.