N/A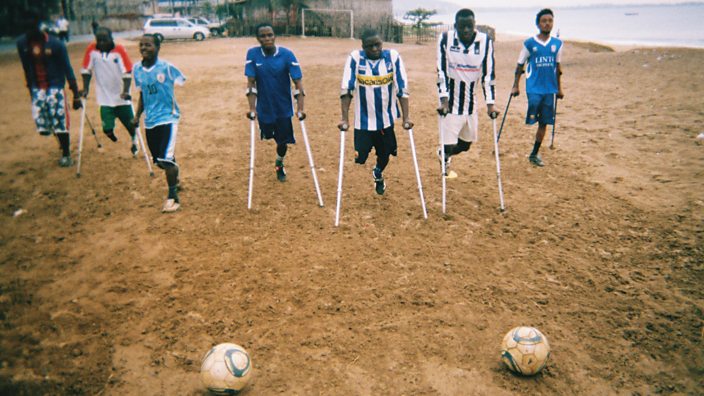 Goal Click
These stunning disposable camera photos show football's impact around the world
Analogue snapshots capture diverse groups enjoying the sport, from Serbian ultras to Sierra Leonean amputees
A Serbian goalkeeper emerging from a heavy mist caused by flares. A Mexican team playing in a stadium surrounded by armed guards. Cape Verde mums bossing it on the pitch.
These are just some of the images captured as part of an ambitious global photography project known as Goal Click. The brainchild of Matthew Barrett and Ed Jones, who both work in the sports industry, the mission is "to send a disposable camera to one person in every country of the world, and they could take photos that they felt symbolised their country somehow – its politics, its society - through the lens of football, together with their personal story."
Starting in 2013, so far they've sent cameras to 70 countries. The results - whether photos of amputees left wounded by war playing together in Sierra Leone, or men playing together on the Inca Trail - are beautiful, idiosyncratic, and telling.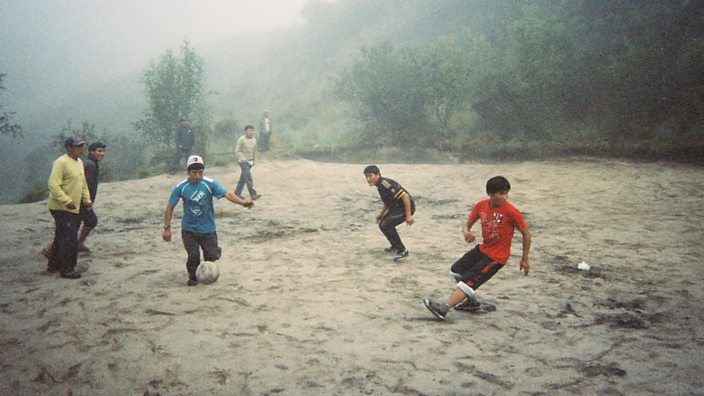 Among the collection, you'll also find photos of ultras culture at the 'ultimate derby' in Belgrade; schoolchildren in Japan playing in heavy snow; and kids using football as a way to recover from the trauma of Typhoon Haiyan in the Philippines.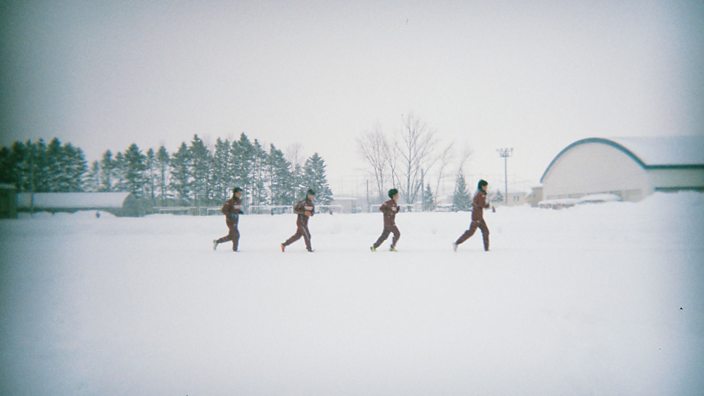 Much of the project looks at the beautiful game in conflict zones, and the photographs tell stories about those places. The photos are all taken on disposable cameras by different individuals - some artists, some fans - all with a story to tell about football in their communities.
Co-founder Matthew Barrett spoke to BBC Three about the project. "Ed was wondering whether we could do anything with giving disposable cameras to fans going to the World Cup. Suddenly a light bulb went off in my mind, that this could be something much bigger."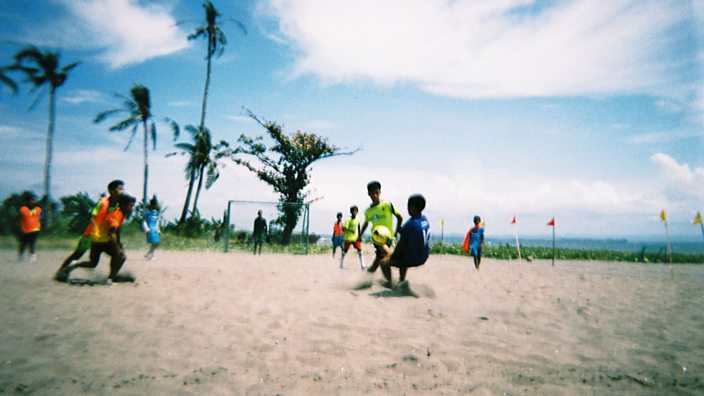 The project is crowdsourced, and people can apply to be sent a camera to capture a football story from their own country.
The first camera they got back was from Pastor Abraham Bangura, who coaches the Single Leg Amputee Sports Association (SLASA) football team in Sierra Leone. This was established in 2001 as a way for young people to overcome some of the impacts of the country's decade-long civil war.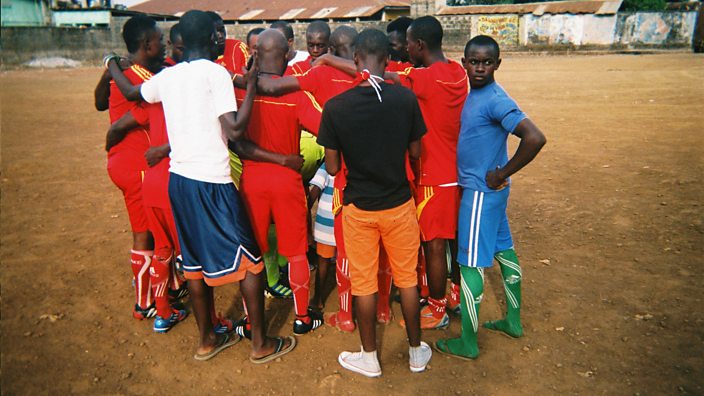 "For us to turn their pain into power, we needed to start this amputee football," Bangura has said. "One of the main things I was trying to showcase is that disability is not inability."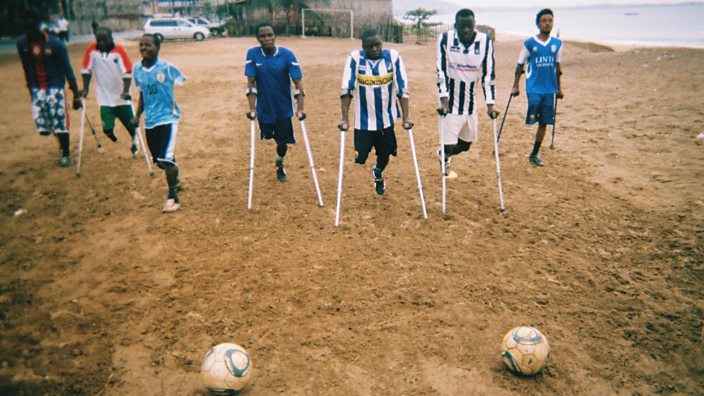 Matthew can vividly recall receiving those first developed photographs. "We had quite low expectations," he said. "That first photo we received back, of the amputee team walking towards the camera, was so powerful. We knew then that we were on to something."
One of Matthew's favourite photos comes from a collection taken in Mexico by artist Pablo Lopez Luz in October 2015, at the Estadio Olimpico Universitario, home of Mexican club, Pumas UNAM.
It shows a university band in the stands, playing before the match starts. In the foreground, there's a riot police officer observing and, at the top of the image, you can see a line of police snipers.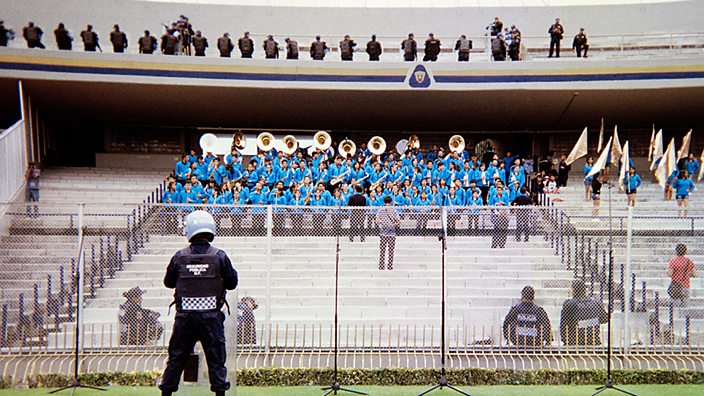 The photographer believed this tells a story about modern Mexico, "where seeing armed grenadiers (specialist police units for anti-riot duties) in the street has become a common scene".
"Football matches in Mexico City tend to get violent, especially if the home team loses. Therefore, the city government has been sending the police for every match to keep order."
The choice to use disposable cameras for all of these photographs was deliberate. For one thing, Matthew and Ed wanted to create a level playing field. "We wanted our photographer in the United States to have the same tools as our photographer in Peru," Matthew explained.
The other reason for this choice was an appreciation for the "imperfections" of analogue photography. All of the photos are striking, but Matthew singled out a shot taken of Copa 90 in Serbia by David Vujanic.
David travelled to his native country for 'the ultimate derby', Red Star Belgrade v Partizan Belgrade. The image is of a goalkeeper emerging from mist.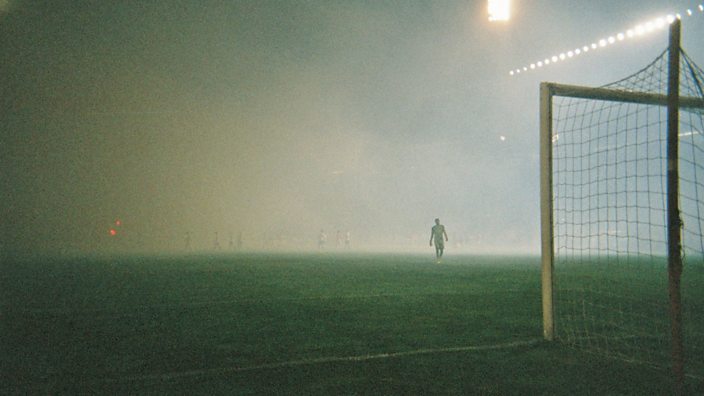 "You have just had an amazing flare display by the Partizan fans, the smoke has covered the ground and stopped the game for 10 minutes, with the players waiting for the wind to clear it so they can restart," explained David. "It shows the power of football fans to actually stop a game, whether intentionally or unintentionally."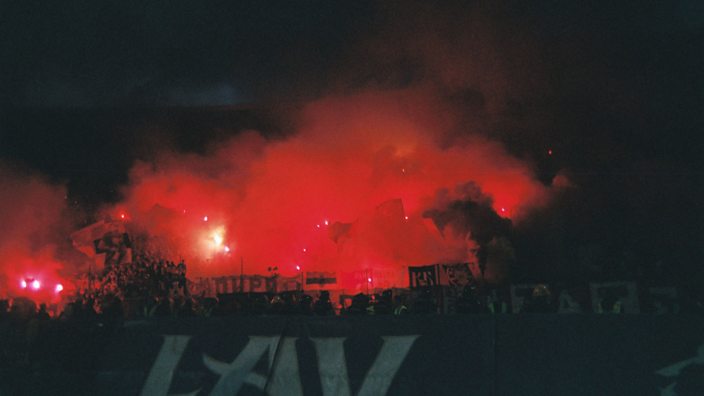 The Belgrade derby is a heated one, and there was fan trouble during this game. "David spoke to us about how he was surrounded by other photographers with long lenses and proper kit, who probably thought he looked a little amateur, stood there with his disposable camera," Matthew said.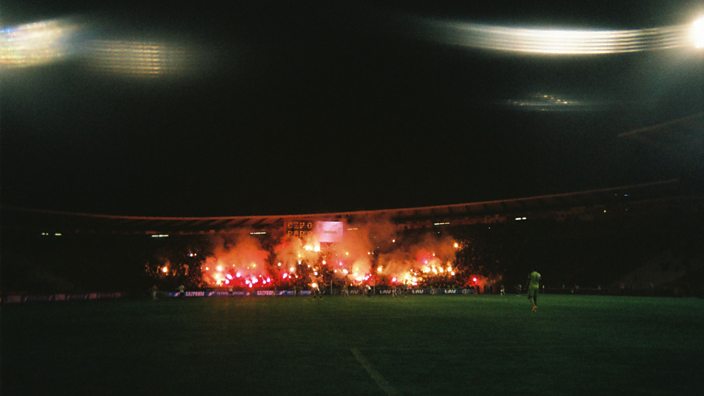 The other reason that Goal Click decided to use disposable cameras, Matthew tells me, is that they wanted to make a point about the value of patience.
"I think there's a culture in the world today of instant gratification," he said. "We take thousands of photos and we may never look at a lot of them again. There is something refreshing, though, about the idea of having 27 photos on your camera film, and having no idea what they look like until they've been developed."
Goal Click have sent cameras to 70 countries around the world, received 25 cameras back, and published 21. One day, they hope to complete the project by gathering photos from 250 countries.
"The social purpose at the heart of the project is really important to us," Matthew explained. "Our ultimate vision is to be able to generate funds to be able to support some of the football charities that we're working with."
One final question: why football?
"We often get asked whether we'd do things around other sports or activities. Football is the one sport that seems to be played in every single country," he replied.
"I'm interested in the role sport can play in conflict resolution, and what sport can say about societies."
Originally published 7 February 2018.