N/A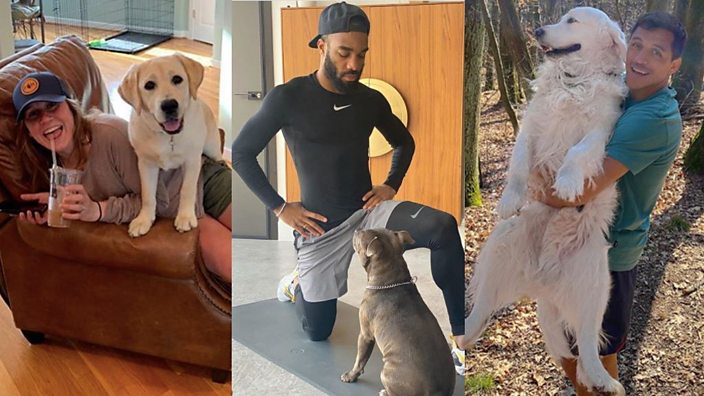 Forget the athletes, here's what sports stars' pets are up to during the coronavirus lockdown
From football-playing dogs to sweetly named alpacas, we've got you covered
Look, it's a weird time in the world right now. Most of us are stuck indoors and we're not quite sure what is going on and there's not even any sport available to keep us distracted. 
The stoppage in the regular sporting calendar doesn't just affect the fans, but the athletes too, as they are searching for new ways to pass the time while keeping up their fitness for when they can return to action.
Now more than ever, social media is giving us an insight into their lives and, more importantly, their pets. 
Here is just a collection of what some of our favourite sportspeople are getting up to with their pets during the coronavirus shutdown.
The break in the season has given athletes from all backgrounds the time off they need to re-connect to those who are most important to them. 
And by that, we obviously mean their dogs.
Former Wales and Lions captain Sam Warburton took in some sunshine with his "bezzie".
His old international team-mate Jamie Roberts also hopped on the opportunity to "make up for lost time" with his cocker spaniel Layla, after spending the last few months down in South Africa with the Stormers.
Meanwhile, Ireland and Reading goalkeeper Grace Maloney got in some quality time with her German shepherd.
And former USWNT star Heather O'Reilly, who won three Olympic gold medals and a World Cup during her playing career, appears to be having the time of her life with some very friendly company.
While, of course, Alexis Sanchez is passing the time with his golden retrievers, Atom and Humber. 
It's not all easy living, however, for athletes' four-legged friends, with some sport stars incorporating their pets into their workout. 
The Paralympics may have been pushed back to next year but two-time Paralympic gold-medallist Kadeena Cox is staying in fighting shape with some special assistance from a new sprinting partner. 
But Arsenal striker Alexandre Lacazette seems somewhat less impressed with his dog's contribution to his routine. 
The animals are working on their skills too, with Chelsea duo Maria Thorisdottir and Beth England taking the time to bring their dogs up to speed.
In some cases the animals are also athletes themselves and five-time Paralympic gold medallist Natasha Baker has been checking in on her riding partner - while also revealing some of the tricks of the trade when it comes to animal photography. 
5) From one season to another
With the rugby season on hold, those involved in the game have found a new season to get behind: calving. 
Referee Nigel Owens was on hand to provide support for Hannah as she gave birth to a healthy calf.
Wales flanker Dan Lydiate even went as far as to upload a video of one of the births happening. Warning: Not one for the squeamish!
Meanwhile Irish prop Tadhg Furlong was on feeding duties.
How do you follow up an athletics career in which you managed to win two Olympic gold medals among various other achievements? 
If you're Dame Kelly Holmes, the answer is obvious. You raise alpacas named after various kinds of sweets.
While we humans must practise social distancing during the lockdown, there's nothing stopping a few curious animals making new friends.
Just ask Paralympic silver medallist and former world champion Lauren Steadman and her German shepherd, who appear to have befriended a local horse.
As for double Olympic champion Helen Glover, she swapped her usual position above the water to dive beneath with some sharks as part of Blue Planet Revisited: A Sharks Tale on BBC One. 
If that's not exotic enough for you, then maybe you'd be interested in Dutch footballer Memphis Depay.
The Lyon winger appears to be passing the time in self-isolation with a liger cub. Given the public mood on the domestication of big cats since the Netflix documentary Tiger King was released, some may call that controversial!