N/A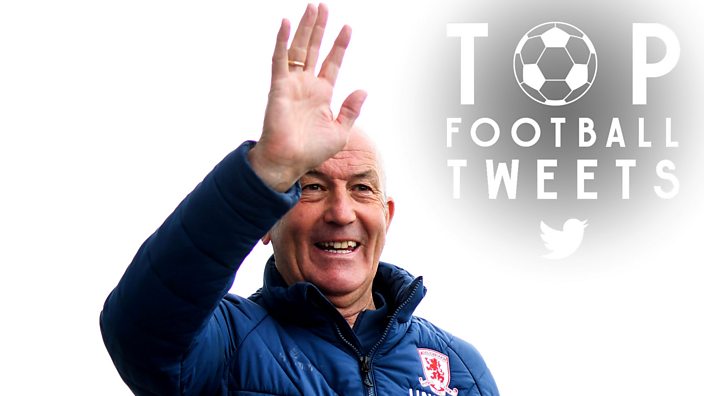 Getty Images
Everyone's making the same Tony Pulis to Juventus joke
And in other news, the debate of 'does the Community Shield count as a major trophy?' is back again
Another football season draws to a close and champions have been crowned across the continent.
While we await the men's Champions League final, the women's edition played out over the weekend with a predictable end.
All around Europe, it seems the top teams retained their titles and for Manchester City, Saturday's FA Cup final thrashing of Watford put them in an unprecedented situation.
1) Care about the Community
Pep Guardiola's side made history as the first men's team ever to wrap up the English domestic treble of Premier League, League Cup and FA Cup.
Although they would have preferred to add the Champions League and make it a quadruple, the treble is still a remarkable achievement. But wait, no, they did make it four - they can include the Community Shield among their trophy haul. But some fans are not impressed...
It seems even some of the players need to be reminded about it.
2) Smells like team spirit
Let's not forget though, that Manchester City have put in arguably the most impressive domestic season ever. And they owe it all to a ruthlessness which was best summed up by Raheem Sterling smashing the ball over the line just as it was going in the net, in an attempt to steal an FA Cup final goal from team-mate Gabriel Jesus.
Unfortunately for Sterling, he wasn't quite quick enough off the mark and has to settle for just a cup final double instead of a hat-trick.
And as for that post-match coaching incident...
Lyon continued their dominance of the women's game with a 4-1 win over Barcelona on Saturday to claim their fourth straight Champions League crown.
While the previous three finals had been tight affairs for the French side, it seems the job is only getting easier for them as they raced to a 3-0 lead after just 19 minutes.
Barcelona's only scorer in Saturday's final was Asisat Oshoala and although the Nigerian forward was ultimately on the losing side, she still helped to make one fan extremely happy by sorting them out with a ticket for the big occasion.
If there's one point of consolation for rival fans over the dominance of Lyon and Manchester City, it is that dynasties can fall in an instant.
Just ask Chelsea, who were ready to take over the men's game after winning their second Premier League title in a row in 2006.
6) Alwayes check you're spelling
AFC Fylde bounced back from the disappointment of losing the National League play-off final against Salford City a week earlier to deny Leyton Orient a non-league double and lift the FA Trophy for the first time on Sunday.
It's a moment fans of the club will never forget, with supporters stocking up on memorabilia from the day to mark the occasion.
7) From Teesside to Turin
Despite wrapping up the club's record-breaking eighth straight Serie A title, Juventus have announced that Massimiliano Allegri will leave at the end of the season.
While there is much speculation over who will replace him in Turin, the timing of the announcement last Friday does have us dreaming of an unlikely option...
With modern football clubs always searching for new ways to grow their fanbase, League of Ireland side Bohemians have apparently started attracting attention from the world of the animal kingdom.
We doubt he paid for a ticket.
This year's Football League play-offs have been thrilling. We've not even played the finals yet and already we've seen enough drama to last a season.
Across the six semi-final showdowns in three divisions, we've seen three decided on penalties, one of the most astonishing comebacks ever recorded and six red cards.
So why can't we create that kind of chaos in the Premier League too?
10) Meanwhile, in Germany
It's been a good season for the big guys, with each of Europe's top leagues seeing the defending champions retain their title - apparently the first time that's happened in quite a while...
In Germany, that means Bayern Munich have earned their seventh Bundesliga crown in a row and while we must all acknowledge it is an impressive achievement, it'd be nice to see someone else given the chance to finish on top for once.
But it's not all bad, as one German side have managed to turn a second chance into something remarkable as Paderborn have earned a spot in next season's Bundesliga.