N/A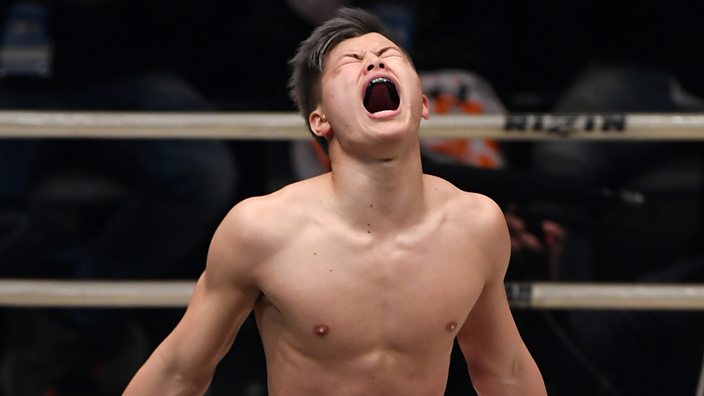 Getty
Aliens, anime and amazing knockouts: Everything you need to know the Mayweather's 'opponent'
Tenshin Nasukawa believes in aliens and is 'frightened easily' - oh, and he can knock you out
You might not have heard of him, but Nasukawa, who has been recognised as one of the best kickboxers in the world, was supposed to get his chance to trade blows with the undefeated pound-for-pound boxer in a fight on New Year's Eve in Saitama, Japan.
However, Mayweather later said he'd never agreed to fight Nasukawa for real and had only been asked to compete in a non-televised event for "wealthy spectators". The 41-year-old claimed he was "blindsided by arrangements that were being made without my consent nor approval".
However, before Mayweather's denial, we'd been scrabbling round to find out at least some details about the 20-year-old Japanese phenomenon he was supposed to be facing. Here's what we discovered. 
By 1998, Mayweather had already won Ring Magazine's fighter of the year award and picked up an Olympic bronze medal in Atlanta two years earlier. Meanwhile, in Tokyo, Tenshin Nasukawa's sole career achievement was just being born.
But, despite being 21 years younger than his opponent, Nasukawa is no newcomer to the world of fighting. He began attracting attention on the scene when he launched his amateur kickboxing career age 13.
"You could see the signs of a young star early," kickboxing coach Steven Wright said. "He not only won his amateur bouts, but he styled on guys. He could beat you with clean kickboxing scores or take something he saw in a movie and perform it to perfection against an opponent."
Nasukawa's training actually began when he started karate at just five years old, and he set his sights on joining one of Japan's premier fight promotions, K-1 Kickboxing or Pride - both of which have produced a long list of UFC fighters including Mark Hunt and Alistair Overeem.
"I practiced karate until I was in sixth grade. I was winning competitions at a national level," he told Bleacher Report. "I wanted to participate on that big stage. There was no specific individual that inspired me. I was attracted to the stage."
Nasukawa became a black belt in Kyokushin karate but he blended his style with kickboxing to help him plough through the amateur circuits and rack up win after win. Nasukawa is now the face of the Rizin Fighting Federation, one of the biggest MMA promotions in Japan.
"I don't even want to imagine what kind of fighter he will turn out to be in five years," one of Nasukawa's opponents, Yusaku Nakamura said before he was knocked out by the youngster in May.
'He will stop at nothing to put you on the canvas'
The 20-year-old has won all 27 professional kickboxing bouts that he's fought in since 2014, with 20 of those fights ending in knockouts. His MMA record is also flawless, with four wins, two knockouts, and zero losses to his name.
"He will stop at nothing to put you on the canvas," the fight commentator said after Nasukawa floored Wanchalong.
Fighting is in his family
Nasukawa shares a similarity with Mayweather by having his father and uncles regularly in his corner.
At his gym in Tokyo, you'll find his mum at the reception, greeting members and visitors on arrival. On the gym floor, you may spot Nasukawa's dad, keeping a close eye on his son during his warm-ups and exercises.
"It all comes down to how I have a great environment. That itself probably makes me better than the fighters I face," Nasukawa said.
His 16-year-old sister Riri also looks set to join her older brother as he tears up the MMA scene. Riri currently has a 30-3 amateur record and she won her first professional fight earlier this year in a performance The MMA Bulletin described as "wildly aggressive." Yikes.
Though he may still have a boyish look about him, make no doubt, Tenshin Nasukawa is a dangerous opponent.
"It's the biggest moment in my life and I want to be the man who changes history. I'll do that with these fists, with one punch - just watch," Nasukawa said in the press conference with Mayweather. Maybe Floyd wasn't listening to that bit.
Nasukawa's confidence can be seen in his ferocious power and flamboyant Hollywood-style kicks, which look like they've been ripped straight out of the latest John Wick movie.
"This boy is in The Matrix. Believe it," declared a fight commentator after his win over Wanchalong in 2016.
And the facts you really want to know
Oh, and the 20-year-old believes in aliens.
Also, when he was asked to name something no one could guess about him, he responded by saying, "I am frightened easily."
He also seems to be a big anime fan, regularly posting pics from hit Japanese shows such as One Piece, Naruto and Hajime no Ippo, which follows fictional professional boxers fighting their way to world titles.
There is also a giant life-size figure of Kenshiro, the lead character in another anime called Fist of the North Star, that greets people when they enter his gym.
So don't be surprised to see Nasukawa bust out some anime fighting styles if he ever steps into the ring with Mayweather. Given the ups and downs so far, you never know...
Originally published 5 November.