N/A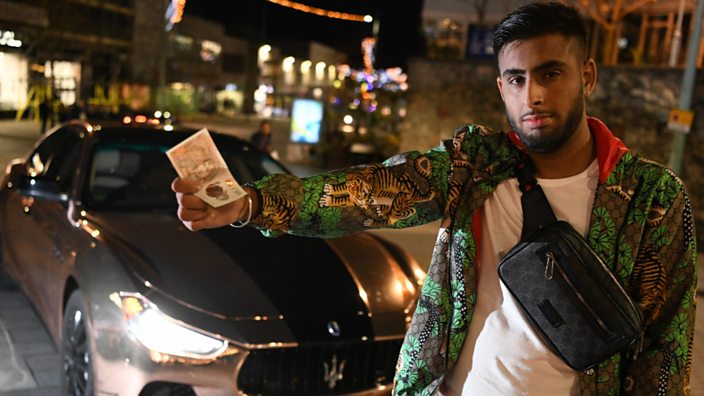 Mirrorpix
Scam City: The unlicensed 'forex trader' who lost £3.8 million
In his four-part series, journalist Mobeen Azhar finds out how investors lost millions of pounds after getting caught up in forex - foreign exchange - schemes.
In Scam City: Money, Mayhem and Maseratis, Mobeen discovers: investors were added to WhatsApp groups managed by unlicensed and unregulated so-called traders; allegations of investors being told that they couldn't withdraw their cash; and investors - after losing everything - realising that their investments, made through a firm called Infinox registered in the Bahamas, were not subject to UK regulation or the control of the Financial Conduct Authority (FCA).
In Autumn 2020, a video clip of a man handing out cash to strangers on Plymouth High Street went viral.
"You're an angel," one person in the crowd said.
That clip of Gurvin Singh Dyal, a bio-med student, even made the local paper in Plymouth.
But in trying to track down the 20-year-old (pictured above), it turned out there were different versions of the story.
To many, he was simply handing out money to strangers because he'd made it big in the world of online trading and he wanted to give something back.
To others, it was a publicity stunt and there were a string of questions to be answered.
But Gurvin wasn't talking. He'd already left Plymouth and his social media profile had been deleted. He'd vanished and it soon became clear the cash handout had been part of a carefully-curated stream of online promotion.
Before his profile disappeared, Gurvin had been a social media influencer with 125,000 Instagram followers. His online persona was almost entirely focused on affluence: pictures of his gold Maserati, designer clothes and jewellery punctuated with snaps of a pet goat.
Influencer culture is so often about turning followers into customers. So what exactly was Gurvin selling?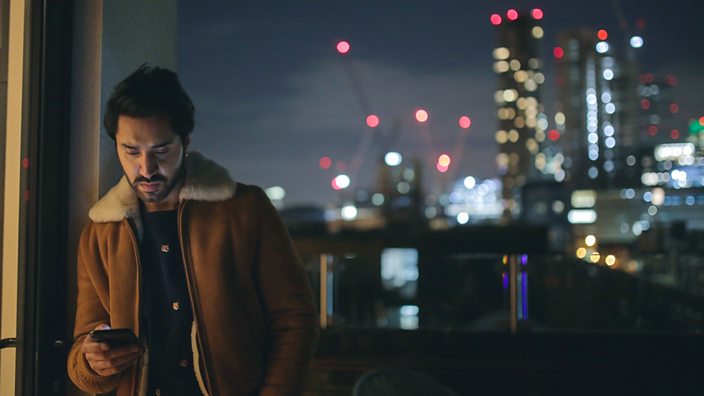 Some of Gurvin's former Instagram followers said he'd made his fortune from forex - or foreign exchange - trading.
This involves buying and selling currency and making profits or losses depending on the value of the trade going up or down.
It didn't sound like natural territory for a bio-med student - but on his Instagram profile he explained his philosophy with the words: "No rich parents. No excuses. Straight hustle."
Gurvin, and many like him, promote the idea that trading can be done in your spare time. In Gurvin's case, you could pay him for a trading "course" and he promised to go further: to share the secrets of his success.
Via his company GS3 Trades, he'd trade on behalf of anyone open-minded enough to explore this new way of making money.
From the outside, it looked like forex trading had really delivered for Gurvin. But how easy is it for non-professionals to make money through trading?
According to a UK Parliamentary document, there's been a rise in the popularity of retail trading platforms since the pandemic - but the risk for retail traders is high, and prices can drop or crash and thousands of pounds can be lost in minutes.
'From £17,000 to just £48'
Jonathan had come across Gurvin on Instagram. In 2019, he signed up to GS3 Trades and was added to a WhatsApp group where multiple investors had direct contact with Gurvin. His initial investment was £1,000.
Jonathan, 24, was aware that forex trading comes with risks but he was assured by Gurvin that GS3 Trades was regulated by the Financial Conduct Authority (FCA), a national regulatory body that has strict rules to control the amount of risk that can be taken with investors' money.
When Jonathan saw his investment grow, he put in more money. In the space of a few weeks, he'd invested £17,000. That was all of his savings.
The value of the investment continued to grow until it peaked at almost £30,000. But on Christmas Eve 2019, everything changed.
The investment made a sharp fall and by Boxing Day, Jonathan's £17,000 investment and any growth he'd seen was reduced to £48.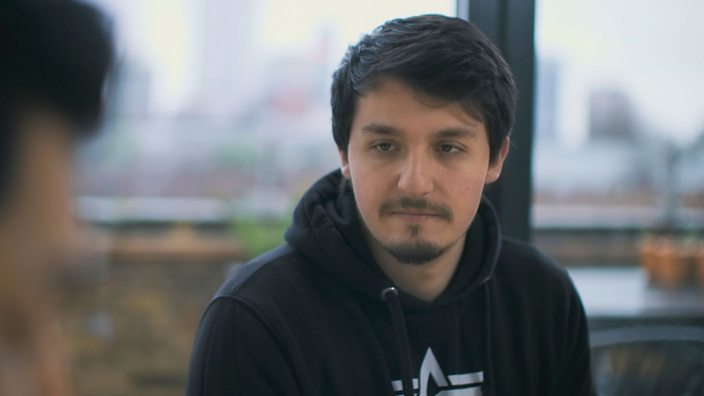 Jonathan said misleading messages from the organisers of GS3 Trades stopped him from withdrawing his money.
He explains: "Before we signed up we were told we could withdraw the money any time. But when we were in the chat, Gurvin and his administrators were like, 'If you withdraw we'll kick you off the system. It will close all the trades. It will make everything go south.'"
Jonathan is one of many investors with the same story. Gurvin's GS3 Trades had in fact been operating multiple investor groups via WhatsApp, all with the same guarantees of FCA regulation and promises of easy withdrawals.
These guarantees were a lie. GS3 Trades was not regulated by the FCA.
In the end, total investments in excess of £3.8 million from people like Jonathan were lost.
Jonathan recalls members of the WhatsApp group struggling to grasp what had happened. "There were people saying, 'This is my life savings' or 'I can't pay my rent.' Some had borrowed money from parents. People lost everything."
Looking through the WhatsApp group chats, voice notes and testimony from those who have lost money, it became clear that Gurvin wasn't working alone.
Multiple people referenced the names Tristan Jones and Mirko Notturno as "group admins". There were also references to a company called Infinox.
Jonathan and the others I spoke to for this documentary all had the same story - they'd been told GS3 Trades had been making their investments through a brokerage firm called Infinox, a financial group with a FCA-regulated office in the City.
A broker is an individual or firm that acts as a middleman between an investor and the market - and you need a licence to act as a broker. The broker places the trades on your behalf and they'll charge a fee.
When their investment was lost, Jonathan and the other investors like him realised that their money had actually been traded through a company that is not subject to UK regulation, Infinox Capital registered in the Bahamas. 
I tracked down Tristan - who was at one time an Infinox employee - and when I asked about his relationship with GS3 Trades, he responded: "We provided execution at Infinox… I was simply an employee there." I asked him if he felt guilty about all the people that lost money. "I would suggest you speak to Infinox," he said. I asked him why he'd threatened investors who wanted to withdraw their money by suggesting, "All profits will be cancelled." He insisted he was "an employee" just "doing his job".
Infinox Capital Limited has an office less than 200 metres from the Bank of England. It's a world away from the virtual, aspiration-presented-as-reality on the Instagram pages of Gurvin, Mirko and Tristan.
The firm's CEO Robert Berkeley didn't respond to my requests and the firm refused to put anyone else up for an interview. Anthony Stubbs, the Chief Executive of Infinox Capital in the Bahamas, also refused to answer my questions.
Joanna Bailey, a lawyer who specialises in forex-related fraud, said her firm has more than 3,000 case files related to alleged forex scams.
In Joanna's files, individual losses ranged from £10,000 to £4,000,000 with almost all investors believing their money was protected by UK regulation, only to realise, after having parted with their cash, that their investment was made through an offshore company with no UK protection in place.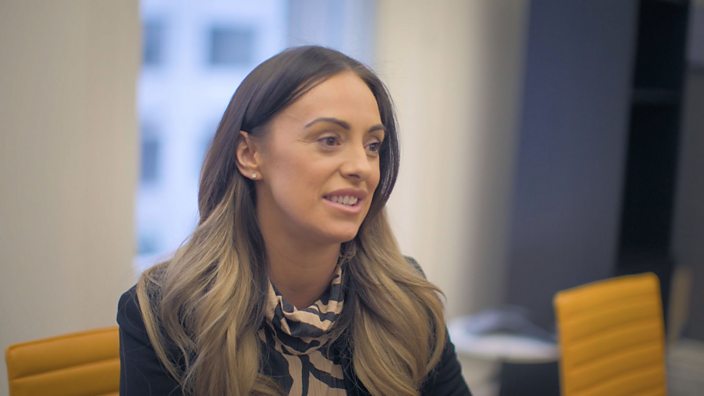 Joanna explains: "You can't offer financial products to UK customers unless they're regulated."
Across thousands of exchanges, Tristan, Mirko and Gurvin failed to tell investors they were not protected by FCA regulation.
Tristan had gone further, actively discouraging investors who asked about withdrawing their funds. This meant some investors felt forced to keep their money tied up when their investments crashed.
Joanna adds: "The company is always liable for their employees' actions. That's just the law."
Over the course of this investigation, Gurvin's role in the scheme became clearer.
As an affiliate marketer, he had been used to promote a lifestyle and to make introductions to potential investors. He was a poster boy, selling a fantasy about what forex trading could deliver.
It was his job to make trading look easy and to encourage others like Jonathan to part with their cash.
Affiliate marketing involves companies paying a finder's fee to a third party for putting business their way. In the case of forex, if I can convince you to invest your money then the broker will pay me for making the introduction. The more people I introduce, the bigger my fee.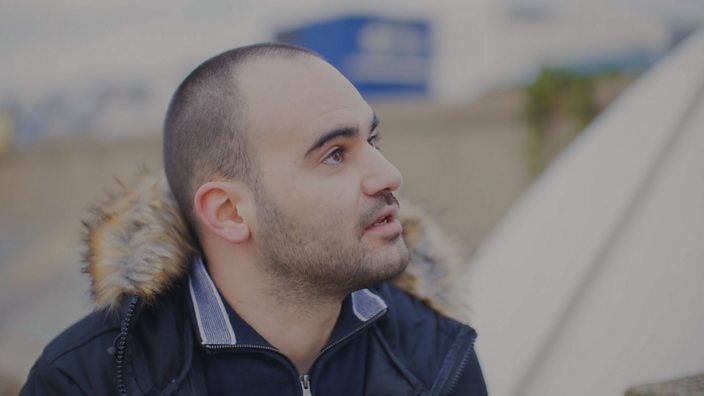 Matt Zarb-Cousin heads a campaign to tighten up the laws around risky and addictive forms of gambling. He says forex needs exactly the same kind of control.
"I think that it would be fairer for the consumer to know that these are gambling products and therefore I think it should be regulated as gambling," Matt said.
"What you've got is very well-presented conmen on Instagram."
Gurvin did a great job at convincing his target audience that his gratuitous displays of wealth - stays at a hotel in The Shard, shiny watches, flashy cars - were the result of his success in trading forex.
But when I eventually tracked down Gurvin, he was, in fact, at his home in Ilford in East London where he lives in a modest house with his parents. There was no goat in sight.
I approached him while he was out walking his dog but instead of answering my questions, he ran to hide in a shop, called his mum for help and eventually fled in his car.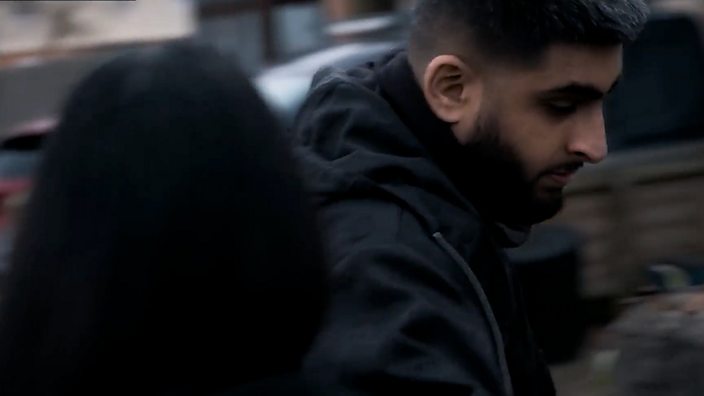 Gurvin has now reinvented himself with a different Instagram account with an even bigger following of a quarter of a million followers.
This profile has the same stream of images: cash, cars and vague motivational messages - but forex trading isn't mentioned. He's swapped forex for dropshipping, another money-making model that involves selling merchandise online. Once again he's selling courses and promising to share his success.
'If it feels too good to be true, then it probably is'
Life has been hard for many since the pandemic. And a success story or a nice guy handing out money to strangers in the street can offer hope.
But the pandemic has seen the average number of Instagram frauds reported each month increase by almost 50%, according to figures from Action Fraud. There's also been a rise in the reported amount of money lost. Before the pandemic it averaged £60,000 a month, but it's now risen to about £200,000 a month.
Corporations can recruit affiliate marketers - like Gurvin - to exploit uncertainty and to offer a vision of opportunity.
For someone like Jonathan, affiliate marketers sell their products as an opportunity to get ahead.
Many people thought Gurvin was just a friendly guy who had done well for himself. That wasn't true.
For those that pursue legal action to get their money back from forex schemes, they often find it's a long process.
"Litigation's quite expensive and lengthy sometimes," Joanna tells me. She adds that one of her clients even took their own life.
"I think the guilt overwhelms them and the embarrassment and the shame. But what I then say back to them is, 'These people have built up such a trusting relationship with the investor. They're really trained well to do what they do.'"
What I've learnt in the past six months is if someone is saying you can get rich quickly and it feels like it's too good to be true, then it probably is.
At the time of writing, the FCA website has issued warnings about the conduct of Gurvin Singh Dyal and phone numbers connected to Tristan and Mirko have been put on the FCA warning list.
Infinox Capital Limited, in London, did not respond to repeated requests for an interview.
In a statement they said: "We are regulated by the FCA in the UK and take our obligations under applicable law and regulation extremely seriously. We are fully aware of the regulatory requirements under which we operate and are confident that our activities have not breached applicable law or regulation. We wholly reject any and all allegations of wrongdoing. We have acted, and continue to act, in an open and cooperative manner with the FCA."
Infinox Capital in the Bahamas declined to comment.
If you, or someone you know, have been affected by the issues raised in Scam City: Money, Mayhem and Maseratis, the following organisations may be able to help. And if you, or someone you know, have been affected by suicide, sources of support are available via the BBC Action Line here.
Originally published on Monday 24 May 2021.