N/A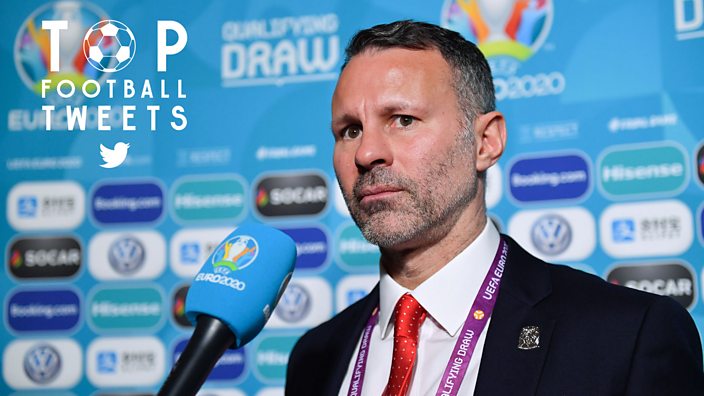 Getty
The question every Wales fan wants answered
A Wales fan contemplating which internationals to go to? One tweet may well help you decide
If you're a neutral you wouldn't have been disappointed by the six-goal north London derby on Sunday or the Merseyside showdown. Yet those were not the only talking points from the weekend's games. While the pressure continues to pile up on Jose Mourinho at Manchester United, one Wales fan has taken the hard work out of deciding which away fixtures to attend. 
1) Glass half full for Wales
Chances of making it through? Form of those your team is playing? Goals scored? Goals against? Nope, that's all irrelevant. One fan has focused on the only league table that truly matters when it comes to their Euro 2020 qualifying group.
2) Better late than never
Sometimes football is poetry. Divock Origi's late goal against Everton had everything you could possibly want from a derby winner. Baffling mistake from the opposing keeper? Check. Deep into stoppage time? Check. Scored by a fringe player you'd kind of forgotten about? Check. An accidental tribute to a team-mate? You betcha.
Oh, we almost forgot the recent-interview-coming-back-to-haunt-the-player-who-made-the-mistake cliche, a classic of the derby-winning genre.
3) Shots fired by the Gunners
Unai Emery will not forget his first experience of the north London derby any time soon. Taking a 1-0 lead before falling 2-1 behind before half-time, only to see his team pull out their customary second half resurgence to claim a 4-2 win.
Needless to say, it was an enjoyable one for the Gunners.
It helps when you've got a striker like Pierre-Emerick Aubameyang, who apparently can't miss. 
Lucas Torreira was officially given the man of the match award at the Emirates on Sunday but let's be honest - that was only because the rules forbid us from giving it to the referee.
Two penalties awarded at crucial points in the first half and a late red card to finish strong. What a performance from Mike Dean. 
Speaking of derbies (nailed it), let's check in on how former Chelsea youth coach Jody Morris is getting on at Pride Park as Frank Lampard's assistant.
A subtle call for patience as the Rams continue to push for a play-off spot. 
6) Pants for the memories
Scott Brown was named on the bench as Celtic beat Aberdeen to claim the Scottish League Cup, but he wasn't going to let that stop him from making an impact on the game.
As the club captain came on just after the hour mark, viewers at home were given a bit more than they had bargained for as Brown decided to make some last-minute fashion adjustments on the sideline.
7) How to tweet like a footballer
One of the most peculiar things about the social media age is learning that your sporting heroes are actually pretty boring.
In fairness, there are only so many ways you can apologise for being beaten by a group of world-class athletes.
Whatever Scott McTominay is doing here, it didn't stop Cedric Soares from slotting his free-kick past David de Gea.
There was a time when a 2-2 draw with Manchester United would be a good result for Southampton, but the Saints' uninspired play means the writing was on the wall for Mark Hughes and sure enough, he's been sacked. 
If only there had been a way for the decision-makers at Southampton to see this coming…
In what we can only assume is some sort of cosmic metaphor for Hibs' season, there were some technical difficulties at Rugby Park as Kilmarnock handed Neil Lennon's men their fourth defeat in six games. 
Stadium workers managed to get the power back online but it didn't last long.
Unfortunately for Hibs fans, the lights came back on again and held out long enough for the game to finish.
11) The luck of the Irish
The Republic of Ireland and Denmark have faced off four times in the last 13 months, playing out three goalless draws in that time. So obviously they have been pitted against each other in the Euro 2020 qualifiers.
In fairness, it could have been a whole lot worse for the Republic of Ireland, as they were originally drawn against Netherlands and Germany, only to be saved by a Uefa rule preventing too many Euro 2020 host nations from being in the same qualifying group.
Their replacement in Group C? Northern Ireland.