N/A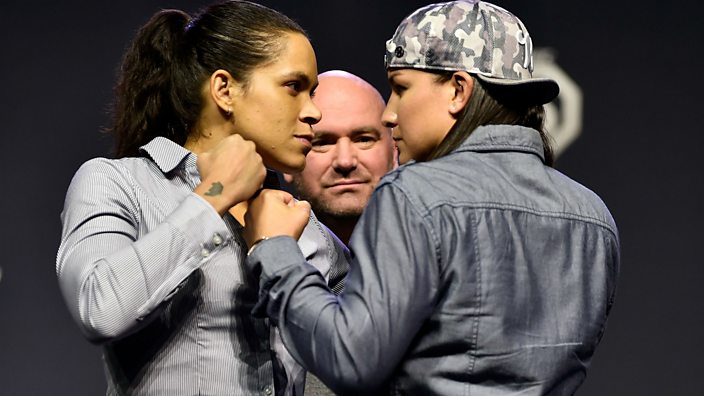 Getty
Is UFC one of the most progressive LGBTQ+ friendly sports?
History will be made at UFC 224 in Rio de Janeiro when two gay fighters, Amanda Nunes and Raquel Pennington, compete for the bantamweight title
The headline bout at UFC 224 in Rio de Janeiro, Brazil this coming Saturday night is a historic one. It will be the first ever UFC world title fight where both competitors are out and proud.
Both defending bantamweight champion Amanda "The Lioness" Nunes and challenger Raquel "Rocky" Pennington are in relationships with other female MMA stars. Nunes' partner is UFC flyweight Nina Ansaroff, while Pennington is engaged to UFC strawweight contender Tecia Torres.
For 29-year-old Nunes, the bout offers an opportunity to cement her position as one of the most dominant world champions in the UFC.
"The Lioness" is riding a seven-fight win streak heading into the fight, and has successfully defended her title twice already, demolishing Ronda Rousey in just 48 seconds at UFC 207 in December 2016, then squeezing past rival, Valentina Shevchenko, via split decision at UFC 215 last September.
Many expect Nunes to make it three title defences in a row on Saturday night, but the defending champion will need to be on her guard against a gritty underdog who plans to cause a huge upset.
Pennington, 29, appeared on reality series The Ultimate Fighter in 2013, and made it all the way to the semi-finals of the tournament before being added to the UFC's bantamweight roster later that year.
After a mixed start in the UFC, Pennington is now riding a streak of four consecutive wins. Her two defeats in the UFC both came via split decision to future bantamweight world champion Holly Holm and future top strawweight contender Jessica Andrade, highlighting her ability to mix it against the best in the world.
And since her loss to Holm at UFC 184, Pennington has gone on to claim four victories in the octagon, submitting Andrade in a rematch, then claiming decision victories over former title challenger, Bethe Correia, veteran Elizabeth Phillips, and, most recently, former world champion, Miesha Tate.
Now, after a lengthly lay-off, Pennington faces the biggest test of her career, because not only is she facing a powerful world champion, but also a former training partner, and a good friend.
"We met because of this sport, and it's just one of those things where we have a friendship on the outside, but there's business on the inside," Pennington told MMAjunkie ahead of the bout.
"And after five, 10, 15, 25 minutes, whatever it is, we can turn around, shake hands, give each other hugs, and have our friendship back."
As for the significance of the bout featuring two LGBTQ+ athletes, Pennington simply said she was proud.
"It's extremely exciting, just the fact for where women's MMA has come to today, and that we have this opportunity and here we are, headlining a UFC event. And obviously it's 2018, so just being openly gay, and being able to be myself, and going up against another fellow (training) partner. It's extremely exciting."
'It's a celebration for the gay community'
The subject is a big talking point on this week's BBC MMA Show podcast  with Dan Hardy, Nick Peet, and OJ Borg discussing the boundary-breaking title fight.
"It's a celebration all-around for the gay community," says former UFC contender Hardy. "We have two excellent representatives who are very courageous in their stance of their sexuality and are doing great things in their sport.
"Combat sports (and) mixed martial arts can be very masculine sports, and it takes a very brave woman to find her way into an MMA gym and start fighting alongside the men.
"With these two girls, you've got to imagine that the toughness they had to endure in their younger years as they were coming to terms with their sexuality – possibly even being judged by the people around them – has somewhat hardened them and allowed them to step into a very male-dominate environment and excel."
He adds: "Both of these ladies, as we can see by their openness of their relationships, are fully embracing who they are, and a big part of the strength that they get from that is the strength that they use to get into the octagon. I absolutely believe it, and I think that's why we're going to get a fantastic performance this weekend."
So why are there no out gay male fighters in the UFC?
"I think that would be an amazing next step for MMA as a sport, to openly welcome male athletes to come out as well, but that's not just mixed martial arts, that's sport across the board", says combat sports journalist Nick Peet.
"There's never been an openly gay footballer playing in the Premier League, and the Premier League has more athletes, and top-flight football has been going for far longer than UFC and MMA has, so I think that's just the mentality across all sports. It would be amazing if a couple of male fighters came out in the UFC, and it would show how progressive and pioneering the sport is in that regard."
Dan Hardy says any male fighter who came out as gay would get "massive respect".
"Obviously, you're going to get the occasional person who is going to be difficult or insecure about their feelings towards somebody else's sexuality, but I think, for the most part, they would be celebrated and respected, for openly owning their sexuality in a very masculine environment", says Dan.
"I'm sure there are gay fighters in the UFC that are on the male side of roster at the moment. I'm sure there are. And I'm sure it won't be long until at least one of these fighters is confident enough to come out and own their sexuality, and I think it will be a great day when it happens."
Adds Nick: "The timing is absolutely perfect for a male fighter to come out. They would not only be celebrated, but championed as well. An MMA crowd, in the large, would treat them with open arms. Away from the octagon, the amount of positive and mainstream media coverage that a fighter would attract in terms of interviews on sofas, and covers of magazines, would be phenomenal, and it would be phenomenal for a fighter to experience that in their career."
Elsewhere on the UFC 224 card...
The event also features a middleweight bout between contenders Ronaldo "Jacare" Souza and Kelvin Gastelum, with the winner likely to move into world title contention later this year.
And the opening main card bout of the night will feature two Brazilian UFC legends, as Vitor "The Phenom" Belfort takes on fellow countryman, Lyoto "The Dragon" Machida, in a battle of former UFC light-heavyweight world champions in a bout Belfort says may well be his last.
It promises to be an emotional night.