N/A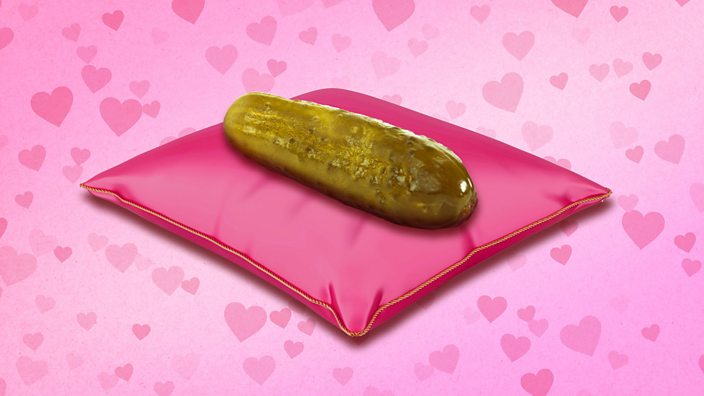 iStock / BBC Three
Why pickles are the only thing we want for Valentine's Day this year
Forget chocolates and roses, this year pickles are the true token of love
Arguably worse than Christmas, birthdays, or your anniversary, Valentine's Day is the ultimate minefield when it comes to picking out the perfect gift for that special someone in your life.
Do you go down the sentimental route and plump for something personal? Maybe even handmade? Or would that be too... cheap?
We're pleased to inform you that we've now found the strangest present of all time: a spectacularly weird bouquet of pickles.
The Valentine's Day pickle bouquet, launched by a pickle company in the US, will set you back $44.99 (£35).
The proud inventor of this briney cucumber arrangement makes a very strong case for his unusual innovation.
"We know there are a lot of pickle lovers out there that would love nothing more than to get a Valentine's Day gift loaded with their favourite snack," Travis Grillo, who came up with the idea, told Today. 
"Not only is a pickle bouquet more beautiful than a dozen red roses, and healthier than a standard box of chocolate, it's also far more creative."
And, if you're not in the US and fancy making your own affordable version, all you really need are some pickles, a handful of bamboo kebab skewers, and a vase. Voila! 
The reaction from Valentine's lovers online has been surprisingly, well, positive.
Not everyone was on board though, with some deciding it was, essentially, gross. 
At the moment, this weird and wonderful pickle display is only available in the US but fear not: there are plenty of other wacky presents you can pick up without hopping on a plane.
Not feeling so loved-up? You can still join the festivities… by naming a creepy crawly after your most terrible ex.
A conservation centre is offering scorned lovers the chance to give their ex's name to a cockroach, according to The Sun. 
"For those that don't quite require revenge, there's another way to make you feel better about getting back at your ex this Valentine's Day," the centre said in a statement.
"We are offering the chance to name a cockroach in honour of your worthless ex-'someone' on this special holiday of love."
If your heart is full of love rather than vengeance, a supermarket chain is selling a saucily named 'love sausage', which sounds equal parts filthy and delicious.
The heart-shaped, lightly-truffled meat product - wrapped in bacon - is a sure way to anyone's heart.
As you can imagine, they're made of dough, tomatoes, cheese and pepperoni, all rolled up artfully into flower-like shapes.
We also wouldn't sneeze at these beef jerky, doughnut, or chicken bouquets.
So if you find yourself empty-handed and panicking on the morning of 14 February, why not head on down to the supermarket and pick yourself up some pickles? Most people might, understandably, be a little freaked out by your offering... but, if they throw it back in your face, you'll at least have something healthy to snack on. And nobody to offend with your vinegar breath.