N/A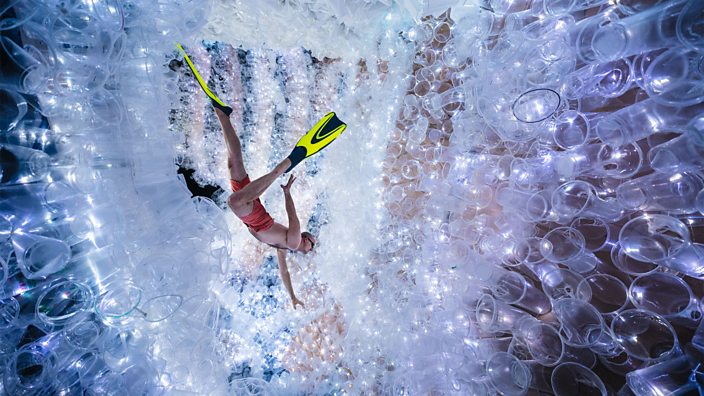 Plastikophobia / Von Wong
A new art project wants to make you feel scared of plastic
'Plastikophobia' aims to show the true cost of plastic to our planet
When the first fully synthetic plastic was created in 1907, few could have predicted we'd one day be wearing it, eating our dinners off it and… dumping it in our oceans. Between 1907 and 2017, we've made a staggering 8.3bn tons of the stuff, according to a 2017 scientific paper and it's believed more than five trillion pieces of plastic are in the world's oceans. Some studies suggest 700 marine species have been affected by ocean plastic, with up to 90% of seabirds, a third of sea turtles and more than half of whale and dolphin species having ingested plastic, including one found this week with 40kg of plastic in its stomach.
One person who has decided to highlight the environmental cost of our love affair with plastic is artist Benjamin Von Wong. He used 18,000 disposable plastic cups, collected from 24 local food centres in Singapore, over just a day and a half, to create a 'cave' which people can walk through.
Ben explains on his blog how he and his team collected the cups, washed them, mounted them on a wooden structure, melted and fused them together and then adorned them with pulsing LED fairy lights, to create "the effect of a glowing Earth surrounded by a sea of plastics... a shiny crystal cave". He says this was done "in the hopes of luring unsuspecting passersby with the promise of a pretty selfie, only to to be overcome by a feeling of 'Plastikophobia' – an extreme aversion to single-use plastics". It took Ben, strategist Laura Francois, fabricator Joshua Goh and almost a hundred volunteers, 10 days to create the cave.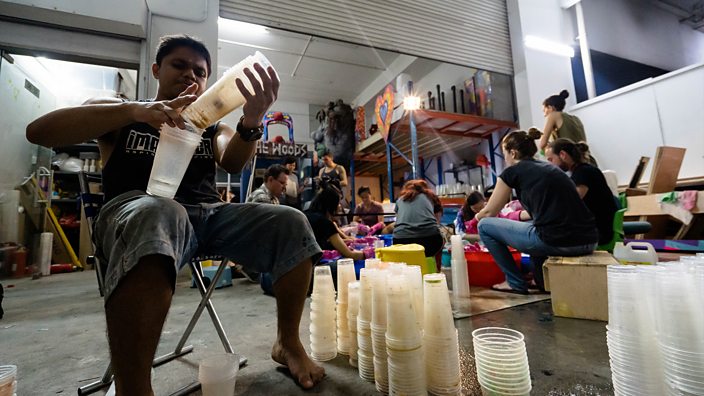 A series of images, including the illusion of a swimmer inside an ocean filled with plastics, shows how Ben has created this unsettling spectacle. In his words, the installation is a visually-stunning "Instagram trap" but also a stark demonstration of the volume of waste produced by a relatively small amount of people, over a short timeframe.
Speaking in a video about the creation of the installation, he says: "Three days before the deadline, I felt the installation was too pretty. In my mind, 18,000 single-use plastic cups shouldn't feel pretty. But I was wrong. Plastic is actually beautiful, while plastic pollution is not."
He explains: "What we've really done here is extend the life of 18,000 cups from approximately six minutes to a little over six weeks by building an immersive experience. An art installation that we hope encourages everyone to be just a little bit more plastikophobic."
Speaking to BBC Three about the impact of seeing the scale of plastic use at such close quarters, the artist said: "In many ways I expected the volume... what I wasn't expecting was the realisation that all these cups could have been avoided if reusable cups were available. These are cups that are designed to be taken out but end up being consumed in a dine-in setting. In many ways, they represent a massive opportunity for food courts all around the world to reconsider their options.
"Simultaneously, I think it's interesting to do a little bit of math on our impact as individuals. If the average person lives 30,000 days and consumes only one drink a day, imagine how many cups we could avoid consuming if we just carried a cup around with us?"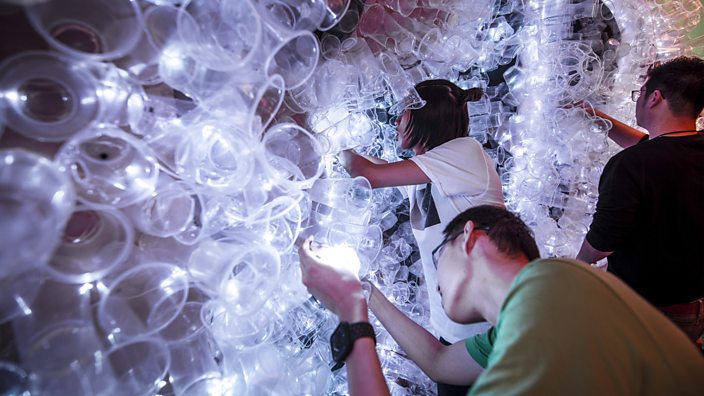 This isn't Ben's first work addressing plastics: earlier this year he created The Parting of the Plastic Sea, an installation made from 168,000 used plastic straws. In 2016, he created Mermaid on 10,000 Plastic Bottles - a self-explanatory piece which used the hashtag #mermaidshateplastic.
The use of plastic has been in the news again recently with Coca-Cola announcing its footprint for the first time: the company revealed it had used three million tonnes of plastic packaging in one year. In February, Glastonbury Festival announced it was banning the sale of single-use plastic bottles - in 2017, the last time the event took place, 1.3m of them were sold to festival-goers.
The issue was given prominence in 2017 when it was highlighted in the finale to Blue Planet II, with David Attenborough saying: "We are at a unique stage in our history. Never before have we had such an awareness of what we are doing to the planet, and never before have we had the power to do something about that. Surely we have a responsibility to care for our blue planet? The future of humanity, and indeed all life on earth, now depends on us."
Ben isn't the only one creating art with an environmental theme, particularly around the issue of plastic.
British artist Mandy Barker collected and photographed images of washed-up plastic footballs for a 2018 project entitled PENALTY, which aimed to illustrate the scale of plastic debris in the world's oceans. In four months, 992 marine debris balls were recovered from 41 different islands and countries and from 144 different beaches, by 89 members of the public.
Meanwhile, artist Simon Mandarino created a piece of instant art when he staged an 'intervention' outside an Oxford restaurant chain, creating a huge pyramid from 500 non-recyclable food pots, which were used in just a single day. "The sheer volume of waste we're not really aware of. Until something like this is laid out you actually realise how much there is," he said at the time.
Last year, American artist Justin Brice Guariglia, placed 10 large solar-powered highway signs in various locations in New York's five boroughs, including those areas potentially vulnerable to future sea level rises. The installation was called Climate Signals and the signs displayed messages including "climate change at work" and "climate denial kills".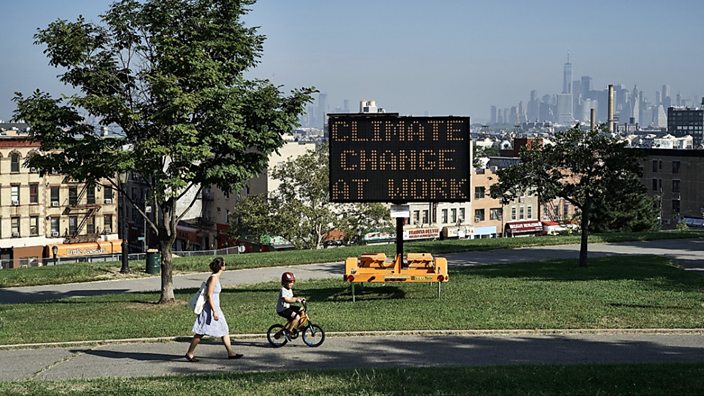 "When you see a flashing signal your initial response is that there are uncertain conditions ahead, and that is exactly what climate change is," Miranda Massie, director of the Climate Museum and a partner in the project, told the Guardian. "This is the perfect medium for bringing up this alert."
Danish-Icelandic artist Olafur Eliasson also created two climate-change-focused installations - one in Copenhagen in 2014, and one in Paris in 2015. Eliasson took twelve blocks of ice from free-floating icebergs and arranged them into a clock formation, allowing them to melt, to signify the passing of time.
The artist told the Huffington Post the installation, called Ice Watch, gives people the "immediate experience of the reality of climate change". He said his aim was to "spur action and move worlds".
In 2017, Irish artist John Gerrard recreated the site of the world's first major oil find, which took place in Spindletop, Texas in 1901, as a digital simulation, viewable on a website and via a display at London's Somerset House that year. The oil site is now depleted and Gerrard's recreation places a flagpole with a flag of pressurised black smoke at its centre.
"One of the greatest legacies of the 20th Century is not just population explosion or better living standards, but vastly raised carbon dioxide levels in the atmosphere," Gerrard wrote. "This flag gives this invisible gas, this international risk, an image, a way to represent itself."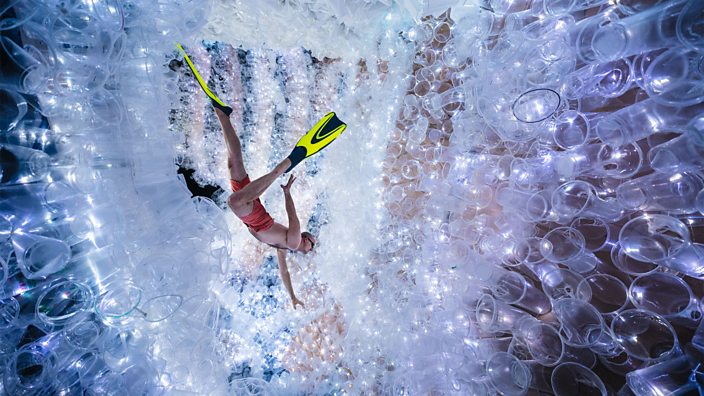 Ben Von Wong's plastic cave is on display at a gallery in Singapore until 18 April. "There are so many tragic photographs of plastic pollution online that I feel like most people have been desensitised to the problem," he told BBC Three.
"My idea behind these images is to stop people in their tracks, get them to look twice. As they read the description to understand what they're looking at they can then learn why the images exist. In essence, the hope is to reach a new audience, one that perhaps wouldn't normally look at something related to sustainability and the environment."