N/A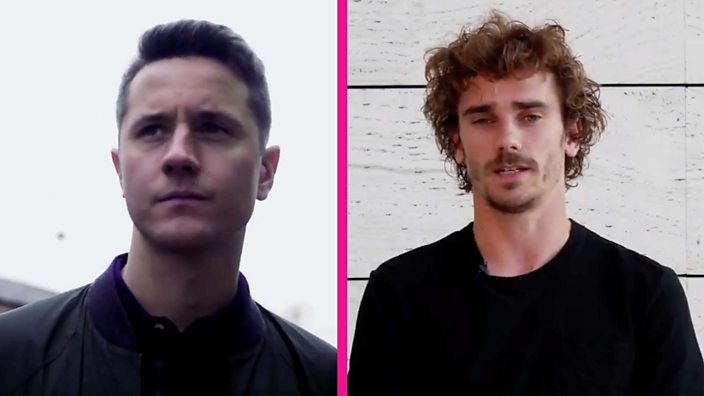 BBC
Herrera, Griezmann, De Rossi: Departure vids are football's new social media must-have
It's the football trend of the summer/month/week
For a couple of seasons now the player signing video has dominated football's social media landscape.
The once humble photograph of an identikit pro holding his new club's shirt in front of his new home stadium no longer suffices. Instead, as we have long documented, football clubs from Manchester United to Yeovil Town have reached for new levels of hype to herald the signings they have spent millions on. 
But fresh out of the lab for summer 2019, the social media trend has mutated into something else, something more melancholy and more poignant, but seemingly as adept at stacking up the likes - the player departure video.
It's early days and it's a fairly fluid scene at the moment, but here are some early outriders for the football social media trend of the summer/month/week.
After five years snapping at heels, Manchester United's midfield terrier says goodbye to the club in this glossily produced farewell. Complete with all the trimmings you might expect from one of England's most nostalgic football clubs - United's Holy Trinity statue, the city's industrial heritage, fans walking down Sir Matt Busby Way - this video has everything a United fan will want to see.
As Herrera's finest moments are replayed - FA Cup semi-final goals, crunching tackles at Anfield, player-of-the-year awards - Ander thanks the supporters for their, er, support and says "there is red in my heart". A crowd-pleaser in every sense.
Less crowd-pleasing perhaps is the fact that the club didn't give Herrera the new contract that would have kept the fan favourite at Old Trafford a little longer. 
If Herrera deemed his five years of service worthy of his glossy and poetic open letter to the fan base, 10-year Old Trafford stalwart Antonio Valencia seems to have gone for something a little more DIY.
Designed very much with international online audiences in mind, this visual assault is split into some questionable headings such as 'Cheers For The Red Devils!', and celebrates - what one might consider - some very basic tenets of being a professional footballer, such as 'Training' and 'Hard Work'.
You might have thought a player who won everything but the Champions League in his decade at United might have opted for a bit more of a send off.
You could probably describe exactly what's in this video before you watch a single frame if it.
De Rossi is a Roma legend, a midfield general and, until now, a one-club man. He is pure Romanista and this video gives us everything we might expect of such a figure. 
One minute and 45 seconds of crunching tackles, huge goals, and fan celebrations which is all accompanied by stirring music that evokes a gladiatorial spirit forged in the heat of battle. We get no words, just feelings - just pure and raw emotion in this coming-of-age classic.
Eat your heart out Maximus Decimus Meridius!
Perhaps stung by the criticism of his grand announcement last time, he's gone for something a little more low-key this time.
Seated in front of a simple backdrop, and looking like he's just come back from a lovely sunny afternoon at the local skate park, Antoine says a low-key thank you and goodbye to the fans, expressing a desire to "experience different things and new challenges".
Perhaps the best analysis of Griezmann's video came from football Twitter wag Jonny Sharples: