N/A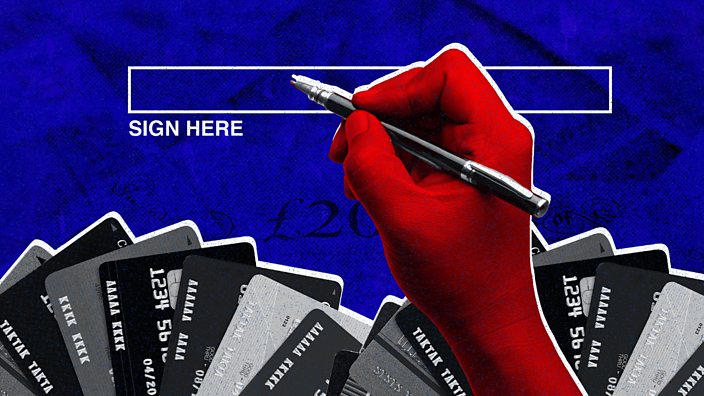 BBC Three / iStock
'My ex left me with £26,000 of debt'
Domestic abuse isn't always physical. These people claim they were left in debt by financially abusive partners
"If it continues the way it's going, I will be in debt for the next 16 years," Rebecca tells me. "I am living in poverty and want to give my son the best start in life. Whatever small amount I have left, I have to put it towards the debt."
At the height of her debt, she owed about £26,000. Even now, with interest accruing, she believes she'll be in debt for at least a decade until her mid-40s, although she doesn't know the exact figure she owes.
What's frustrating for Rebecca is that she says the debt doesn't belong to her. She alleges it's down to her ex, who she claims physically, emotionally and economically abused her.
Rebecca was a student when she met her boyfriend. "I was outgoing and had a promising career ahead of me," she says. "But I lacked confidence when it came to my physical appearance."
Early on in the relationship, Rebecca says the emotional abuse started and the physical attacks quickly followed. "The first time he hit me I was in shock but somehow I ended up asking for his forgiveness," she recalls. "The next day it was like it never happened."
After discovering she was pregnant a few months into the relationship, her partner allegedly started exerting financial control. "He would find out the PIN numbers for my bank card and take out my money without permission," says Rebecca. "There were times when he wouldn't give me money towards living expenses or bills. Every day was a struggle."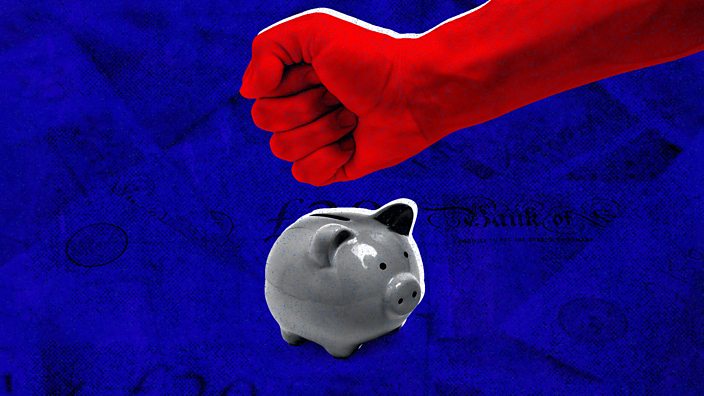 After five years, Rebecca told her partner that she wanted to end the relationship. "But I couldn't get him to leave," she says. A couple of weeks later he threatened to kill her. "The next day he assaulted me so badly I needed reconstructive surgery," she says.
Rebecca left him after the assault. But when she moved house she was hounded by debt letters threatening her with court action. "I just felt so helpless – I was trying to deal with everything with this added pressure of debt."
Her former partner was jailed for 16 months in 2012 after admitting assault and assault occasioning actual bodily harm. 
Rebecca's situation is far from an anomaly. One in five people in the UK has experienced economic abuse in an intimate relationship, according to findings from domestic abuse charity Refuge. "The findings show that 18% of all adults in the UK have been a victim of financial abuse in a current or past relationship ... it is notable that 60 per cent of all cases are reported by women," the report says. Disabled people are also significantly more vulnerable to economic abuse, with 53% of all cases in Refuge's study involving a person with a disability.
It's thought the issue of economic abuse in BAME communities may be underreported, with separate research by Women's Aid suggesting this may stem from a lack of awareness among BAME victims and a general feeling that domestic abuse services are not aimed at people of a minority ethnic background.
And while Refuge's research highlights that bisexual people and those in same-sex relationships are disproportionately affected by financial abuse, an LGBTQ+ anti-violence charity has highlighted the need for specialist services to help these often "invisible" victims.
According to Refuge chief executive Sandra Horley, economic abuse is defined as a way of one person controlling another's ability to acquire, use and maintain their own money and resources.
"It can take many forms," she explains. "Abusers may prevent you from earning or accessing your own money. They may spend your money without your consent, build up debts in your name and/or damage your possessions or property. If a woman is separated and has children, the abuser might withhold child maintenance payments.
"Some people are forced to hand over their wages or benefits payments to their partner. Others are prevented from going out to work or completing their education. Many victims are forced to provide receipts, accounting for every single penny they spend or are given such small 'allowances' they can't afford to buy food for themselves or their children."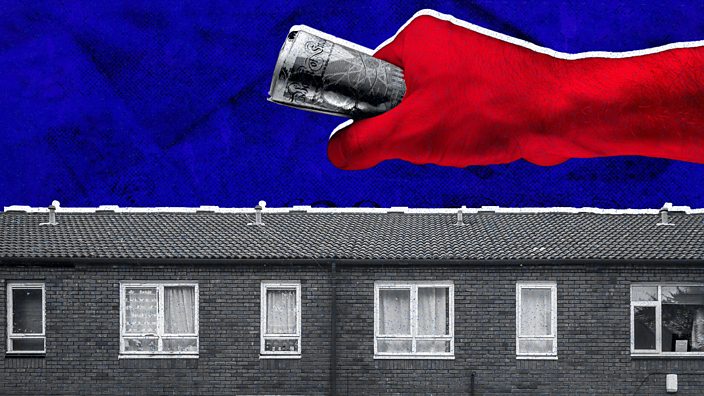 For some victims, economic abuse can leave them feeling like they are still controlled by their former partners long after they have fled the physical abuse.
During her five-year relationship, Diana, 38, claims she was raped and beaten. She eventually fled to a refuge and was rehoused, but says the financial element of the abuse is one she still hasn't escaped. "I'm thousands of pounds in debt," she says. "I can never get a mortgage. I have trouble getting credit. I still have a financial hangover 14 years later."
Diana describes her ex, who she met when still a teenager, as "Prince Charming". "He always wanted to be by my side," she recalls. "I thought he was looking after me." But soon, she says, his behaviour became even more controlling. "He tried to stop me going to work by doing things like starting an argument just as I was leaving. I was asked to leave one part-time job after he turned up and kicked off - wrongly assuming I was flirting with a colleague." 
She claims her partner refused to look for work and insisted that the rent and bills be in her name. When she found a job after having their first child, her partner would demand her wages and bank card. "He spent whatever we had on drinks or frivolous rubbish. He knew that if I had no money I couldn't leave."
Diana fled her abusive partner soon after having her second child. However, due to further debts coming to light after they split, and being left with a low credit score, she feels like she's still affected by him.
"He basically ran up my credit rating so much I can never hope to privately rent a flat, let alone think about buying a house. There are certain things I will never be able to do." The police, she claims, refused to investigate for fraud.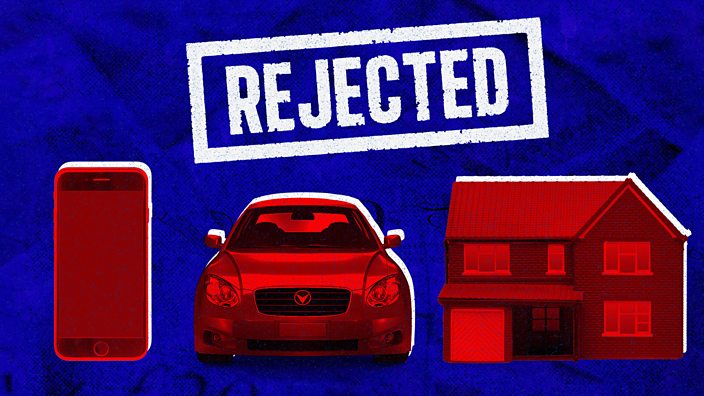 Even today, she's apprehensive when she receives a bill in the post, in case it's another unexpected debt. "It takes me a day or two to open them, as I need to make sure that I can dedicate the time and energy to contesting it if required." 
Sometimes it can take time for sufferers to realise that their relationship has become financially abusive. Tania decided to move in with her boyfriend soon after they both graduated from the same university. But just as they were about to move in, he was fired from his job – and she says he never looked for another one. It meant that she had to foot all the rent, bills and grocery shopping. "It was quite a large sum for someone on their first job," she says.
He also allegedly insisted on a monthly allowance. "He would say, 'Can I have £100 to £150?' But if he said he needed more, I would eventually give it to him. I loved him but I was terrified of him."
Her partner, who she claims would also physically abuse her, would spend the money on alcohol and anything else he wanted. "We didn't go out. If I ever went out on my own he would resent it. But when we went out together we had to be as frugal as possible, which was strange as I had to give him money, which he was spending on alcohol."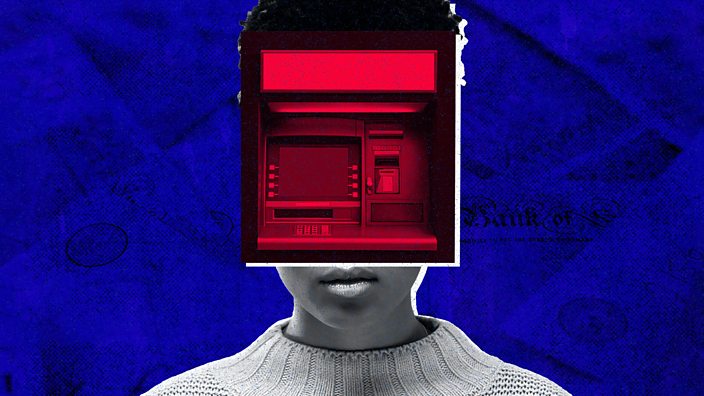 The turning point came when she was referred to counselling due to stress. When she opened up about her boyfriend's behaviour, the counsellor said these were the signs of an abusive relationship. "That gave me permission to realise that," says Tania, now 29. She left him and moved to a different city. He sent her letters and presents to work. "I was like 'get lost'."
In January, the government revealed that it would include economic abuse, as well as non-physical abuse, in a new definition of domestic abuse contained in its draft Domestic Abuse Bill. Dr Nicola Sharp-Jeffs, the founder of the charity Surviving Economic Abuse, welcomed the move but believes the government needs to take further action.
"Now that they have started recognising economic abuse, it makes sense to start measuring it," she says. "There needs to be a report on the national prevalence of it. We're asking them to insert questions [in a survey] about economic abuse."
Universal Credit payments are paid into one bank account for everyone in the household rather than separate accounts. Dr Sharp-Jeffs believes this gives more power to abusers, and so she is also campaigning for urgent changes to be made the current system.
"It helps facilitate economic abuse," she says. "It gives power to whoever is holding the money. There's a sense of entitlement. Where there are joint claims, two separate payments should be made. It's important that everyone has access to independent income.
"Also, if they are fleeing and set up Universal Credit in their own name, it can take six weeks to receive. They might already be traumatised and if there's no access to money then trying to find accommodation becomes even more difficult."
A spokesperson for the Government described domestic abuse as a "devastating crime" but said the draft bill would "transform" the way it is dealt with. "This year we made it a top priority to make Universal Credit work for women by ensuring household payments go directly to the main carer, so more women can be in control of their finances," they said.
In addition, Job Centre staff members who suspect domestic abuse "can immediately separate a person's claim from their partner and make special emergency payments within hours," they added.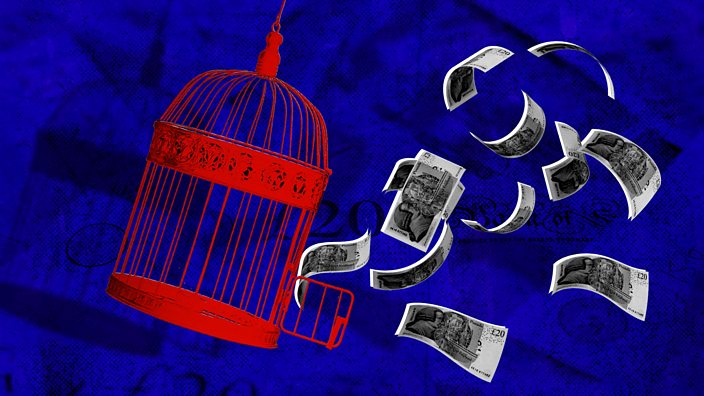 Diana believes there needs to be more rigorous checks on those who take out credit. "You get sent credit cards in the post without anyone checking that the person signing for it is actually that person. There needs to be a better system to help people like me who have debt in our names that we didn't run up."
In October 2018, the financial sector adopted a code of practice to help victims of financial abuse. Set to be implemented on a voluntary basis over the next 12 months, the code will train bank staff to spot the signs of financial abuse. These include looking out for customers who appear withdrawn and scared, or noticing when someone is making unusual or large withdrawals of cash accompanied by their partner.
"Until new guidance is finalised, it is essential that banks and building societies do all they can to help victims with their finances," says Refuge's Sandra Horley.
For those in economic abusive relationships, Diana suggests protecting yourself by putting any spare money you have in a different bank account, informing credit reference agencies of the abuse, and remembering to take the right documents with you when you leave your partner.
"I had no idea what to do when I left," she recalls. "Often for abuse victims it can be spur of the moment and they don't think to take their passport or birth certificate. It's important to get out out safely but people need help to ensure that they're financially safe. It's just as important.
"I could have gone on holiday to Disney World with all the money I've spent on his debts. I still don't know how much is outstanding, but I just keep praying that this will be the month it is finally paid off."
Some names have been changed at the request of the women featured
If you have been affected by any of the issues mentioned, help and advice can be found here.