N/A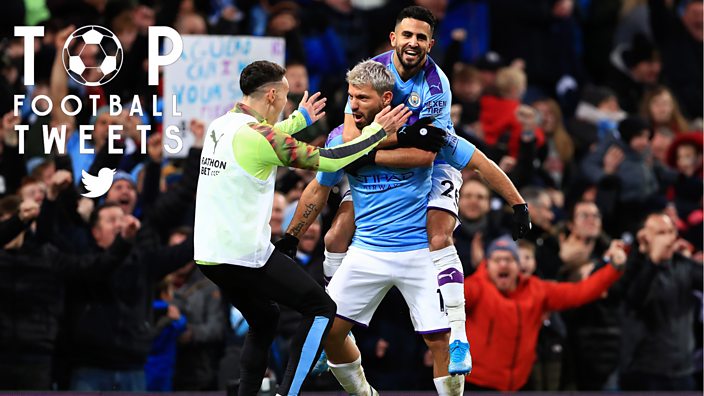 gettyimages
Man City tempted fate in their search for a miracle
Meanwhile Bournemouth stars have a future after football
So Liverpool are marching to the Premier League title with seemingly no competition, but that doesn't mean there wasn't plenty of nonsense to enjoy from the weekend's action.
Let's take a look at what people have been saying on Twitter over the last few days.
1) Cherry-picked for stardom
After half a decade in the Premier League, Bournemouth face the threat of dropping back down to the Championship with just five wins from their 23 games so far this season. 
Relegation would inevitably mean an exodus of players, though maybe some of them will consider a new career outside football.
2) The perfect angle for Ingle
An away derby against the defending champions who are once again top of the table might seem like an intimidating situation, but it was simply another day at the office for Chelsea's women as they dominated Arsenal in a 4-1 win on Sunday.
Not only did Sam Kerr get her first goal since joining the Blues, but Sophie Ingle scored one of the most satisfying goals you'll see all year. 
You know it's good when people start cheering before the ball has even gone in.
With a 14-point gap between them and Liverpool coming into the weekend, Manchester City knew they needed a miracle to keep up the pressure on the Reds for the Premier League title.
While they hoped for divine intervention, Pep Guardiola was let down by one of his most reliable apostles as Fernandinho scored a stoppage-time own goal to give Crystal Palace a draw at the Etihad.
You can't say they weren't warned.
(Yes, we know the arrows are going the wrong way but we think the fact 21 and 9 add up to 30 makes up for it.)
It's no coincidence that Leicester's recent dip in form has coincided with Jamie Vardy's sudden aversion to scoring goals.
The 33-year-old even missed a penalty against Burnley on Sunday, upsetting more than just those who follow the Foxes each week. 
Dundee's wait for a second Scottish Cup in their history goes on after they were beaten 3-0 by Motherwell at the weekend. 
The Dee have not lifted the trophy since 1910. 
For those not totally in tune with their Scottish football history, former Scottish Cup winners St Bernard's were dissolved in 1943 while two-time winners Third Lanark closed their doors in 1967.
6) A game of (less than) inches
Tottenham Hotspur were held to a 0-0 draw by Watford on Saturday, making it the first time in 93 games that a Spurs match had no goals. 
But that doesn't mean the deadlock wasn't close to being broken, with Troy Deeney seeing a penalty saved by Paulo Gazzaniga before Erik Lamela was just 10.4mm away from snatching the win in stoppage time.
We know the transfer window opened on New Year's Day, but let's be honest, it doesn't really start until you see your first football fan transform into Sherlock Holmes in order to confirm a transfer rumour.  
In case you missed it, Alan Pardew has stepped off the Premier League managerial carousel to take over at Dutch side ADO Den Haag. 
The former Newcastle and Crystal Palace boss was in the dugout for his debut game in the Netherlands at the weekend and was given a frankly brilliant welcome by the supporters of his new club as he attempts to lead them to safety in the Eredivisie.
While Den Haag's fans were having a good time as they beat RKC Waalwijk 2-0, PSV Eindhoven probably didn't enjoy their draw with VVV-Venlo so much. 
Meanwhile in Germany Erling Braut Haaland showed he is more than capable of living up to the hype around him as he came off the bench to score a hat-trick on his Borussia Dortmund debut and guide his new club to a comeback win over Augsburg. 
Haaland may have been linked with a move to Manchester United before he eventually chose Dortmund but Saturday's performance just provided another reminder of his familial connections to rivals Manchester City.
10) What's under Kingsley's kilt?
While some fans might disagree with the claim that Partick Thistle are the "one team in Glasgow", there's no denying the uniqueness of their mascot Kingsley. 
Republic of Ireland international Darren Randolph returned to West Ham last week for his second spell at the club and was immediately thrown into action against Everton, becoming the fourth man to don the gloves for the Hammers already this season. 
12) Close, but no cigar (yet)
In this new world of VAR, the powers that be are going to have to find a way to reward those moments that very nearly brought us some joy.