N/A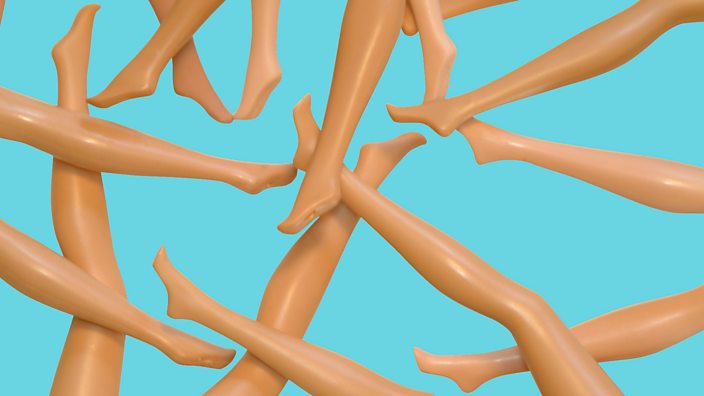 BBC Three / iStock
The toxic body trend 'Barbie Feet' is not just 'harmless fun'
We would rather just give our feet the summer hols they deserve
Barbie may give us childhood nostalgia, but for some (who were playing with the dolls long before they introduced their more inclusive range), she's long been the poster girl for unrealistic beauty standards – from her pearly whites through to her ridiculously teeny, tiny waist and long, long legs.
Now, she's the unwitting inspiration behind Instagram's latest self-esteem bashing trend: Barbie feet.
And it's coming to a beach near you.
The term, coined by fashion website Who What Wear, is where women (mostly in bikinis) post pictures of themselves standing on the balls of their feet and pointing their toes, just like shoeless Barbie. Why? So they can mimic the elongating and slimming effects of heels. Seriously, what's wrong with being snapped in flip-flops?
Standing in heels for longer than five minutes is tricky at the best of times. Make the heels invisible and we will be hitting the floor, faster than you can yell 'face plant'. We'd rather pass, tbh.
So, other than risking a fall, why are people concerned about this? Well, from the pressure to be 'beach body ready' to young people feeling ashamed of their appearance, having one more 'trick' to make us look thinner seems to reinforce the message you need to look a certain way to be attractive. 
So who's fuelling this controversial Insta-pose? Well, some are blaming celebrities including the Kardashian clan:
But the KUWTK cast are not the only ones who have been pictured doing it: 
It's not just a standing pose either. Insta-starlets have been channelling 'Barbie feet' when sitting down too:
For decades this toxic photography trend went under the radar, with the likes of Marilyn Monroe deploying it as far back as the 1950s: 
And another Hollywood bombshell, Jayne Mansfield, stretched her toes a la Barbie feet around the same time: 
But now, thanks partly to social media and the new label given to the picture stance, women away from the celeb spotlight have given it a go:
In a statement to BBC Three, Mattel, the makers of Barbie, made it clear that they do not endorse this pointy-toed fad. "As a global cultural icon for almost 60 years, Barbie is often referenced in cultural trends that are not created or endorsed by the brand," the company's statement said. They also pointed out that some of their more modern dolls actually have flat feet.
Of course, 'Barbie feet' isn't the first Insta body trend to take over our feeds. Just a few months ago, news and lifestyle press reported on the spread of 'Toblerone tunnel', a gap beneath your bum and thighs that (the theory goes) you should be able to slide the iconic triangular chocolate bar through - because your bum is so toned. We know, WTF.
On a more troubling level, experts say such anti-body-positivity trends are having a serious impact on the mental health of girls and young women. 
We've seen a huge rise in body dysmorphia and eating disorders, and I really do think that these body trends add to this.

Niamh McDade, Royal Society for Public Health
When it came to the 'Toblerone tunnel', an NSPCC spokesman told BBC Three that these 'body trends' can have a dangerous effect on self-esteem, even if they seem like "harmless fun".
"Constant exposure to images of picture-perfect people can have a negative effect on the self-esteem of young people, and in particular teenage girls. They need to be supported and reassured that everyone is different and beautiful in their own right, no matter whether they match up to the latest body fad or not."
Last year, the charity warned that young girls were almost eight times more likely than boys to call Childline with worries about their body image.
While some publications said that models, and other bikini-clad celebs, were "showing off" their Toblerone tunnels on social media, the models themselves weren't generally using the term.
Emily Ratajkowski - who posted a bikini selfie on her Instagram - is one example of someone who was been labelled as having a Toblerone Tunnel, despite the model not having made any reference to it alongside her picture.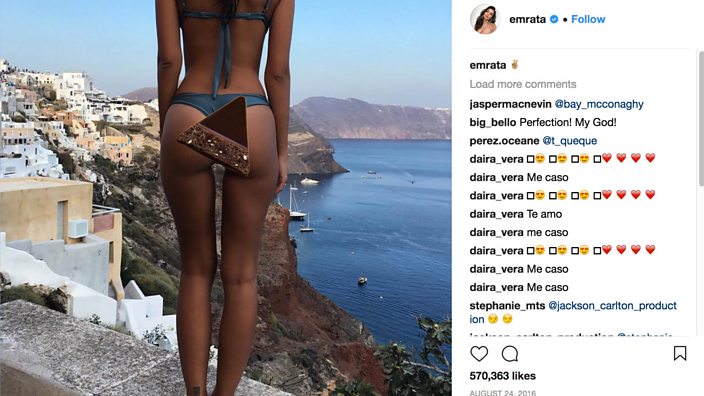 'Toblerone tunnel' was a variation of the 'thigh gap' phenomenon considered risky and virtually impossible to emulate.
But with Instagram being named as the most harmful social media platform for young people's mental health in a snapshot study last year, experts are calling time on these damaging fixations. Niamh McDade, from the Royal Society for Public Health, told BBC Three: "We've seen a huge rise in body dysmorphia and eating disorders, and I really do think that these body trends you see on online platforms - particularly Instagram - add to this. It's sad, because social media sites can be used in a really positive way, as we've seen with the body positive community online."
Some people mocked the trend on Twitter, because the name - and, well, the whole thing - sounds pretty ridiculous.
But others were quick to point out that these body fads are no laughing matter.
Stephanie Yeboah, a plus-size fashion blogger, agreed that trends like Toblerone tunnel can be very harmful.
"Our bodies are not trends," she told BBC Three.
"They are vessels which we use to do everyday tasks, and it boggles me how the media uses our bodies against us, forcing us to find parts of ourselves that are either not 'on trend' or different.
"Whatever your natural shape, embrace it. Whether it is slim, athletic, curvaceous, skinny, top-heavy or bottom-heavy, people should just be happy with being themselves. Being yourself means you stand out from a crowd of people all trying to look the same." High five to that.
Same goes for Barbie feet. There's no need for our toes to work overtime on holiday, let's keep our feet firmly on the ground and take it from us: you'll look banging in a bikini without that extra inch or two. Plus, no selfie is worth taking a tumble for. 
This article was originally published 23 July 2018.