N/A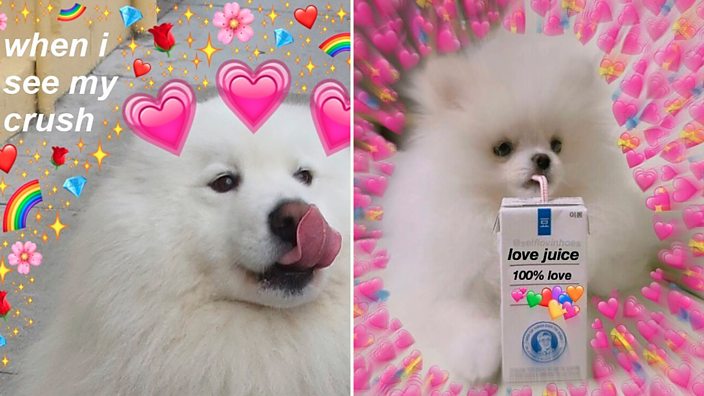 Instagram / Lustmemes / lunalight1046
People are sharing #wholesomememes to make the internet a bit less grim
It's nice to be nice
The internet has become a bit of an unfriendly place.
When you're not worrying about your personal data being harvested, you're fending off trolls on Twitter or arguing with angry people on forums.
Which is why the popularity of 'wholesome' memes is a breath of fresh air.
If you've missed this trend, a load of posts have sprung up on Instagram under the hashtags #wholesomememes (more than 159,000 and counting) and #purememes (almost 17,000 posts).
With hearts, cats and kind words, people are using these memes to show some love, rather than poke fun. 
Here are some of our feelgood faves.
Kanye is the king of self-care
These aren't tears these are just… raindrops on my face
And they don't just make us all feel warm and fluffy inside - a lot of the posts take some of the internet's most disturbing memes and cover them with hearts and rainbows. 
Which, when many of the memes you see are either nihilistic or downright xenophobic, is heartwarmingly subversive.
For example, someone took on the meme, from Spongebob Squarepants, of a grave that usually says "Here lie my hopes and dreams".
This edit is a lot more positive...
Well, he looks a little different here.
In 2018 'wholesome' isn't just cutesy - it's actually pretty woke.
Monty runs one of the most popular wholesome meme accounts on Instagram, with more than 10,600 followers. She told BBC Three that she hated the negativity that most memes spread.
"A lot of memes are quite bad and offensive," she said. "I think people should only make positive or humorous memes instead of ones intentionally made to hurt others' feelings.
"Before I found wholesome memes I just saw a lot of hurtful things on Instagram. Some of it can really have a negative effect on a person's wellbeing and mental health."
Monty added that since starting the account, she's been contacted by hundreds of appreciative followers. She's even started offering advice to individuals over direct message.
"Every day I get messages from people telling me they like my content and how much it's helped them," she said. "It's the best thing in the world to help people."
And while she doesn't know if it will last, she hopes the meme landscape will change.
"The wholesome meme community grows stronger every day," she said. "Hopefully one day it will take over - that'll be the dream."
Well, if it takes a cartoon of Kanye raising a toast to himself to remind people to love themselves, so be it.