N/A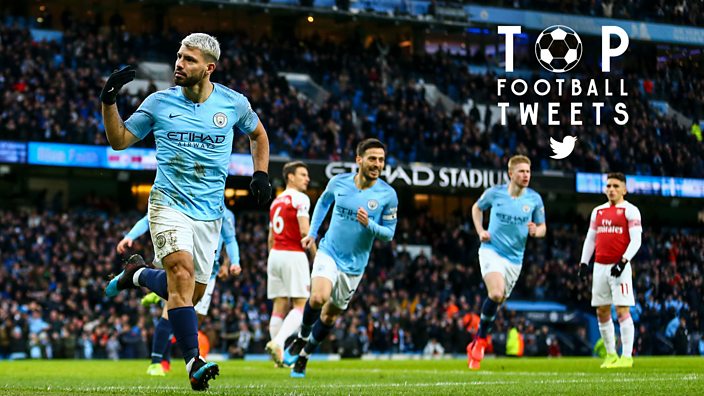 Getty
Aguero has scored more hat-tricks than all these Premier League legends combined
Note: List does not include Alan Shearer
With the transfer window officially slamming shut last Thursday (it always slams shut), fans were free to focus on the football at the weekend.
While the weather disrupted some of the action around the country, most games went ahead and the usual nonsense occurred.
Here's what fans made of the weekend's action on Twitter.
1) Score early, score often
Sergio Aguero came bursting out of the blocks as he scored in the opening minute of both Man City's Premier League clashes last week, leaving his own little mark on Premier League history in the process.
The Argentine is arguably the greatest Premier League striker of the 21st century as he added two more against Arsenal to complete his 10th hat-trick in the league for City.
In case you were wondering, that stacks up pretty well against some of the Premier League greats.
It's Chinese New Year on 5 February and the Arsenal team are ready to celebrate. 
That's all. Not much to say about that is there?
3) Like the brother I never had…
It's an old cliche that a football team is like a family, but for some it's even more important than that.
Take, for example, Crystal Palace striker Christian Benteke who tweeted his excitement at "brother" Michy Batshuayi joining the club. Eagle-eyed viewers noticed he appeared to be less excited when his real-life brother Jonathan's arrived back in 2016.
Rangers beat St Mirren in bizarre fashion on Saturday as they were awarded four penalties during their 4-0 win. Yes, you read that right. Four penalties in 90 minutes of football.
So what did Gers boss Steven Gerrard think of it all? Obviously, he thought his team were slightly hard done by.
Thankfully the Saints were able to see the funny side of it all when a few club legends took on the St Mirren Independent Supporters Association on Sunday.
5) Sunday league meets Premier League
It's comforting to know that even at the very highest level of football, teams still employ the "we should get my mate, he's really good" method of adding new squad members.
If it's good enough for your five-a-side team, it's good enough for Fulham.
6) Marouane Fellaini: Manchester United legend
The Premier League lost one of its most recognisable faces last week as Marouane Fellaini left Man United for Chinese side Shandong Luneng at the close of the January transfer window.
He may not have always been the most popular player among some fans, but he stuck around longer than most people manage at Old Trafford.
Social media was supposed to open up the lines of communication between footballers and fans like never before, giving us unprecedented access to what our favourite players are thinking.
But unfortunately, what fans often get instead is an endless stream of platitudes from the player's PR team, never saying or doing anything remotely interesting for fear of actually giving us a real look at the person behind the footballer.
And then there is Hector Bellerin.
Whether you love him or hate him, there's no denying he's doing his own thing.
Lionel Messi is really good at football. Like, really good. We assume this isn't new information to you but it's worth remembering just how exceptionally good he is.
Despite somehow finishing fifth in the Ballon d'Or voting this year, Messi has scored 29 goals from his 27 appearances for Barcelona this season.
He has scored or assisted at least one goal in all but three games this season - one of which he didn't even start.
Much like Liverpool in the Premier League last week, Borussia Dortmund extended their lead at the top of the Bundesliga after drawing with Eintracht Frankfurt.
Despite dropping two points, they increased their advantage thanks to Bayer Leverkusen's 3-1 win over Bayern Munich.
The defeat was the latest setback in a difficult season for the German giants, but perhaps the worst moment came when the official Leverkusen Twitter account dropped in with some soft trolling after the game.
10) Football's for the fans
At the end of the day, football is about the fans, and so kudos to the stewards at Shrewsbury Town.
Even with their team losing 3-0, they still made sure that all the visiting Luton Town supporters were able to get involved in the celebrations.