N/A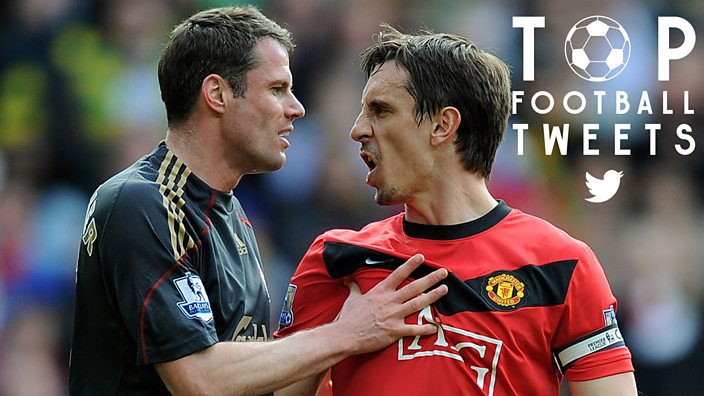 Getty Images
Jamie Carragher and Gary Neville have started a Twitter war
We're not sure it has reached its conclusion yet either...
And so, it is over. The Premier League 2018-19 season came to an end on Sunday and it was officially a goal-fest. Of course the biggest talking point of the day was Liverpool and Manchester City fighting over the title and it seems some club legends were at war too...
It went down to the wire, but unlike the Premier League title, we're still not sure who's champion of this Twitter beef. 
It all started with Jamie Carragher who posted a message which began by being magnanimous in defeat but then, well...
Clearly Gary Neville was not impressed by this Manchester United slight and so retaliated.
Anything to say back Jamie? 
We await Gary's response. 
2) GOOOOOOOOOAAAAAAAALLLLLLL (lots of 'em)
There were 36 goals scored between the 20 Premier League teams on Sunday with only Leicester v Chelsea providing a 0-0 scoreline (booooooo). Which can only mean one thing, bring out the stats...
When the two loves of your life combine.
4) Howling with laughter? 
You have to feel for Liverpool fans, as if getting 97 points but not the Premier League trophy wasn't enough, there were rumours that during their game against Wolves, the opposition fans were creating fake Brighton goal celebrations from the Amex Stadium.
5) Chant of the play-offs? 
Well the two teams met again for the first leg of the Championship play-off. Leeds' fans taunted their rivals by bringing binoculars and then came up with this Oasis-inspired chant for Derby boss Frank Lampard.
Manchester City fan Liam Gallagher there with his thoughts on Sunday's results.
Crystal Palace finished the season on a high defeating Bournemouth 5-3. Which meant they ended with their highest Premier League points total from a 38-game campaign. But they also have another enviable Premier League stat. 
8) Always look on the Brighton side of life
We know that Chris Hughton's sacking might make this seem a bit insensitive but still, the last tweet provided a nice segue into this one on their arch rivals, so we'll carry on regardless. 
Fulham may have been relegated back to the Championship but they did finish top of one league this season.
Forget signing videos, things have got so bad for Manchester United this season that they've taken to doing goodbye videos for players who they can't sign to new contracts.
11) *Alexis define 'disappointing season' 
You could absolutely depend on one player to score at Old Trafford this season. That person was not Alexis Sanchez. 
*Yes we know it's actually Alexa but that doesn't fit the joke so just go with it.