N/A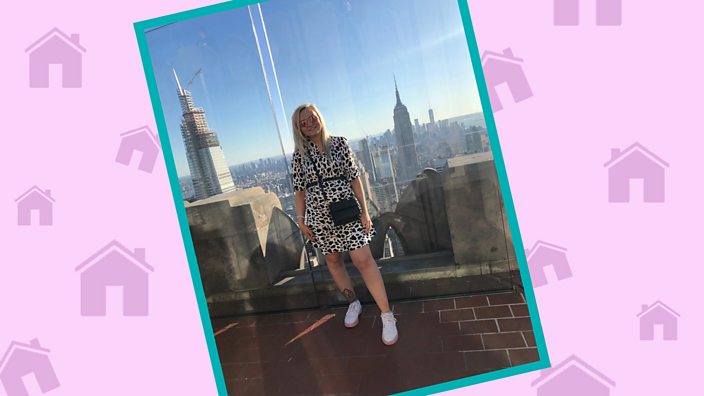 Contributor/BBC Three
Buying a house: The deposit, the mortgage, and why I couldn't do it
Staying in and saving up is only part of being able to buy a home, as Emma found out
You've probably seen at least one – those articles saying you can buy a house aged 21 with a bit of determination and by cutting back on spending.
The people featured usually do have an impressive commitment to the cause of property ownership, saying no to nights out and holidays in favour of basic, home-cooked meals, weekly budgeting and walking everywhere.
But often hidden further down in the piece is a mention of the kind of leg-up that many of us aren't lucky enough to get: an inheritance from a grandparent or a well-paid role in the family business. Sometimes the person simply lives outside the UK's most expensive areas.
Such articles can be met with laughter and anger on social media, as people point out that home-buying at a young age really isn't as simple as having instant noodles for every meal.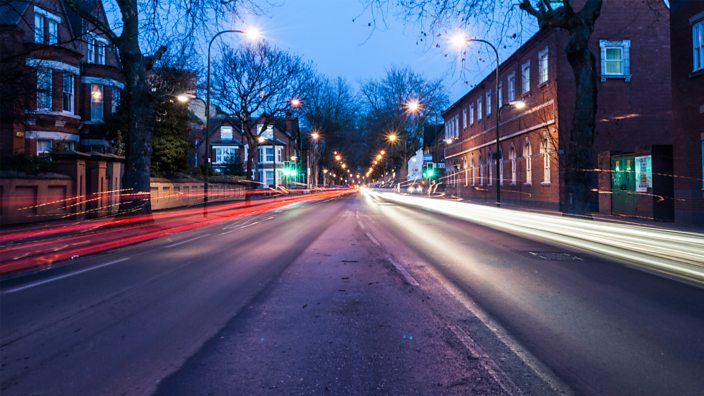 Let's look at some numbers. The average earnings of 18-21 year olds is around £18,000 a year before tax, according to a government report from last year. If you're between 22 and 29 years old, the average wage is almost £26,000.
The average house price in the UK was £232,944 in October (and of course houses and flats are available for much less than this, depending on the area). Data shows a rise in the age of first-time buyers to around 30, and older in more expensive areas.
'Want to buy a house? Choose your parents well!'
London, unsurprisingly, is consistently the most expensive place to buy in England and Wales. People there who want to own property can expect to spend up to 13 times their earnings on a home, while for people in North East England, it's around 5.5 times. Some areas in the North West are even cheaper – in Blackpool, for example, you could pick up a flat for just over £66,000 or a terraced house for £89,000. But wages there are some of the lowest in the UK, at around £19,700.
The typical rule for getting a mortgage is that banks will lend you up to 4.5 times your salary. Let's take the average house price, and assume you have a 10% deposit of £23,000. You'd need to earn almost £47,000 a year to take out a mortgage for the remaining cost – almost double the average wage for 22-29 year olds.
Buying agent Henry Pryor, a former estate agent who now helps people buy luxury properties, says the market is tough – but your mum and dad's generation didn't necessarily have it easier.
"If you want to become a homeowner, you've got to choose your parents well," he jokes. "We have this view that it's much harder to buy a house now, but I say that's not quite right. Forty years ago, you couldn't get a mortgage without a 25% deposit, and interest rates were 15%. Now they're around 2%."
He does concede, though, that "it is very hard now – it can be almost impossible for people who don't have help."
'The stress put me off buying'
Emma, 25, from Nottingham, thought she'd struck gold when she came across a block in Nottingham city centre, where flats were being sold for £100,000 and only a 5% deposit (£5,000) was needed.
"I moved to Oxford after university with a previous boyfriend," Emma explains. "Even though the relationship didn't work, the job did, and I stayed there for over two years. Renting in Oxford is so expensive, I couldn't think about saving. The flat I shared with my ex cost us around £700 a month each. I've heard people say living in Oxford is like paying London prices, but not getting a London salary, and I learned that the hard way!"
Emma went on to share a flat with a friend, which cost around the same price as before, but when the tenancy ran out she decided to return to Nottingham, where housing was cheaper. She found a job in PR where she earns "under £30,000", she says – so her earnings are average for her age.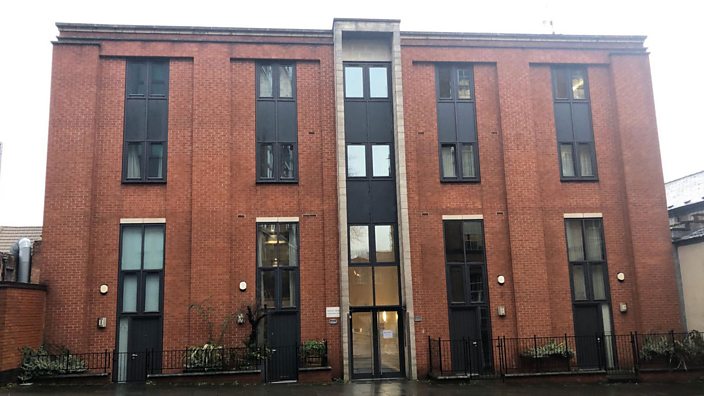 "Rents for a one-bed flat in Nottingham were between £600-800 per month, but a mortgage would be cheaper at about £350," Emma says. "I was able to save when I moved in with my mum, as I was only paying her about £300, and she did help me with a couple of grand."
Emma realises she is lucky to live in a location where property is a bit cheaper, and to have a parent who can afford to help her out. For people earning a mid-range salary of around £24,000 in Nottingham, a city centre flat like the one Emma wanted is affordable.
But the bank wouldn't give her a mortgage because "too many other flats in the building were rented," she explains. "So many had been bought by private landlords and rented out. So if I wasn't able to keep up with my payments it would probably make it harder for the mortgage company to then resell it and get the money back."
"Some mortgage lenders get jumpy if there are lots of renters or Airbnbs in the building," explains Henry. "They can also refuse a mortgage on buildings made of certain concrete, and sometimes people don't find this out until too late. There are lots of reasons a mortgage might be refused."
Emma then found another, similar flat in the same price range, in a smaller block. Her offer was accepted by the seller, and her solicitors began the process of the sale.
"The extra costs were a surprise," Emma adds. "I was quoted £2,000 for a solicitor, which is around average, but I paid £125 up front, and didn't have to pay the rest until I'd actually bought the flat. Then there was the mortgage broker – that was £350, but I only paid half up front. The searches and surveys were probably another £300."
"Remember you'll have legal bills and you'll need money for them on top of the deposit," says Henry. "If you want an extra survey, that might be an extra £1,000. Homebuyer's insurance – to get money back if something goes wrong – could be about £50. If you're not prepared, it's like saying 'I want to buy a car, but I didn't know you have to insure it!'"
Six months later, the solicitors still hadn't progressed, and Emma's mortgage offer expired. If she wanted to try another bank, she'd have to pay more costs – something she didn't want to do, because she'd already eaten into her savings.
"The stress of it has put me off buying for a while," Emma says. "It's meant to be this exciting thing you do – I was 24 and single and it was a really good feeling. But the fact it took so long and all fell through, I don't know if I want to go through this again at the moment. When I do try again I might look outside the city centre."
Emma is still living with her mum, but plans to rent a flat with her boyfriend in the near future. She knows she's one of the lucky ones, and that buying a property is still within her reach once she saves up the money she lost – something she can do on her salary. But for some, buying looks impossible.
'Live alone? It feels unattainable'
Connor*, 25, who lives in Waterford, Ireland, doesn't think about buying or even renting a house. He gets a disability grant of 800 euros (£680) a month, and lives with his dad, who has some health issues and needs support. Connor does some freelance writing which brings in a small amount of extra income.
Taking on another job could be difficult, he says, due to his autism.
For people who are unable to work full-time or at all, earnings, as well as a credit history, are likely to be a barrier to getting a mortgage in the future.
"Anything other than the cleanest credit history can affect your chances of getting a mortgage," says Henry. "Or, not having a credit history at all – if you've never had a credit card, for instance – that could mean you'll be unable to get a mortgage."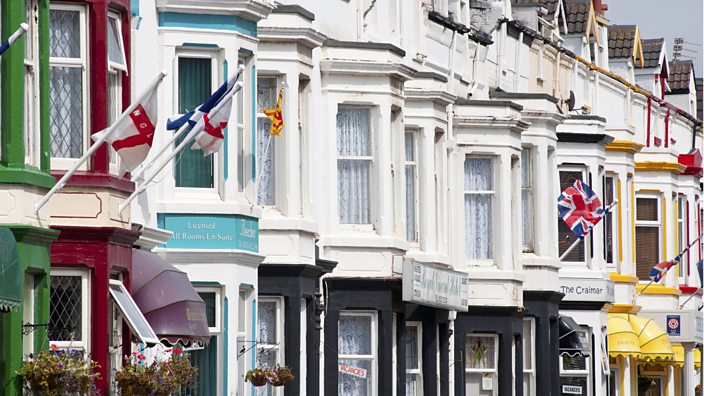 "A lot of my friends are in a similar situation," Connor adds. "I have a friend whose main goal in life is to live in a small flat by himself, it's a very simple goal, but he often says it feels unattainable. The last figure I saw to rent in Waterford was about 625 euros a month (£532).
"It's not really an option on the table for me to move out right now, but if I could, there's no question I would."
"Home ownership isn't for everyone," says Henry. "We all have a right to accommodation, but I don't agree it's a human right to own a home. It can be a ball and chain meaning you can't experiment with your life, so it's not something to enter into lightly.
"Rents take up too much of people's take-home pay. We need more homes to rent that are affordable, rather than rents keeping up with wage inflation."
And if you think buying a house is a sure way to make a profit, Henry urges you to be cautious.
"I don't think house price inflation will happen again," he says. "They might go up slowly, but politicians know the way to appeal to the younger generation is to tax wealth, and the most obvious sign of wealth is a house. If you are lucky enough to own a house, don't think it's out of the question to be taxed on it in the future."
Emma wants people her age to know that while house-buying isn't easy, it might not be impossible.
"Really do your research," she says. "I thought it cost tens of thousands as standard, but when I really looked into it, I didn't need as much money as I thought, and with a mortgage broker I found a bank easily who'd give me a mortgage with a 5% deposit. It's expensive but it might be more achievable than you think."