N/A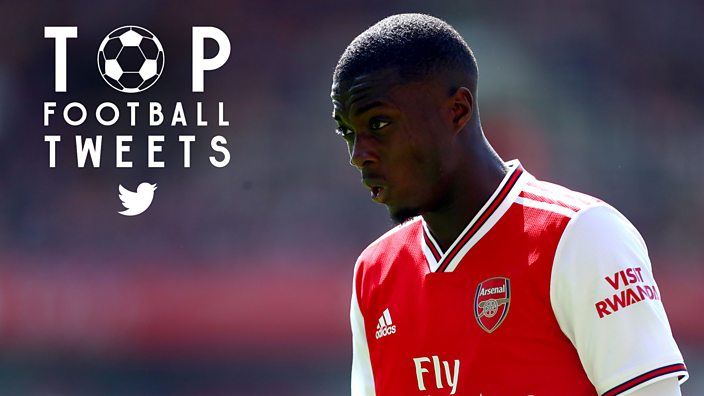 GETTY
Arsenal fans need to adopt this new nickname for Nicolas Pepe
Meanwhile, Fulham's Sessegnon production line continues
Another wild weekend of football has come and gone as the new season really starts to kick into gear.
Among the VAR drama, ridiculous goalkeeping errors and jaw-dropping finishes, it's all the talk around the football that gave us the most entertainment.
Here's a collection of the best things football fans were saying on Twitter over the weekend.
1) Sing it from the terraces
Arsenal fans are still waiting for record-signing Nicolas Pepe to make his first start as a Gunner but they've been able to catch glimpses of what he can do in two cameos off the bench so far this season.
On Saturday, he provided one of the highlights of the weekend with a perfectly timed nutmeg of Burnley defender Ben Mee, which has led to a suggestion for one of the all-time great footballer nicknames.
Ryan Sessegnon might have left Fulham for Spurs this summer but the Craven Cottage production line has immediately churned out another exciting young fullback by the same name.
On his league debut, Ryan's twin brother Steven Sessegnon impressed as Fulham beat Huddersfield 2-1, leading many to wonder if there was a third Sessegnon brother hiding somewhere.
The good news is that there is. The bad news is that, by his own admission, the elder Sessegnon doesn't seem to have hit quite the same heights as Ryan and Steven.
Anyone who has ever tried to check scores in the other games while attending a match will know that football stadiums exist in a black hole where no phone signal can reach.
At least those working at the games can avail themselves of the stadium's Wi-Fi. Or at least they can when it's actually working.
But if you're going to call out your opponents like that, you've got to make sure you can back it up on the pitch.
Norwich fans were hoping that Teemu Pukki wouldn't take too long to adjust to life in the Premier League after bagging 29 goals in their Championship-winning campaign last season. But not even the most optimistic supporters could have predicted just how easy the Finn has found things so far.
After scoring on the opening day of the season against Liverpool, Pukki added a hat-trick against Newcastle on Saturday.
5) Actual goals > expected goals
Spurs may have used up all their good luck for the rest of the season during their 2-2 draw with Manchester City on Saturday evening.
In a repeat of last season's epic Champions League quarter-final, the Premier League champions were left devastated as they saw a late winner chalked off by VAR, this time thanks to the controversial new rules around handballs.
It's the third time this year that Tottenham have benefited from VAR against City, and it's fair to say Mauricio Pochettino's side made the most of it, by being, er, clinical in their finishing at the other end of the pitch.
Mason Mount opened his account as a Chelsea player, scoring for the Blues in their 1-1 draw with Leicester on Sunday.
Chelsea supporters are excited to see if the young midfielder can deliver on his huge potential - but he also has admirers from the east side of London.
Fans of Spiderman will know that with great power comes great responsibility, and while most of us would use the power of foresight to pick out next week's Lotto numbers, former Norwegian forward Jan Age Fjortoft has slightly more modest goals: predicting football managerial changes.
Ipswich Town have moved into the lead for the much-coveted "best social media goal celebration" award this season with James Norwood's offering - a tribute to former WWE star Stone Cold Steve Austin
It was just one of those weekends for the men between the sticks, with at least two goalkeepers bagging assists for goals scored in their own nets.
Paolo Dybala seemed destined to leave Juventus earlier in the summer but his proposed move to Manchester United reportedly collapsed over issues to do with the player's image rights.
The Argentine showed Man United supporters just what they are missing with an outrageous chipped finish during a friendly with Triestina, with clips of the goal being shared widely on social media all weekend.
But not every Juventus player was doing so much to improve his image around the world, as Cristiano Ronaldo's latest global commercial tie-in - for a Singapore-based shopping app - left supporters everywhere scratching their heads.